Southport Flower Show 2010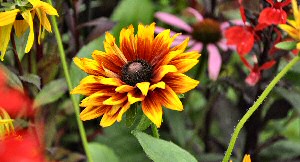 THERE'S nothing very original to say about Southport Flower Show. The 2010 show's weather over 19 August to 22 August 2010 was just as mixed as ever. Rain spoilt play outside on some days, as many have become to expect. Saying that it's a dependable, largely predictable, pleasure and one can relax in the familiarity no matter what the weather. Ladies day is a good example of that. Yet it was not just Ladies Day that 'indoors' had attractions, as the large marquees held many treasures and were bristling with people admiring the efforts and achievements underlying the numerous displays before them,. The appeal was to all the senses. Great splashes of colour, fantastic forms and intriguing interpretations of the show's theme, Coast. Wafts of fragrance pervading the air and the lovingly tended vegetables and other produce suggested delicious tastes. The main marquee also had two new panoramic windows, giving more natural light and a grater sense of unity with the rest of the event.

In the floral art tent one found fantastic interpretations of titles, also following this year's show theme of coast. Listening to comments made by many visitors, it seems many of us are programmed to disagree with the judges, but recognise the hard task they must face confronted by such a profusion of talent. The outdoor large gardens were perhaps fewer in number but still splendid. One in particular struck a chord. In its interpretation of the seashore around the Great Orme was a rather scummy pool of water, with shells, drift wood and a bottle! Perhaps that, plus plastic bags and other detritus does unfortunately reflect aspects of our coast today. It certainly made me think. Elsewhere the small gardens, plots, sculptures were to be admired. Especially encouraging were the children's contributions.

The stalls were diverse and inviting, and the alluring aroma of tasty food and drink encouraged participation. Informative lectures with Q and A sessions on various aspects of gardening etc were given by experts in their special fields, along with book readings and exhibitions which attracted their fair share of visitors as well as demonstrations, such as a fascinating talk around an open beehive. The arena items were busy including the ever popular canine displays, and the clowns who also toured the ground delighting children.

Last but not least, the stirring strains of music of different kinds emanating from the band stand captured the pleasures of the day. There's nothing so stirring as a brass band to speed one on one's way. The show was a credit to all who arranged it, ran it, exhibited in and served the public in many capacities, including first aid, marshalling, litter clearing; the grounds were all kept immaculate. Despite a squally start, Mother Nature gave two beautiful days and despite comments heard outside that charges were now too great to contemplate (no more than many concerts perhaps); the show ground was certainly well populated and we were told that attendance was indeed up. Here's to next year.

...HAPPY BIRTHDAY...
If you have someone you want to say happy birthday to, for free, then use the email address below to send us the names you want us say happy birthday to, and/or a photograph. Email us today!