Cancer Research UK's 10 Run!
Photographs and report by Patrick Trollope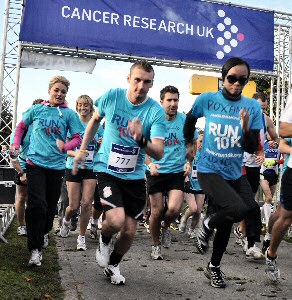 SOUTHPORT was the location for a massive Cancer Research UK's 10k Run starting and ending at the historic Victoria Park on Sunday, 17 October 2010. The event was run to raise cash for the charity and over 1200 runners took part. It was the first time this event has been held in Southport and was hailed as a massive success. The charity is now asking for the runners to collect and send them their sponsorship money; the money collected will go to what Cancer Research UK believes is the key to beating cancer, that is through research, so making sure that as many people as possible survive. They stressed that "Every penny raised through Run 10k in Southport is vital to the work of doctors, nurses and scientists who are discovering new ways to prevent, diagnose and treat the disease." Also taking part were a group of Hollyoaks co-stars, past and present: Melissa Walton and Phina Oruche and Nineties pop star Anthony Kavanagh as well as Emma Rigby. All of them were taking part in memory of friends or family members who had died from cancer. Helen Wright, Cancer Research UK's Event Manager for Southport, said:- "We are really grateful to everyone who helped make Run 10k in Southport such a huge success. The atmosphere on the day was fantastic. It was incredibly emotional, with many people taking part in memory or celebration of a loved one or to mark their own cancer journey. The chances of surviving cancer have doubled in the last 40 years. More mums, dads, brothers, sisters, sons and daughters, friends and colleagues are alive today in Southport and the North West because of research. But for every person who survives cancer, another does not. We have made a huge number of important discoveries which have changed the way cancer is prevented, diagnosed and treated. Yet our work remains essential because more than one in three of us will be diagnosed with cancer at some point in our lives. By taking part in Run 10k, participants pledged their support to help fund research. Now we are asking them to keep that promise by returning their sponsorship money as soon as possible."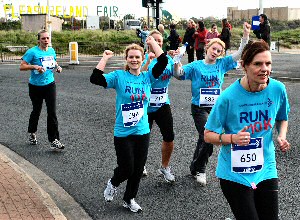 For information on returning sponsorship money, or to make a donation, visit:- www.run10k.org.

DID YOU KNOW? Every year around 35,500 people are diagnosed with cancer in the North West. Every two minutes someone in the UK hears the words "its cancer." In the North West region, which includes Southport, around 95 people are diagnosed every day.


KEEP up-to-date with our daily news email service. Sign up to our new news service on Formby-Reporter.com. So if you do subscribed you can keep in up-to-date with what's going on. It is free and we do not send out massive amounts of emails. Also your email is kept under the UK's Data Protection Act, so you can be sure that you will not have problems.