ASBO APPEAL REJECTED - JAMIE WOODS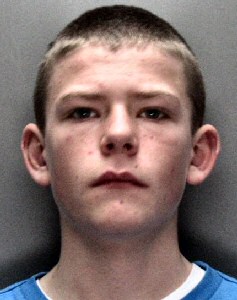 A 16 year old youth has had his appeal against an Anti-Social Behaviour Order rejected by a judge.

On 5 July, 16 year old Jamie Woods of Kensington was issued with an ASBO at Liverpool Magistrates Court, due to a catalogue of crime and anti-social behaviour in the area of Holt Road, Kensington.

Woods decided to appeal against the order and on Tuesday, 21 December 2010, His Honour Judge Trigger heard the appeal at Liverpool Crown Court and rejected the appeal. He agreed that the ASBO against Woods was justified and necessary to protect the community of Kensington from further acts of anti-social behaviour.

His conditions are that he must not be with nine names individuals. Enter the area bounded by Jubilee Drive, Edge Lane, Deane Road and Kensington L7, approaching two names individuals and possessing fireworks or causing harassment, alarm or distress in the postal districts of Liverpool 6 and 7.

Neighbourhood Inspector Paul Harrison is quoted:- "The neighbourhood policing team at Tuebrook are dedicated to make the area of Kensington a far safer place to live and work. We have worked with Liverpool Anti-Social Behaviour Unit in order to ensure that this young person is prevented from causing trouble and misery to the community. I am pleased that the courts have seen the evidence collected against this young man and agreed that the ASBO was appropriate."

The order runs out on 5 July 2012.
MAN CHARGED FOLLOWING INCIDENT AT FRESHFEILD PUB IN FORMBY
MERSEYSIDE Police have confirm that a Andrew Neville Jackson, a Police Office, aged 27, from Formby, has been charged with Section 39 assault. He appear before Preston Magistrates Court on Wednesday, 29 December 2010, charged in connection with an incident at the Freshfeild pub, Massams Lane, Formby, on Saturday, 24 July 2010. Christopher Shackleton, aged 42, death is thought to be connected to an incident. Christopher Shackleton who was from Formby, died several days later, on 29 July 2010, in hospital. A post mortem established the cause of death as being a stroke.

Read more:- Link.
Southport Courts to Close
AN end of an era of law in Southport as the Ministry of Justice calls for the Magistrates Courts known as the North Sefton Magistrates Court on Albert Road and the County Court on Hoghton Street. The courts will be fully closed by April 2011 as joining the other 92 Magistrate courts and 48 County Courts to be closed across England and Wales as part of the court estate reforms. Southport's MP John Pugh says:- "We should keep the court in mothballs until the system planned by Ken Clarke is proven to work. We do not know if the system can cope with the much reduced budget."
Council urges residents to be good neighbours
LIVERPOOL City Council is asking residents to be good neighbours during the continuing wintry weather, and look in on elderly and vulnerable residents over the festive period.

Cabinet member for adult health and social care, Councillor Roz Gladden, said:- "We have had an extremely cold and icy week and many of our more vulnerable residents will not have risked going out. I am asking us all to play our part in being good citizens, particularly those of us with vulnerable and elderly neighbours who may need help with shopping and staying safe. Christmas can be a lonely time of year for some elderly people who don't have relatives living nearby, and although we are all really busy it can make a big difference to someone to spend a short amount of time checking that they are ok. We have a great community spirit in Liverpool, and it is at times like this that it is vital we are all good neighbours. I'd like to take this opportunity to thank all social care staff including home carers and those in the NHS who have braved the appalling conditions to continue to provide support for people who are ill or need support."

Social care information is available on the council's website at:- liverpool.gov.uk.

The social care helpline, Careline – run on behalf of Liverpool City Council by joint venture partner Liverpool Direct Limited – will be open around the clock over the Christmas period for enquiries and referrals. The adults contact number is:- 0151 233 3800, and children's enquiries should be directed to:- 0151 233 3700. However, it is not an emergency service, and in those circumstances people should dial:- 999.
No Water On Christmas Day
HOMES in Nelson, Liverpool have been without water for 3 hours on Christmas Day after a water main burst in Fazakerley. Water was reported to have cascaded out of a hydrant in Nelson, cutting off supplies between:- 11:00am and 11:00pm. United Utilities has apologized and has not yet give the exact figures of how many people were affected.
Northern Rail Conductors Walk Out Over Bank Holiday Pay
THE Rail Maritime and Transport (RMT) Union said about 1,000 conductors went on strike from 00:01 on 27 December 2010 until midnight on 28 December 2010. Many trains between Manchester, Liverpool, Preston, Leeds and Newcastle are on a limited service on a few routes. Northern Rail said it was disappointed by the strike and ran a service from:- 9:00am to 6:00pm. The walked out was down to a row over bank holiday pay.