Search for a Star. Last Heat.

Photos on this page by Patrick Trollope.

Article by Stacy. Page 1 of 3.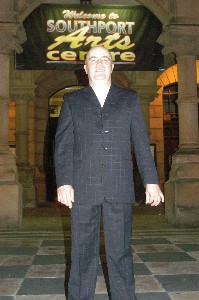 The longest running professionally organized contest "Search for a Star" is in its 27th year. In addition, this year promises to be no less than a sensational success. Heat 5 held on Thursday 12th September at the Southport Arts Centre, in the Cambridge Theatre on Lord Street. Sponsored this year by the Champion Newspaper. Sefton Council Tourism division, along side Scarisbrick-based entertainment agency, ABD productions, organized the northwest area competition. As the tension mount so do the wide variety of people that enter the competition. With some of them from as far a field as Nottinghamshire and Carlisle as well as the North West area. The evening promises to be as exciting as previous years.
The host for the fifth heat was no different, Simon Smithies. An enthusiastic and charismatic person who dominates the stage and pulls in even the most stubborn of crowds deep into the performance. In addition, a rising star made a special appearance, and sang beautifully for the audience. To young to enter the competition but with a voice that is not to be missed. Olivia Holding, heat five's rising star.
Making a stunning start to her career, she was chosen out of hundreds of hopefuls to play Little Nell in the sell out musical "Her Benny" at the Liverpool Empire. Singer, dancer and actress Olivia secured a place on TV. In ITV's "Where the Heart is". The judges for this heat where, Martin Hovden, Editor of the champion newspaper, Derek Marks from Dune FM, Claire Stoker of the Liverpool Post and Beverly Fisher of a & B Entertainments.
The surprise guests for heat five where Bulleon. A four piece female lead band with Leslie as vocal and guitar, Pam as vocal and keyboard, Steve the guitarist and vocal and last but not lest Pete the instrumental and vocals. There influences lie in American new country and melodic rock. They are well known up and down the country and are versatile in there shows, covering and remaking old classics such as ABBA, as well as there own individually styled material, encompassing four part harmonies. All band members are professional with lots of experience in a wide and knowledgeable variety of styles.
The first contestant to face the audience that day was Terri-Ann Devine. Amongst her other achievements she has sang with Sir Cliff Richard at the London Palladium, appeared on 'The big Breakfast' and a three year summer season in Blackpool's Central Pier. Not to mention numerous shows at the Liverpool Empire. An energetic voice with lots of punch. Beautiful, You could tell she enjoyed the night and gave her all. Following her was Alan Henry, bringing a Latin feel to the show singing 'All Night Long', 'Better Man' and 'suddenly'. Performing all songs with such enthusiasm and emotion, the audience where clapping and cheering along with the music almost immediately. Although an Essex man at heart, he has just come back from 11 years in Jersey, wining the Jersey's "Island Club Singer Competition". As one of the islands top duos, he has played venues graced by top names such as ELO, 10cc, KOOL AND THE GANG and Alexander O'Neil. He is now a very popular North West cabaret artist. Then along came Bethany Greenway 16 years old from Southport. A member of a very musical family and has been singing from a very early age. A seven-year member of SONG (Southport, Operatic, New, Generation). With over fourteen shows, she is a seasoned performer, and is through to the audition stage of Pop Rivals for ITV. Singing 'come to me' and 'end of the line', a flexible and powerful voice, able to hit both the high and low notes. Putting a lot of emotion and meaning into the songs and bringing them to life in her own unique way.
Lorna Jayne from Nottinghamshire enjoys all kinds of music. Has been performing from the age of four and she is a popular cabaret act in the midlands. After going to a performing arts school Lorna worked in a holiday camp in whales as an adult and Childs cabaret entertainer. On the night, she performed an excellent revision of 'You are the My World'. A voice that is well projected and very, very powerful. James Holman was next. A 16 year old from Cheshire, winning the Manchester Musical Award for best newcomer to mention but one of his achievements, performing at the London palladium and Manchester Palace. He has been singing and acting from an early age and has performed with Martine McCutcheon live on the BBC. In addition, he is through to the 2003 'Stars in their Eye's' so look out for him there.
During the intermit on the theatre was buzzing wit people talking about who was their favorite performer of the first halve. In addition, which songs where the favorite. Mothers and fathers showing of that their children where performing and hustle and bustle back stage to get the second halve performers ready.
Find out who won the finales in next weeks Southport Reporter!
Nervous singers wondering what the judges thought and even more nervous performers waiting for their turn to enter stage left and impress the audience and judges.
The only band that entered the compaction, Hidden Agenda. Set up when they met in collage a four piece innovative band consisting of two females, Jemmy and Beck, and two males Paul and G. All vocals and a brilliant harmony singing a variety of songs. The have had success in these competitions in the past and this year entered bigger and better as a four strong team determined to make there mark. Olivia from Manchester though only 16 has performed and won the NAG song writing competition and the finalist in the 2002 and 2001 Power sound competition. A beautiful voice with a lot of impact. Then came Janine form Manchester. Who has performed at many charity events and she enjoys all kinds of music. Among her, other achievements she sang as a backing singe for Dave Hemingway's studios and is well known in the cabaret of the North West's circuit. A nice voice with a lot of soul and real emotion.
Tiffany Walsh 16 and from Liverpool. As a solo artist, she has been performing for five years and won the Star Time Challenge in Liverpool's Neptune Theatre twice, in 2000 and 2001. She also entered the steps top the stars program on ITV. Finally, Nick the Entertainer. A working magician for ten years, his TV appearances include an appearance on channel on boxing day 2001. In addition, he is firm favorite at ids parties and celebrations and festivals.
After the stunning entertainment from Bulleon, singing along side there own work, 'Waterloo' by ABBA as well as a few of the greatest classics form the 60's 70's and 80's. An excellent band with a great future and experienced past. The judges made their decision. Simon letting the audience wait in eager anticipation, announced the winners. In 1st place winning the chance to perform at the finals on Thursday 28th September. In second place, also winning the chance to perform in the finals James Holman. In addition, in third place winning the prize money of £50 pounds and an invite to next year's competition. Every one on the night tried there best and it was very hard for the judges to decide. The preparation by everyone involved on and of stage could be seen on the night and the show shone out as one of the best in the history of these competitions. Congratulations to all involved and good luck to all at the final.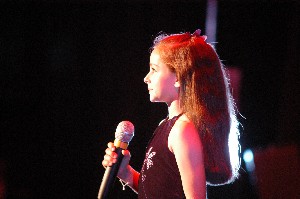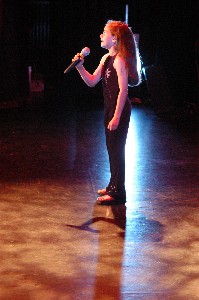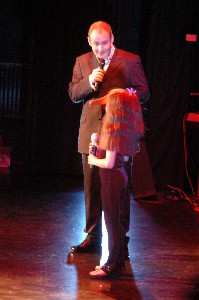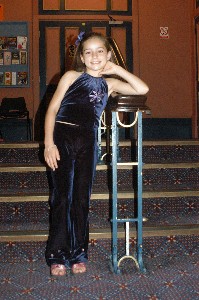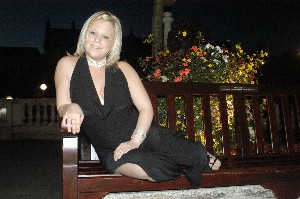 Page 1 of 3.