Care for children gets glowing report
LIVERPOOL has been officially ranked as one of the best major cities in the country for caring for and protecting vulnerable children.

A team from OFSTED and the Care Quality Commission (CQC) spent over 3 weeks in the city earlier this year interviewing staff, young people and reviewing at random over 50 case files for the inspection of safeguarding and looked after children.

They have given Liverpool an overall grade of 2 (good) for both its 'overall effectiveness' and its 'capacity for improvement'. Of the major 'core' cities, only one – Nottingham - has scored as highly.

Out of the 22 inspection categories, the city has been graded as 'outstanding' – the highest possible mark - in five, and 'good' in another 17.

Singled out for praise is the work of the Children in Care Council (CiCC), made up of young people who are in care. They help contribute ideas and shape the way services are delivered, and even assist staff in giving health advice and support to other youngsters.

The inspectors also found that the children and young people they met "stated overwhelmingly that they feel safe and know how to get help and support if necessary". A survey carried out as part of the inspection found 94 percent felt 'very safe' or 'fairly safe'.

Top marks were also given for ambition and giving safeguarding a high priority, with the Careline referral service described as having a "good impact". Work to make sure children and care leavers are healthy is also described as outstanding.

The inspectors found that risk is "managed well" and that "children and young people only enter the care system when this is needed to promote their welfare."

Assistant Director of Children's Safeguarding and Quality Services, Sandra Campbell, said:- "This is a fantastic report which reflects the amazing hard work of our dedicated social work staff and partners every single day of the year. They are doing a tremendously difficult and challenging job supporting families that often have a chaotic lifestyle, and children that are not being given the best start in life. Their work may go unnoticed and unseen by most members of the public, but it is hugely valuable and important. They are making a tremendous difference to the lives of our most vulnerable young people. It is particularly pleasing that we have received such a good report given the increased number of referrals we have seen - in common with all other local authorities – following the Baby Peter case. That has obviously placed additional demands on the services we provide."

The report says:- "The overall effectiveness of the council and its partners in safeguarding the promoting the welfare of children is good" and "high ambition for the safety of children and young people in the city is reflected in the priorities for service delivery."

There is praise for the quality of assessments, the training and development of staff; the learning that takes place following serious case reviews and the "particularly strong role" schools play in safeguarding children.

17 year old Sammy-Jo Fitzpatrick from the Children in Care Council said:- "We are all really passionate about making sure the views of young people in care are heard because we have all got personal experiences of our own. We are really pleased that our work has been recognised by the inspectors. It shows we are genuinely making a difference to services."

The contribution of health agencies such as Liverpool PCT (Primary Care Trust) to keeping children and young people safe is ranked as 'outstanding'. It found that leadership is strong and effective and praises the work at Alder Hey and the integrated health visitor and school nurse teams as well as the help for unaccompanied asylum seekers.

Trish Bennett, Director of Service Improvement and Executive Nurse at Liverpool Primary Care Trust, said:- "Making sure that children and young people are properly safeguarded is a responsibility we take extremely seriously, and I'm delighted that this report recognises the contribution the NHS makes to this area. We're particularly pleased that the inspectors rated the contribution of health agencies to keeping children and young people safe as outstanding; it's testament to the ongoing hard work and commitment of staff working in the NHS across Liverpool. However, while all of the partners involved in safeguarding in the city should be pleased with what has been achieved so far, it's really important that we continually look for ways to improve services, while maintaining the high standards we have set for ourselves."

Areas for development include making sure that team managers quality assure the work of their staff; making sure case records are kept up to date; auditing cases to test the consistency of thresholds, and making sure information about family heritage is used to develop care plans.

FACTFILE:-

Liverpool's safeguarding and looked after children service in numbers:-

► 939 'looked after' children, of which: 643 are in foster care, 139 are living with families and 15 are in the city's four children's homes

► 445 young people have child protection plans

► 6,000 enquiries per month are handled by the contact and referral service Careline

Ryanair commence JLA Greek routes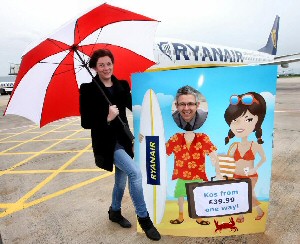 THE next set of Ryanair Summer services commenced today from Liverpool John Lennon Airport (JLA) with the airline's inaugural flight to the Greek Island of Kos setting off from the airport early this morning. Flights to Rhodes start tomorrow and their flights to Lodz in Poland resume again at the weekend.

This is the first time that Ryanair have operated flights to Greece from Liverpool and since going on sale just over two months ago, the airline have seen record levels of sales for their Kos flight, for what looks likely to be one of their most popular services of the Summer.

Both Greek destinations are part of the Dodecanese group of islands located in the Aegean Sea. Kos was reportedly visited by Hercules in Roman mythology whilst Rhodes - the largest in this group of islands and historically, is famous worldwide for the Colossus of Rhodes, one of the Seven Wonders of the Ancient World. Today both are popular summer holiday destinations.

Robin Tudor, Head of PR for Peel Airports commented:- "The recent warm weather here in the UK has started to get everybody in the mood for some summer sunshine, but as always here in the UK, it was short lived and the rain returned as usual. Thankfully with Ryanair's summer season now underway, the region's holidaymakers have even more great opportunities to get away to more reliable hot weather. There are few better places for this than the island of Kos, with the convenience of flying from your local airport and at some of the lowest fares around."

Ryanair's Maria Macken added:- "Ryanair is delighted to launch its Greek routes from Liverpool, which will operate twice weekly to Kos (Wednesdays and Sundays) and Rhodes (Thursdays and Mondays) making both destinations ideal for a weekend in the sun or a longer getaway. Bookings on the new Greek routes are going through the roof and with fares starting from as little as £39.99 one way inclusive of taxes for travel in May and June, we urge all passengers to log onto:- ryanair.com today to avoid disappointment."

WEETING PROF OFFERS ARTHRITIS ANSWERS IN MERSEY FIRST
AINTREE University Hospitals is inviting Merseyside residents to take part in a live Q&A on Twitter; making it the first NHS Trust in the county to use the social media site. Professor Rob Moots, who earlier this week did a face to face talk about Rheumatology, will answer questions online as part of a Twitter session Friday, 15 April 2011, from 10am. Anyone wanting to get involved can go to:- twitter.com/AintreeHospital where they can follow the talk or use the arthritis hashtag (#arthritis). Professor Moots is a Consultant Rheumatologist at University Hospital Aintree and is a Professor at the University of Liverpool. He said:- "Using social media to help people better understand conditions like arthritis allows us to communicate with far more people that we could ever talk to face to face. We know that not every one of our patients uses social media, but there are lots of friends and family members who want answers to questions about the condition. I hope people will follow us @AintreeHospital and that we get some interesting questions about a disease that causes so much pain to so many." If the live tweeting is a success the hospital plans to do more on different subjects including eye conditions and diabetes.
Great North Run places up for grabs now for Southport runners
RUNNERS and joggers from Liverpool are being asked to make the world a better place by taking part in this year's Bupa Great North Run on 18 September 2011. If you didn't get a place in the ballot, then don't despair! The Red Cross still has some guaranteed places in this year's event and according to Community Fundraiser Alexis Fairclough from Crosby:- "These will be allocated on a first come first served basis, so you will need to act fast"

The Great North Run is the world's biggest half marathon and it can be difficult to get a place in the event. Those who sign up to raise money for the Red Cross not only secure their place in this ever popular event, they also receive a running vest, useful tips, and valuable support from the fundraising team, and the money raised will help save lives and change lives across the world and around the corner. Alexis said:- "Everyone knows about the Red Cross but very few people realise the amount of work we do locally and on their doorstep. Running for the Red Cross enables the charity to continue its vital work both in the UK and abroad and it's great fun. I look forward to working with people from Southport who want to run for us."

For more information and to secure your place, contact Alexis by texting "GNR" and your name to:- 07921 872441, call then on:- 0151 702 5061 or email (afairclough@redcross.org.uk) them. You can also apply online.