US know-how helping put patients first
A hospital trust is drawing on world-class know-how to improve care for patients and help keep health services local.

Four US healthcare organisations are informing thinking at Southport and Ormskirk Hospital NHS Trust which became responsible for many adult health care services in north Sefton and West Lancashire earlier this month.

"US patients may have to pay for their health care but the practical ways their hospitals provide care hold valuable lessons for us." said Sheilah Finnegan, the Trust's Chief Operating Officer.

Sheilah Finnegan was one of 3 Trust staff who made a study tour of the not-for-profit organisations in the US state of Colorado in late March 2011.

"These organisations deliver care both inside and outside hospital – exactly the kind of organisation we became earlier this month. It is essential we draw on the very best knowledge and experience to deliver the outstanding patient care local people expect and deserve. This will also help preserve the range of local services our community benefits from now." said Sheilah.

The 4 organisations visited by the Trust specialised in inpatient care; outpatient care; day care and community care; and medical management. Sheilah said that:- "We were particularly interested in how they involve patients in the planning of their care, so there is a seamless relationship with health professionals. This is particularly valuable for patients with long-term health conditions or chronic illness which is a big issue for our Trust."

Sheilah expects to see lessons from the study tour being put into practice within the next few months. For example, patients who are ready for discharge from hospital should start receiving improved follow-up care within the community to reduce the risk of them returning to hospital.
Duo Join Vikings On Dual Registration
THE Widnes Vikings announced that two Wigan Warriors youngsters, Logan Tomkins and Dom Crosby have joined the club on Dual Registration contracts. This allows the players to play for either Wigan Warriors or Widnes Vikings combined with training at both clubs. It's a system that has worked well for the Vikings over the past couple of seasons with players gaining valuable experience at a tougher level of competition before returning and playing first grade for their parent club. The players will spend the early part of the week with Wigan continuing their physical training programme before training with Widnes at the end of the week doing ball work. Wigan Warriors' Rugby Manager Kris Radlinski said:- "We are very comfortable with the environment that Widnes provides and know that our players will be in the good hands of Denis Betts and Mick Cassidy. Every party benefits out of the arrangement with the players getting tougher rugby which is good for them and the Wigan Club and Widnes are getting quality youngsters with an abundance of enthusiasm." Widnes Vikings' Director of Rugby Paul Cullen added:- "It's now a proven system that works for both parties. Super League is now awash with young talented, exciting players such as Liam Farrell, Stefan Marsh, Jermaine McGilvray and Matty Bylthe, who all played at Championship level in 2010. We feel we need to react to three very poor performances, player availability and injuries currently affecting our three squads."

Graduate entrepreneurs given just the ticket to boost their business presence in the region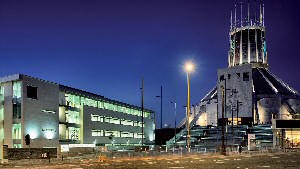 THREE leading Northwest centres for innovation have joined forces to help young entrepreneurs expand their wings across the region.

Today sees the launch of the 'Graduate i-pass', a new initiative created by Liverpool Science Park, Manchester Metropolitan University's business incubator Innospace and the University of Chester's new Riverside Innovation Centre, to allow their graduate and start-up tenants to access facilities across the three sites.

A reciprocal agreement has been drawn up between the three organisations setting out the offering, which includes guest day passes, free wireless connection, use of communal facilities and the option to book meeting rooms.

Chris Musson, CEO of the award-winning Liverpool Science Park, based on Mount Pleasant, Liverpool, said:- "We are delighted to unveil the Graduate i-pass. Each of our organisations share a deep-rooted commitment to supporting the brightest and best talent starting out in business and this scheme is about giving a helping hand to those ambitious young firms working hard to establish a presence across the Northwest. Not only does this initiative provide professional bases across multiple premises, but opens up access to our vibrant communities of like-minded knowledge-based companies."

Ian Jamieson, Manchester Metropolitan University's Director of Enterprise, said:- "We're very pleased to be working with our partners across the region to offer an enhanced service for graduates. In the current economic climate, it is vitally important that we stimulate new enterprise and support start-up businesses - this initiative will do both."

Charlie Woodcock, The University of Chester's Executive Director of Innovation and Development including Riverside Innovation Centre, based in Chester, added:- "Graduate i-pass is a great scheme to help support enterprising graduates across the Northwest and is a good example of innovative support facilities working together. With access to three prime city locations, young businesses can benefit from professional premises and the opportunity to network with like-minded entrepreneurs across the region."

In September 2010 Liverpool Science Park opened a Graduate Enterprise Centre exclusively for new and recent graduates starting out in the science and knowledge-based sectors. The 24-hour facility provides tenants with all of the necessary ingredients they need to build a business, including low cost, short term lease options.

For more information visit:- mmu.ac.uk, chester.ac.uk or liverpoolsciencepark.co.uk.