Safer towing message for North West drivers
DRIVERS in the North West and visitors to the region are to be reminded to tow safely this spring and summer.

The Highways Agency, which operates motorways and key A roads across England, is using some of its national network of electronic variable message signs (VMS) to get the safer towing message across.

The short national messaging campaign, which will remind drivers to 'TAKE EXTRA CARE WHEN TOWING', is being extended to 18 days at the request of officials in the North West.

The Highways Agency is concerned at the number of accidents involving towed vehicles in the region and wants to get the safer towing message across ahead of this month's long Easter, Royal Wedding and May Day holiday break; a timely reminder for those who are towing trailers or caravans during the extended break.

The reminders will run just before and into the holiday period, starting for 11 days from Wednesday, 20 April 2011. They will resume again on Monday, 23 May 2011, for a further seven days ahead of the Late Spring bank holiday.

Experience has identified when and where towing accidents are likely to happen - many of which involve no other vehicles but can cause hours of delays for other drivers.

The experience of Highways Agency Traffic Officers over several Easter holiday periods suggests Maundy Thursday is the most likely day for accidents - peaking between noon and 5pm.

Incident 'hot-spots' - unsurprisingly on holiday routes to Blackpool, North Wales and the Lake District - include:-

- M6 junctions 32 - 33 (northbound)

- M6 junctions 41 - 40 (southbound)

- Between the M6 and M56 around Lymm interchange

- M6 northbound Junctions 25 - 26 and the M56 between junctions 12 and 14.

Variable message signs near these junctions and throughout the region will be used to drive home the safer towing message – encouraging drivers to think about how they prepare for towing or even to stop in a layby or service station, once they have set out on their journeys, to carry out some basic checks.

The campaign is designed to encourage drivers to think before they tow – to avoid getting stranded on the motorway with a large recovery bill or causing hours of disruption for fellow motorway users from needless breakdowns or accidents.

Andy Withington, the Highways Agency's Area Performance Manager, said:- "Because of our location and the strategic importance of major holiday routes like the M6, it is important we continue to ask those who tow trailers, horse boxes, boats and caravans to take extra care. I hope our 'take extra care' messages will remind drivers they need to prepare before dusting off their trailers or caravans for the first long break of the year and think about safer towing once they are on the road."

Key issues for anyone towing a caravan, trailer, horse box or boat include ensuring it is regularly maintained and checked – including tyres and brake lights - especially after a long winter lay off.

Drivers should also ensure any loads are correctly balanced within the caravan or trailer and that the correct insurance and recovery in the event of an accident or break down is in place. Drivers are also reminded that they must stick to the speed limit for the vehicle they are towing.

The initiative is part of the Highways Agency's ongoing support and advice for drivers.
Tribute to Yuri Gagarin - 50th anniversary of the first man in space
DID you know that it is only a few days off the 50th anniversary of the first man in space? Too many of us now space travel is less of a headline maker, but in the world of 1961, the news of the first man in space was an electrifying announcement, that shocked nations. That historic announcement that a man was in space was made while Gagarin was orbiting once around Earth. This made him not only an international hero, but also the very first human to ever to see our planet as a planet! Americans were stunned and worried, but the congratulations they sent to Moscow were genuine. In total this historic only lasted 108 minutes, but at the age of 27 he was truly the first human in space. "THE world's first spaceship, Vostok, with a man on board, was launched into orbit from the Soviet Union on 12 April 1961. The pilot space navigator of the satellite spaceship Vostok is a citizen of the USSR, Flight Major Yuri Gagarin. Ever since then his legacy has inspired many young people to follow careers in science and engineering - and to become astronauts." said ESA.
What we would like to know is can you tell us if you remember this and how it felt to hear this news? Email us to news24@southportreporter.com and let us know.

Set Sail on the Treasure Trail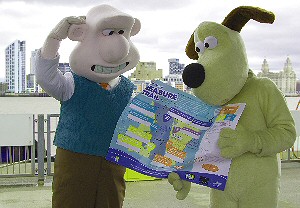 THIS spring, the Mersey Ferries are inviting you to make the most of your free time and 'set sail on the treasure trail.'

A day out on the river is a must do experience during the spring holidays and to make it even more enjoyable, we are offering the chance to win on the spot prizes whilst setting sail on a FREE treasure trail across the world famous Mersey waterfront.

Neil Scales, Chief Executive of Merseytravel said:- "We have worked very hard to reposition the ferries as one of the most popular paid for attractions in the region with the Beatles Story Museum at the Pier Head, the U-boat Story at Woodside, and Spaceport at Seacombe Ferry Terminal, which is currently hosting the 'Wallace and Gromit in Space' exhibition. This competition adds an extra dimension to an already enjoyable day out on the world famous Mersey Ferries."

To enter the competition, simply pick up a copy of the Treasure Trail at Spaceport, The U-boat Story or Ferry Terminals or download a copy of the map and then answer at least one of the questions correctly to win an on the spot prize.

Prizes include one child FREE with every full paying adult* on combined River Explorer Cruise & Spaceport/U-boat Story tickets at the Ferry terminals and exclusive pin badges at Spaceport and U-boat Story. Also if you complete four or more questions you will be entered into our free prize draw for a chance to win one of three 'Big Mersey Adventure' annual family passes.

With big family savings and prizes to be won – don't miss out!

For more details on the competition and to download a copy of the Treasure Trail map, please visit:- merseyferries.co.uk.

* Terms and conditions apply.
HOLLYWOOD STARS 'HOP' INTO LANCASHIRE THIS EASTER
THE stars of Universal Pictures' latest blockbuster 'HOP' will be swapping Hollywood Boulevard for Church Street, Blackburn as they bounce into The Mall in time for Easter.

E.B, the teenage son of none other than the Easter Bunny, and his co-stars Carlos and Phil the fluffy chicks, will be making a special, one day only, guest appearance on Monday, 18 April 2011, which is sure to have fans young and old hopping with delight.

The appearance is part of an Easter bonanza at The Mall Blackburn, which also includes craft sessions with The Creation Station on Tuesday, 12 April 2011 and Wednesday, 20 April 2011, and children's face painting on Saturday, 23 April 2011.

The fun doesn't stop there though! Anyone that signs up to, or is an existing member of, The Mall Blackburn's popular 'Reward Me' loyalty scheme can collect a free chocolaty Easter treat from The Mall's Ask Me Point.

Loraine Jones, General Manager at The Mall Blackburn, said:- "It isn't every day that Hollywood stars come and visit us here in Blackburn and everyone is getting very excited. We are sure anyone that has been to see the film, no matter what their age, will 'jump' at the chance of meeting E.B and his friends. In addition, our fabulous craft sessions, children's face painting and free Easter treats are sure to keep the kids entertained this Easter."

Adam Steel, Promotions Manager at Universal Pictures, added:- "It's great to be working with such an enthusiastic partner as The Mall Blackburn. The centre offers us an ideal opportunity to let shoppers across Lancashire know about 'HOP', and the story of E.B, which is proving a big hit in cinemas."
Liverpool Hope University is brought to a standstill
LIVERPOOL Hope University was brought to standstill on Friday, 8 april 2011, as members of the University and College Union (UCU) took strike action as part of their ongoing row over job losses and the institution's response to cuts in funding. According to University and College Union over 90 jobs are at risk at Liverpool Hope and UCU says that the university is acting prematurely in making hasty and deep cuts that go beyond the government's funding reductions for universities. Before the strike UCU regional official, Martyn Moss, said:- "UCU members here at Liverpool Hope have no faith in how the university is handling its funding problems and will do all it takes to defend their jobs and the education of their students. The fact that Liverpool Hope has been forced to cancel all lessons underlines the strength of feeling here against the cuts. It is a great shame that things have had to come to this. Had the university agreed to UCU's request to extend the window for potential industrial action we could have focused on trying to resolve the dispute. By refusing the union's olive branch they have left staff with little choice. Swinging the axe so hastily is in no-one's interest."