This is why we need Crosby Coastguard Station
IT was a hot weekend over the 9 April and 10 April 2011, and Crosby Maritime and Coastguard Agency (MCA) was very busy, and it is not even the summer yet! So the idea that MCA at Crosby could soon be closed is even more shocking. Already Crosby Coastguard Station, whose area covers the Irish Sea and coastline, as well as inland waters in the North West area of the UK, is one of the busiest in the UK and the latest run of rescues has been seen another example of why it should be saved from closure. On 10 April alone, 70 people were trapped by the incoming tide off Blackpool, as they visited the resort, taking advantage of the hot sunny weather. It was not just in Blackpool that had tourists and locals getting into difficulty along the coastline and inland waters. Over the weekend, 93 other people were trapped by the tide in the North West! All these incidents were managed by the centre in Crosby, that is set to be closed, due to "a low work load!" The centre's other incidents included 4 girls who were reported stranded at Little Eye, West Kirby, Merseyside. The rescue of 4 people near Fleetwood, Lancashire and a lady and pet dogs had to be helped to safety off Arnside, Cumbria. These highlighted events demonstrate just how vast an area the MRC centre covers and the idea it could be centralised into one or two call centres is shocking! Liverpool Coastguard Watch Manager, Su Daintith, told the media that:- "We know that on a beautiful day like that we had over the weekend, people don't want to waste time getting to the beach. They just want to soak up the sunshine, but spending just 2 minutes checking the tide times can mean the difference between life and death!" As Su Daintith hinted at, it shows just how little people realise about the dangers of the seaside. It also is no wonder why people do not understand or see just how important the centre is and how dangerous it would be to close it! If you want to find out more about saving Crosby MRC from closure go to:- dontsinkthecoastguards.co.uk.
UK homes provide 'Shop Windows' for burglars
NEW research has revealed that the average UK home is a shop window of opportunity for thieves. The survey, carried out on behalf of Ageas found that homes across the UK have an average of £1223 of valuables such as TVs, other electronic goods, antiques and works of art that are clearly displayed for would-be burglars to see through home windows. The study, conducted among 2000 adults for Ageas by Populus also found that nearly one in five people (18%) said that as much as £2,000 or more worth of valuables could be seen by a passer-by looking through a window. One in three people (35%) said that valuables worth more than £1000 could be seen.

Mark Cliff, Managing Director from Ageas Insurance said that:- "Caution about valuables being visible to passers-by is not just for Christmas! We are often reminded during the festive season not to stack presents under the tree in view of the window but it seems that for the rest of the year we inadvertently provide a veritable shop window display for burglars. And with the lighter nights we're more likely to leave curtains undrawn for longer, so now is the time to take stock and exercise caution."

Roy Rudham, Chairman of UK Neighbourhood Watch Trust, which gets 15,000 visits to its website each day said:- "People should treat their homes like they treat their cars – don't leave valuables on show, lock the doors and make sure you are insured. If you were to lock your home how easy would it be for you to get in? If you can easily gain entry, then a burglar will be in a lot faster than you."

Top tips for homeowners include ensuring that expensive electronic games, laptops and other valuables are kept out of sight of windows and that all goods are marked with a security pen and properly recorded and photographed. With net curtains being less fashionable in recent years, experiment with the angle of any blinds fitted to allow light in; a view from inside but no view from outside is worth considering. Ageas has teamed up with The Neighbourhood Watch Trust to provide top tips to reducing the likelihood of becoming a target for burglars:-

► Don't Leave Valuables in Sight; Fitting blinds or net curtains will make it harder to see into your property and avoid leaving empty boxes by the waste bin - you might be proud of your 40" LCD TV but do you want to advertise it to an opportunist thief?

► Windows; most burglars will want to enter your property from the rear and it is most likely that they will force a window to gain entry. Breaking a window will usually be a last resort as this will attract unwanted attention so visibly secure windows with key operated locks.

► Lighting; burglars don't like to be in the spotlight so you should ensure you have outdoor lights fitted that operate on a sensor switch (to save electricity) which activates when movement is detected. Using timer switches can be a good deterrent for an opportunist thief if you are away for a few days or your home is unattended after dusk.

► Burglar Alarms; many homes still do not have a burglar alarm and this should be a basic security measure on all homes. The siren box will act as a visual deterrent to some extent (dummy sirens can also be bought cheaply) and you can choose a system that simply lets off an alarm or one that dials a programmed number such as your mobile phone or a local security company.

► Doors; It is essential that you ensure your external doors are strong, in good condition and secured to a high standard. Fitting a five lever mortice deadlock or extra sliding bolts will greatly improve security. French doors - which are much weaker than individual doors - should be fitted with top and bottom mortice locks on both doors.

► Gates and Fences; a weak or low fence can make gaining access to the rear of your property much easier. Sturdy six foot fences make the task a little harder and thorny hedges such as Hawthorne make a good deterrent. Gates should also be similarly sturdy and locked from the inside with a bolt that is out of reach, as a minimum standard.

► Spare Key; Never hide a spare key in convenient location, it will be just as convenient for the average burglar too and will hand the house to them 'on a silver platter'. And make sure that keys are not within easy reach of the letter box.

► Buy a Safe; if you have particularly valuable items such as jewellery or large sums of cash in the house then it is a good idea to purchase a safe which can be secured in place in a hidden location. Passports, unused credit cards, etc should also ideally be locked away.

► Mark Your Property; so that if you are burgled your possessions can be identified should the police recover them. This can be achieved by etching your postcode, surname and house number/name onto the item, or, where this is not practical, using an ultraviolet marker pen. Also, photograph your valuables and keep a record of them. Ensure your home insurance covers household contents as well as buildings insurance.

► Don't Advertise Your Absence; many people now use social networking websites such as Facebook to tell everyone about their daily exploits. Don't unwittingly give details of when you're going on holiday by mentioning dates, etc.

Ageas UK (formerly Fortis UK) is a leading provider of award-winning Personal, Commercial and Protection insurance solutions in the UK. Ageas UK distributes both its Non-Life and Life products through a range of channels including brokers, IFAs, intermediaries, affinity partners and the Internet, as well as through its retail strategy via its wholly or partially-owned companies (Ageas Insurance Solutions, Ageas Protect, Castle Cover, Kwik Fit Insurance Services, RIAS, Tesco Underwriting and Text2Insure).

Insuring around 8 million customers and working with a range of partners, Ageas is recognised for delivering consistent and high-quality customer experiences. It employs over 4,500 people with a head office based in Eastleigh and others based in Belfast, Birmingham, Bournemouth, Glasgow, Gloucester, London, Reigate and Stoke-on-Trent.

Ageas is an international insurance company with a heritage spanning more than 180 years. Ranked among the top 20 insurance companies in Europe, Ageas has chosen to concentrate its business activities in Europe and Asia, which together make up the largest share of the global insurance market. They are grouped around four segments: Belgium, United Kingdom, Continental Europe and Asia. It is an undisputed leader in the Belgian market for individual life and employee benefits, as well as a leading non-life player, through AG Insurance. Internationally Ageas has a strong presence in the UK, where it is the third largest player in private car insurance. The company also has subsidiaries in France, Germany, Turkey, Ukraine and Hong Kong. Ageas has a track record in developing partnerships with strong financial institutions and key distributors in different markets around the world and successfully operates partnerships in Luxembourg, Italy, Portugal, China, Malaysia, India and Thailand. Ageas employs more than 13,000 people and has annual inflows of almost EUR 18 billion.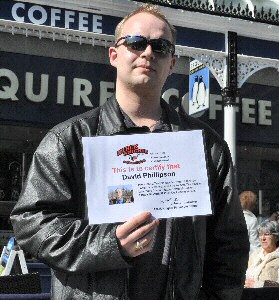 Skydiving David Phillipson
CONGRATULATIONS to David Phillipson from Southport's Esquires Coffee House who on Friday 8 April 2011 made a successful tandem skydive from 14,000ft at Cockerham Airfield, with the thanks to the Black Knights Parachute Team. The jump was in aid of Charity. Full story next week!

THE LINER TITANIC AND LIVERPOOL
Photographs and report by Colin Trollope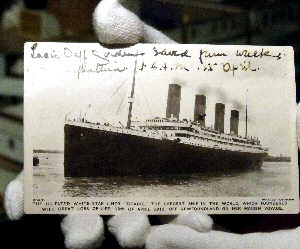 SOON, in Liverpool's Merseyside Maritime Museum, there will be a compelling new exhibition exploring the little known links between the tragic liner Titanic and the City of Liverpool. Early in the twentieth century, she was the biggest ship in the world and, unknown at the start of her maiden voyage, doomed to become a historically notorious shipwreck. The Liverpool shipping company, White Star Line, owned her and many members of her crew were from Liverpool and its environments'. For example, Liverpudlian Seaman Thomas Storey; Chief Officer Henry Wild, who lived in Walton, and Captain Smith lived in Waterloo until he moved to Southampton in 1908. The ship was conceived in Liverpool, built in Belfast and sailed from Southampton on its tragic maiden voyage in April 1912. On the 15th it struck an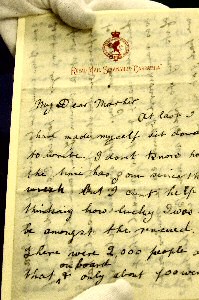 iceberg and sank, drowning over 1,500 people. Among those drowned was Liverpudlian Fred Clarke, a member of the ship's specially-hired band; all the band's members died after heroically playing as the ship sank. Some managed to escape on the life boats and were later picked-up. One very lucky intending passenger, Reverend Stuart Holden, was unable to go on the trip as his wife was taken ill; he framed his first class ticket and hung it above his desk until he died in 1932. It is believed to be the only one in existence and was photographed by our reporter the other day. This will be a truly compelling new exhibition of Liverpool's participation in the events surrounding Titantic's launch, voyage, sinking and its aftermath. On display will be the rarely-seen Titanic First Class ticket, a pocket book with the Liner's details and a diary of its future voyages as well as a and written letter of the Titantic's headed note paper. Visitors will discover, in the new gallery, dark atmospheric spaces forming the backdrop to a series of dramatically-lit areas, each telling a part of the powerful tragic story. On show there will be an original copy of the British inquiry, items salvaged from the wreck, passengers' letters, many photos including one of J. Bruce Ismay, chairman of the White Star Line, who controversially survived the disaster in one of the last lifeboats leaving the stricken liner, and one of the surviving crew returning to Liverpool. Among the local crew survivors were First Class stewardess Elizabeth Leather, from Port Sunlight, on the Wirral, and Liverpudlian Fred Fleet. This year-long show will draw upon only known surviving and previously unseen collections of international significance including material from the museum's extensive archives, complements Merseyside Maritime Museum's existing display. The author of "Titanic and Liverpool" (Liverpool University Press), Dr Alan Scarth, the exhibition curator, is quoted as saying:- "Titanic was built as a result of Liverpool's leading position as a major world port. The city and its people are at the heart of the story. Not only was the Titanic's sinking a major world event, the tragedy was a bitter blow to the port and the people of Liverpool. The new exhibition lifts the lid on this largely-overlooked turmoil in the wake of the sinking which resounds to this day." This year long exhibition will be open at the Merseyside Maritime Museum from March 2012 prior to the 100th anniversary of the Titanic's sinking, on 15 April 1912.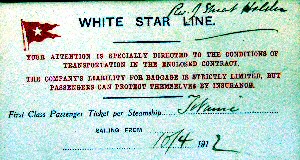 Among the many featured personalities are:-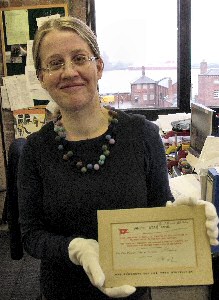 ► J Bruce Ismay, chairman of the White Star Line, who controversially survived the disaster in one of the last lifeboats to leave the stricken liner.

► Former Crosby resident Captain Edward Smith, the veteran master approaching retirement when he went down with his ship.

► Chief Officer Henry Wilde, Liverpool-born, who lived in Walton.

► Survivor Lily Bonnell, a First Class passenger from Birkdale.

► Joseph Fynney, a Liverpool rubber merchant who died on his voyage in Second Class to see his widowed mother in Canada.

► Seaman Thomas Storey, originally from Liverpool, was travelling Third Class with five other American Line employees. He and four of the others died.

► Fred Clarke, Liverpool member of the ship's specially hired band who all died after they heroically played on as the ship sank.

► First Class stewardess Elizabeth Leather, from Port Sunlight, Wirral, slept through the impact but escaped in a lifeboat.

Visit their website for more information.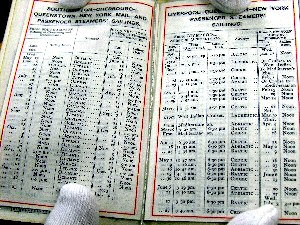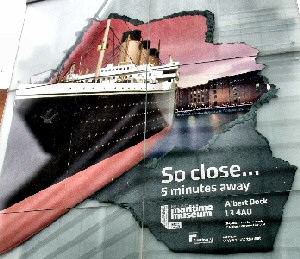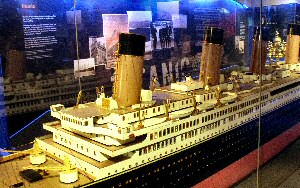 Ex-soap star charged with Murder
THE former actor from the Channel 4 TV soap Brookside, Brian Regan, aged 53, was remanded in custody at Liverpool magistrates court on 13 April 2011 after being charged with murder. Brian Regan, who is well known for playing Terry Sullivan, has been accused of killing with the murder of nightclub doorman, Bahman Faraji, who was shot dead outside a Liverpool pub on Thursday, 24 February 2011. Regan also faces another charge, that of perverting the course of justice. Regan was joined in court by Lee Dodson, 42, from Garston, who has also been charged with murder. Both of them have been remanded in custody by Liverpool magistrates, until they appeared at the Liverpool Crown Court on 18 April 2011. Another man Edward Heffey, 40, from the Dingle area of Liverpool has already been charged on Friday, 1 April 2011, with murder and will also appear at the crown court on that day.