Get your skates on for HUB
THERE'S less than a fortnight left to get your hands on tickets for one of the UK's hottest urban festivals. It is set to be the biggest and best year to date, Liverpool's HUB Festival will rock Otterspool Promenade from 21 May to 22 May 2011, with award-winning acts such as Funeral for a Friend, The Blackout and Mayday Parade taking to the Liverpool Sound City Stage – the first time the stage has featured at the festival.

The bands will provide the soundtrack to performances from the UK's top riders in BMX and skateboarding and the largest international break dancing competition as Bboys and Bgirls from across the globe (including Japan, Germany, Korea and Italy) go head-to-head.

More than 5,000 tickets have already been sold, and organisers are encouraging visitors to make the most of the early bird tickets which are just £5 per day per person, or a family ticket for two adults and two under 14s is just £18. Tickets purchased on the actual days of the event will be £10 per person or £15 for the weekend. The family ticket will be £25 for either Saturday or Sunday, or £30 for the entire weekend.

Liverpool City Council's cabinet member for culture and tourism, Councillor Wendy Simon, said:- "There's a real buzz around the city about HUB and the excitement is building the closer we get to the festival. As the city council has joined forces with Liverpool Sound City the event has stepped up a gear and the line-up on offer adds a wow-factor to the whole proceedings. The early bird tickets are fantastic value – where else would you be able to see ten bands each day and some of the most impressive BMX and skateboarding skills on display? I hope as many teenagers and families make the most of the great value of these tickets and I'm sure it will be a fantastic weekend for all."

Ryan Richards, Funeral for a Friend's drummer, said:- "We're really looking forward to a bit of HUB action. Cheap tickets + awesome bands x Liverpool = awesome show! If we add a bit of sunshine to that bad boy we'll be really cooking on gas. It will be a great weekend."

Dave Pichilingi, founder and Director of Liverpool Sound City, said:- "We are delighted at the amazing response to tickets for HUB this year. It shows that if you get the talent and the experience right then people will buy into and support the new model. The partnership between HUB and Sound City is off to a great start and we are already looking towards how we make it even better next year!"

Adding to the fun of the weekend, there will also be four extreme rides including the Vertical Booster which gives adrenaline junkies the perception of being boosted high above the Mersey. Gamers will also be in heaven with a Nintendo Game Station where festival-goers will be able to enjoy the latest computer games.

And following a competition to find the city's future music stars, organisers have selected two local bands to help rock the Otterspool Prom venue. A panel of local music industry professionals selected a shortlist of groups and music-lovers were asked to vote online. Around 8,000 votes were cast, and local bands Drop the Girl and Better Left Alone have won the opportunity to perform on the main stage.

John Stocker, guitarist from Drop the Girl, said:- "We are really excited and proud to have the opportunity to play with some of our favourite bands, and we can't thank our fans enough for their support to get us playing Liverpool's biggest music event of the year. Massive thanks to HUB and we can't wait to show the festival what we can bring!"

There will also be competitions across the weekend giving visitors the chance to win thousands of pounds worth of cash and merchandise from some of the coolest urban brands from Vans, Quicksilver and Etnies.

Festival goers are encouraged to bring picnics and camping chairs for a weekend of extreme rides and BMX stunts.

The event has been organised by Liverpool City Council in partnership with Liverpool Sound City. For tickets or more information, visit:- hubfestival.co.uk or book them through:- ticketweb.co.uk.

Letters to Editor:- "Border Agency Efficiency"
"ROBINAH, a midwife in Shyra, is so upset because of the following simple facts which led to her present situation. She is a midwife who has done an enormous amount in Shyria as their only midwife. St Luke's Church, Formby, paid for her to be trained as she was in the hospital trying to help the many mothers in that mountainous area of Rwanda. Because of her work there she was invited by Edge Hill university in Ormskirk to come to the Annual Midwife Day to talk to other midwives and students about her work. All seemed to be plain sailing. However on 18 April, 2011, the Border Agency, having refused her a visa to come for the visit, and after diplomatic pressure, apologised to her for not having properly considered her application and asked her to return her passport to the Kigali High Commission to have a visa inserted. The passport was returned on Tuesday, 19 April 2011, and there was a promise from the High Commission to phone her when it was back. It had been indicated that a fast turn-round is possible. Visas are issued in Nairobi, so the passport had to be sent from Kigali to Nairobi. After Easter, Wednesday, 27 April 2011, our MPs researcher, Veronica, was contacted because there was no word on the Visa. The Border Agency told Veronica that Robinah's passport had not been returned. She was due to come to England on the evening of the 29 April 2011. On Thursday, 28 April 2011, Robinah went to the Kigali High Commission and received a hostile reception – the passport was not there. That same day the people in Kigali confirmed that the passport had been returned. The flight was rebooked for Thursday, 5 May 2011, since if the passport was found the fast turn round should deliver a visa in time. After the holidays, Tuesday, 3 May 2011, it was discovered that Robinah's passport seemed to be still in Kigali. It had been there since 19 April 2011. There had been four Bank Holiday days in that time but there had also been six days of normal working. Even then the passport was not sent to Nairobi until Wednesday, 4 May 2011. Thursday, 5 May 2011, a phone call from Robinah was received just as the Communion service finished – about 10.00 am. Jane, the lecturer in Ormskirk and a member of St Luke's, had had a similar call. The passport was not back in Kigali – could we have someone contact the High Commission in Nairobi and ask that it be returned urgently to Kigali. Robinah was passing on a request from the Kigali High Commission. Unfortunately that was quite pointless because the high commission is only open for visas in the morning. It soon became clear that Robinah would not obtain her visa before her flight departure, so was asked to go to the airline office in Kigali and inform them of the situation. Later her flight reservation had to be cancelled. Robinah knows that it is hoped to bring her to England in July when there will be time for her to stay for two weeks. Sadly, this autocratic bungling by the border Agency has prevented from taking part in the celebrations at the Edge Hill University in Ormskirk last weekend. Many people involved have been asking the question, "Did they really mean to apologise on 18 April?" Todate, we have been unable to obtain a comment from them." Professor A Hobson, Chairman of Shyira Trust.
Thunder & Lightning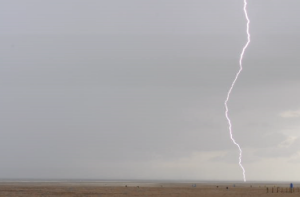 THE lest few days have see thunder storms all over the UK. Our editor Patrick Trollope has captured a few of them over the last few days. The last one pictured here was taken on Ainsdale Beach. But did you know that you can be struck by lightning even when the centre of a thunderstorm is 10 miles (16 kilometres) away and there are blue skies overhead?