Best-selling author, Kate Long, visits Southport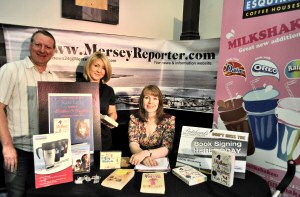 THE fantastic best-selling writer, Kate Long, was in Southport's Esquires Coffee House on Lord Street, on 28 April 2011. The author was behind the hit ITV show 'The Bad Mother's Handbook', which was shown in 2007, as well as writing many other similar books. The latest is called:- "Mothers and Daughter's" and Kate was in the area to sign copies of this book. We joined Kate as she happily signed books within the coffee shop, and then as she took some time out to sit and drink a well-earned coffee, with customers, outside, as they basked in the amazing hot sunshine on Lord Street on the day. She then headed off to Prichard's Bookshop in Formby to complete the tour for the day. The event was held, thanks to Formby's Prichard's Bookshop and Esquires, who put on a fantastic effort. Prichard's and ourselves still have a very limited number of signed books in stock, should you wish to get a signed copy of her latest novel. To learn more about the author who says:- "If I hadn't had the most incredibly boring childhood, I might never have become an author." we would recommend you go to katelong.co.uk. Thanks Kate for a fantastic day and we look forward to your next instalment!
Click on here to see more photographs taken at this event.
SOUTHPORT WEEKENDER
MOST of you have already been told that the Weekender has moved to Minhead this year after the problems with Pontins Southport. If you did not get a ticket to go, well we are going to be doing a report about it as normal, so do not panic. See next weeks issue!
ERRORS IN LAST WEEK'S EDITION
MANY of you have contacted us to say the web camera is not working and that we have information missing from last week's edition. Thank you for your emails, we are doing our best to fix the problem. Sadly, one of our computers in the office has failed due to the heat and as a result the camera uploads and some of the news reports have been taken offline as a result, hence the lack of stories in last week's edition. We are doing our best to resolve the situation and restore the missing "Southport Town & Country Fair April 2011" photographs and report. We hope to have the data received soon, but are awaiting parts, caught up in the double bank holiday. If anyone wants to be kept up-to-date, please email our newsroom at:- news24@southportreporter.com with the subject, "lost edition", and we will let you know when it is fixed.

KEEP up-to-date with our daily news email service...



~ Si

g

n u

p

~

to our new news service on Formb

y

-Re

p

orter.com.

If you subscribed you can keep in up-to-date with what's going on in and around Merseyside. It is free and we do not send out massive amounts of emails. Also your email is kept under the UK's Data Protection Act, so you can be sure that you will not have problems.