Did you see the "fairy Gokmother" in Liverpool One?
ON Friday, 2 September 2011, the fashion guru Gok Wan headed into Liverpool One with his film crew to shoot an episode of his new series. In this episode of Gok's Clothes Road Show, he picked three local ladies for their catwalk debut and also took it upon himself to show the public how to get a high fashion look without spending a fortune. Not surprising that his 'Budget vs. High Street' catwalk challenge was a fantastic hit with the 5 thousand odd people who had packed in to part of Liverpool One, to see the show live. His entourage all said how fantastic Liverpool and the people had been to them and that the visit was one of the main highlights of their trip around the UK. If you do not know what the budget was for the low end clothes, well the entire outfits had been created for around £50 to £250 only! But you will have to see the show to find out for real, what was the winner, High End Fashion or Budget! Gok Wan told us:- "It is a fantastic city to start my show off in Liverpool. I hope to show ladies in this new program how they can look fabulous without spending a fortune, as we are all cash strapped. I am taking my catwalk on the road, and hope to meet many amazing and friendly people along the way, just like the ones I have met in Liverpool. We had the biggest crowd last year and this time Liverpool brought it out again to welcome us. Liverpool will be the first city to be aired on the new show and what a way to start. Thank you Liverpool for making us so welcome and you are all looking so gorgeous!" So ladies, remember that the style guru Gok Wan new show returns to the TV later in September, on Channel 4.

We have snapped a few shots of the production of the show for you all to see. We hope it wets your appetite for the show, that looks like it will be fabulous! To see them please click on

and our photographic coverage.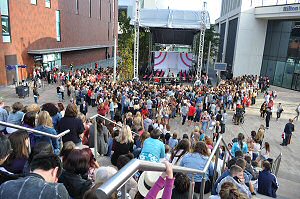 We would like to thank Gok and all his team as well as Endemol UK and Liverpool One for their help.
Please do email us via our news room email address, news24@southportreporter.com and let us know what you liked or didn't like about the show. Related website links:-
| | | |
| --- | --- | --- |
| Link 1. | Link 3. | Link 5. |
| Link 2. | Link 4. | Link 6. |
...HAPPY BIRTHDAY...

Happy Birthday, James from all of the team at Esquires!!! Remember the Penguin isn't a rugby ball!
If you have someone you want to say happy birthday to, for free, then use the email address below to send us the names you want us say happy birthday to, and/or a photograph. Email us today!

KEEP

up

-2-d

ate

...
with our free daily news email service.
Si

g

n u

p

today to our daily email news service via... Formb

y

-

Re

p

orter

.com

.
If you subscribed you can keep in up-to-date with what's going on in and around Merseyside. It is free and we do not send out massive amounts of emails.
Also your email is kept under the UK's Data Protection Act, so you can be sure that you will not have problems.