Hope Street Annual Festival 2011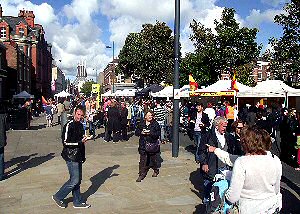 IT was yet another successful Hope Street Festival took place on Sunday, 18 September 2011. The whole street was closed to traffic and was teeming with people enjoying themselves in the fine weather, as they perused the many stalls, commercial and charities, selling a variety of goods and services, from jewellery and knick-knacks, soaps and cosmetics, flowers and plants to face painting and hairdressing. A bewildering choice of foods and drinks were on offer. Stalls crammed with goodies, from cakes, candies and sweets to delicious cheeses and traditional breads tempted us, whilst inviting meals of various ethnic origins assailed the nostrils, included catering by restaurants and bars on Hope Street and in abutting roads. Street entertainers including, 'revolting' children in a parade, and musicians; bands, groups and individuals including one on the balcony of the Philharmonic pub, all helped entertain the crowd .An animated statue intrigued small children, and a juggler deftly whirled her baton, whilst, by the suitcases artwork, a group of actors held an amusing animal's picnic. Nearby a singer serenaded from a stage. Entranced children tucked into an old fashioned bed, were read a bedtime story by a young lady, suitably attired in old world nightwear. There were children's rides including a circuit of vehicles, and spinning teacups which pleased the little ones, whilst in the grounds of Blackburne House, other amusements and games were offered for those a little older. Inside the house was an array of crafts for sale, all very intriguing. Plus other items we were unable to catch. The whole atmosphere was great and pleasantly relaxed. Hopefully the fair provided an income boost and welcome publicity for the participants, many of whom were from Liverpool and the North West. It was a really good experience as usual. Here's to next year.
Click on here to see our photo coverage.
Audio Copy - (Experimental)

Click here to hear this weeks edition in audio format. Please let us know what you think about it. via emailing us.

Also if you have a child who can draw a face, send one in and we will look at using it for our news reader for an edition. Adults can try as well! You will get a copy of the animation sent to you and credit on the animation as well!
Manx
Direct

08447
402 038

2 Years Parts & Labour Worranty