Christmas Classics return to Liverpool Cathedral with a Sense of Sound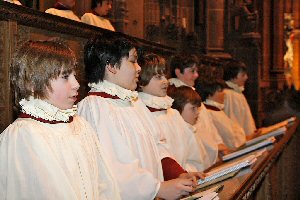 LIVERPOOL Cathedral's Choristers will join voices with renowned local choir Sense of Sound Singers for an exciting evening of Christmas music on 3 December 2011. This time the action moves onto the main floor for the annual Christmas event.
BBC Radio personality Roger Philips returns to host the evening of popular sacred and secular Christmas music in aid of Claire House and the Cathedral.

Rapidly established as a highlight in the Cathedral's calendar, Christmas Classics has grown in popularity over the years and for the first time takes over the entire Cathedral. The Cathedral's Music Director David Poulter and Sense of Sound's Artistic Director Jennifer John and Musical Director Perri Alleyne-Hughes have put together a diverse programme, that showcases each choir's individual style, while blending them together for what promises to be an evening of unique musical treats.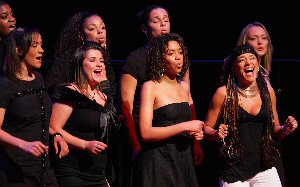 David Poulter said:- "It will be such fun to work with a choir so different to ours, and I am really looking forward to being able to combine our musical styles for an evening that will get everyone in the Christmas mood."

Jennifer John added:- "We are thrilled to be performing in the magnificent Cathedral alongside the wonderful Cathedral choristers. We want to see the Cathedral filled with magnificent Christmas music to herald in the festive season."

Helen Carlson from Claire House said:- "We're delighted to be a part of this wonderful concert. We are so excited about hearing the wonderful music from these 2 fantastic choirs in such an awe inspiring location."

Eryl Parry, Director of Enterprises added:- "Christmas Classics is one of our most anticipated events and this year it has got even better with our creative partnership with the fabulous Sense of Sound Singers. We think this will be an occasion which will remain in the memory long after the last note echoes around our Cathedral."

Tickets for the event are on sale from the Cathedral Shop priced £10. Or you can enjoy a special pre concert 2 course festive buffet before the show for £25 (ticket and buffet).

JOIN SANTA DASH AND HELP SAVE LIVES
PLANS are already well underway for this year's Santa Dash 5k run in Liverpool and participants are being encouraged to sign up now to take part and support a leading charity.

On Sunday 4 December in Liverpool City Centre, thousands of people will be taking part in the annual race all dressed in bright red Santa suits while raising money for good causes.

The Muscular Dystrophy Campaign, the leading UK charity helping people with muscle wasting conditions, is appealing to Merseyside residents to take part in the run to raise money for people with devastating muscle-wasting diseases. Participants are asked to try to raise at least £100 in sponsorship and all those who register will receive a full sponsorship pack as well as their free Santa suit. In addition, whoever raises the most sponsorship for the charity from the run will receive a Christmas hamper, courtesy of the Park Foods Group.

Charles Horton, Volunteer Fundraising Manager for the Muscular Dystrophy Campaign said:- "I hope the people of Merseyside take part in the Santa Dash this December and help us continue our work funding pioneering research to find a cure for muscle disease. The run promises to be a great event with everyone in the festive spirit and it should be a real sight as thousands of Santa's go jogging through the streets of Liverpool!"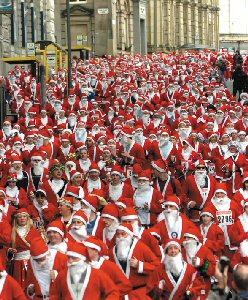 For further details and an entry pack please email or call Tilly Dowling on:- 07523 792179.