Mersey Ferries challenged to an unusual race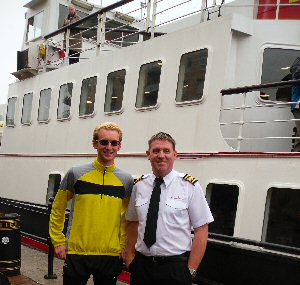 STEVEN Rittey from Manchester likes endurance challenges. This year he has ridden from Dublin to Galway in a day - 152 miles; completed the 53 mile Goodwood Roller Marathon; undertook the Coast to Coast in a day (Hull to Southport); and cycled from Manchester to Portsmouth in 2 days.

His latest challenge was to race the Mersey Ferry along the Manchester Ship Canal from Salford Quays to Pier Head on Sunday, 16 October 2011. Steven normally does these challenges "just because they are there", but because of the local nature of this one he has decided to raise funds for Clatterbridge Your Cancer Centre, Merseytravel's Charity of the Year.

Steven was waved off by the passengers and crew of the ferry from Salford Quays at 10am and arrived at the Pier Head just behind the boat covering a distance of 56 miles.

Steven said:- "I really enjoyed the run and am happy that I have raised some money for charity. I will try again next year with a more direct route."

Passengers on board the ferry donated an amazing £246 for Merseytravel's staff charity Clatterbridge Your Cancer Centre, which brings the total raised so far this year to just under £16,000. Merseytravel staff are currently in the process of voting for their chosen Charity of the Year for 2012.
Tribute to British Driver Dan Wheldon
Photos by Craig Boon, Octane Photographic Ltd.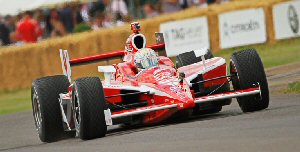 "OVER the weekend we learned of the very sad news that a British Racing Driver had been killed in the USA. Dan died of his injuries soon after arriving at hospital after a massive crash. The twice Indy 500 winner (inc this year) was the first ever Brit to win it since Jim Clark. He will be sadly missed by all his fans and fellow drivers and team mates. He also leaves behind a wife and 2 young children. These are a two photographs we took of him at the Goodwood Festival of speed only weeks after he won the Indy 500 this year." said Southport based Craig Boon, who is the Director of Octane Photographic Ltd.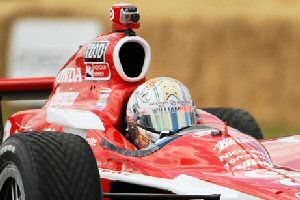 LAST CHANCE FOR HEROIC WORDS
NOW'S your last chance to praise your hero, because the closing date for the competition to write a poem on the theme of 'Help for Heroes' is fast approaching. The competition closes on 11 November 2011 and the writer of the best poem will win £250 in vouchers kindly donated by Primark. This national competition is being run by publishers United Press. All you have to do is post your poem to arrive before the closing date.

"We have had several submissions already. All the poems are full of praise and admiration for our national heroes." said Joanna Cummings of United Press, one of the people who will judge the competition. Entries are only accepted by post, accompanied by a cheque made out to Help for Heroes. You can donate as much as you like and enter as many poems as you like. Joanna said that:- "We're looking for poems related to Help for Heroes. It could be a poem about an individual or it could be a poem with a message. It can be any length, from an epic poem to a short ditty. The minimum donation we're asking for is a pound, but I think people feel so passionate about this subject that many donations will be much more and many people will send several poems."

A representative from Help for Heroes will be at the presentation to give the winner their prize, and the winner will have the honour of handing over the donations to Help for Heroes. The winner will also have their poem published in a general collection of modern poetry and will receive a free copy of the book. So far, the competition has already raised over £1,000 in generous donations from poets from all over the UK. Post your entries, along with your donation for Help for Heroes, to United Press, Admail 3735, London, EC1B 1JB, by the closing date of November 11th 2011. You do not need an entry form but make sure you put "Help For Heroes" at the top of your entry, and include your name, address and telephone number.

Declan Jones saves best for last at Silverstone...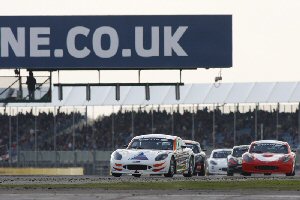 THE Liverpool based teenager switches to TJ Motorsport and shines in the final 2 rounds of the Ginetta Junior Championship.

Declan Jones concluded his maiden season in the 2011 Ginetta Junior Championship at Silverstone last weekend in fine form, with a strong showing in rounds nineteen and twenty.

Declan, who made the step up to the Ginetta Junior Championship for 14 to 17 year olds this season, after several successful years in the Lewis Hamilton and Bernie Ecclestone Formula One Management-backed Formula Kart Stars Series and in the Super One Rotax Series, was slowed by severe engine problems last time out at Brands Hatch. However with no such issues this time he was able to show great pace around Silverstone's 1.639 mile National Circuit.

Indeed the Chicago Soft-backed youngster was right at the front in practice on Friday, a switch to TJ Motorsport paying early dividends. He then maintained that momentum on Saturday morning, finishing third overall in the official free practice session, his best lap a 1 minute 10.533 seconds, which left him just 0.087 seconds off P2.

Qualifying was just as positive and while he slipped to 9th, he was just three tenths off 3rd and a place on the 2nd row.

The first race saw the Liverpudlian storm up to 6th at the start in his Ginetta G40J. Unfortunately though, going into Becketts, he got taken out by 1 of his rivals and while he could continue, with the steering damaged, he did well to make it to the chequered flag, eventually classified in 14th.

Declan said:- "It has been great with TJ Motorsport from the word go. It is a nice team and everyone is really welcoming. We were good in practice and the car felt strong on Saturday and we had really high hopes. I felt I should have been a bit higher in qualifying but I just couldn't quite hook up a lap with a really good tow. Then in the 1st race we went from 9th to 6th at the start. It was going well. But after the contact the steering was destroyed - you have holding points for the steering wheel and they were literally bent the opposite way they should have been - and all I could do was bring it home."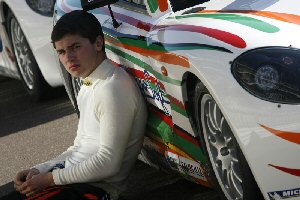 The next day in the 2nd race, which was screened live on UK television on ITV4, Declan made another great start and was up to 5th at the end of the 1st tour. Although he slipped back to 6th on lap 2, he re-gained P5 on lap 6, all the time running right up with a gaggle of cars that trailed eventual race winner, Niall Murray and 2011 Ginetta Junior Champion, Seb Morris. With 1 lap to the flag, he looked set to at least equal his best result of the year. However, it wasn't to be and when t2 of his rivals made contact in front, the 16 year old was left with nowhere to go. He finished 13th.

Declan continued:- "I had a fantastic start again, probably one of my best of the year. I was able to do the same lap times as everyone in front of me and I was running right up with them. But then it all kicked off directly ahead of me on the very final lap with three corners to go - and I was taken out, again. I guess it was a racing incident. It is racing at the end of the day and you have got to get on with it, although it is obviously disappointing. It has been an eventful weekend and while the results might not show it, it was very positive. With a bit of better luck we could definitely have got a podium, but still the pace was there. I have learnt loads this year. The set-up is now very good and with fine tweaking I think it could easily be a winning car."

Declan ends his rookie campaign 13th in the standings - having notched up 172 points and having scored in 17 of the 20 races. It is not quite over however, as he will take in the stand-alone Ginetta GT Winter Cup event at Snetterton over 5 November and 6 November 2011, and with 4 separate Ginetta Junior races on the bill, he could yet end 2011 with a rostrum.

Declan added:- "I am really looking forward to the Winter Cup. This weekend has been another massive confidence booster. It will be good to go back to Snetterton having raced there in August too. It is a nice track. I will be going into it hoping to come away with some trophies. I'm determined to try and get a podium there."

Declan's dad, manager and chief mechanic, Kelvin Jones meanwhile felt there were many positives to take from the Silverstone finale. Kelvin stated:- "The race was probably Declan's best of the year. Knockhill may be his best results wise, as he was fifth, but he was extremely fast. He has been very quick throughout the weekend and I think we could have had near on a podium in both races. Dec was just unlucky to be twice taken out. The positive though is the speed. We knew we were going to get there and we most definitely have. We have the Winter Cup to focus on now and we will again run with TJ Motorsport. I wanted to get a feel for them this weekend and we will do the same at Snetterton. We will then look to finalise our plans for 2012. I am convinced with the right package Declan can be a championship contender next year."