North West drivers praise Highways Agency Traffic Officers
TRAFFIC Police, a patrolman for one of the country's biggest recovery clubs and a worried mum were among the region's motorway users praising the work of Highways Agency Traffic Officers this summer.

Bosses at the Highways Agency's Regional Control Centre at Newton-le-Willows, headquarters of the North West Traffic Officer Service, are delighted at compliments from motorway users as the service gets into its 6th year following its launch in September 2005.

Merseyside roads policing officer David Grainge wrote to the Highways Agency praising the work of Highways Agency Traffic Officers Alison Courtenay and Anthony Gould after they helped out at a complicated break down on the M6 near Preston in August.

Constable Grainge's daughter is severely disabled and the family was heading for a weekend holiday when the breakdown happened, forcing the group to seek refuge in the hard shoulder of a slip road. Alison, who lives at Leyland, and Anthony who is from Preston, helped protect the family's vehicles to enable Constable Grainge's daughter to be swiftly and safely transferred and get the holiday party away on the move again.

Constable Grainge said:- "I have spent nearly all my life as a police traffic officer and I have helped many motorists but it is quite a different experience being the one who needs help. The professionalism and understanding displayed by these 2 officers is a credit to the Highways Agency. They made a potentially horrendous experience into one that was managed quickly and safely with minimum fuss."

Operations Manager Ian Baron, in charge of the Samlesbury outstation in Lancashire where Alison and Anthony are based, said:- "Our traffic officers always make an assessment of the circumstances surrounding a breakdown and as well as issuing safety advice can offer extra assistance and reassurance to vulnerable motorway users. In this case it was important to get everyone away from the hard shoulder of the slip road as quickly and as safely as possible. Alison and Anthony were only doing their jobs but it's always heartening to get such feedback - especially from someone like Constable Grainge with all his years of experience on the motorway network. We are very grateful he took the trouble to write and thank us."

Traffic Officers from Knutsford outstation in Cheshire rode to accident-stricken customer Lesley Wardle's rescue in late August - providing safety advice and reassurance – after her car was involved in a collision with a truck on the Southbound M6 near Sandbach.

Writing to thank the Highways Agency Lesley said:- "The 2 Traffic Officers were exceptional and so supportive in sorting out the mess. They were brilliant and kept me from falling apart."

2 other Knutsford Traffic Officers, Dave Spennatti of Chorley and Kevin Warlow from Bretton in Flintshire, were praised by GP Tom Stewart and his wife Beryl after their car suffered a puncture in a precarious position on the M6 between Knutsford Services and the exit slip for the A556.

Dr Stewart said:- "Fortunately, I was able to drive onto the hard shoulder and within five minutes Dave and Kevin were on the scene - and we are very grateful for the advice they gave us, their concern for our safety and their courtesy at all times. They both deserve to have their excellent service noted."

Other customers - among them a couple with children whose car suffered a flat tyre near Thelwall Viaduct and an RAC patrolman recovering a vehicle from the M56 - have also written to thank Traffic Officers for their words of help, advice, reassurance and sometimes protection over the summer.

John Rimmer of Southport was helped by traffic officers in Cumbria after his car suffered a puncture long the M6 near Penrith back in May. He wrote praising the 'top class' Traffic Officers who arrived on the scene to advise him as well as the control room Traffic Officer in the Regional Control Centre at Newton-le-Willows who answered his call for help from an emergency roadside telephone.

And another driver, Patrick Riley, told how he was 'shocked' after finding himself in lane one of the M62 outside Manchester in July following a puncture. Mr Riley praised Traffic Officers Pam Brides, from Tyldesley and Dave Taylor from Warrington, saying they deserved awards for the calm - and calming – way they dealt with the incident in traffic. Pam and Dave, from the Rob Lane outstation at Newton-le-Willows in Merseyside, towed the vehicle into a nearby works unit before informing Mr Riley's recovery club.

Concerned mum Rae Ford said she was 'overwhelmed' by the help her 23 year old son, Ben received when he was involved in an accident leaving the M56 for the A5117 in Cheshire.

The incident was attended by Knutsford team manager Nick Jones, who comes from Haslington near Crewe and Traffic Officer Dave Smith of Congleton. Mrs Ford said:- "They stood the whole time in the pouring rain waiting and keeping our spirits up and even making us laugh - in spite of the severity of the situation - as we waited for the recovery truck. I began to appreciate what qualities the Highways Agency has in its traffic officers and even when I thanked them they just said they were doing their jobs and were happy to be helping people in difficult situations like this."

John McTaggart, Regional Operations Manager, in charge of the North West Traffic Officer Service, said:- "I am sure all our Traffic Officers would say the same: we are all just doing our jobs to keep motorway users safely on the move. Having said that, it is always gratifying to receive compliments from some of the thousands of customers we are out there helping around the clock, every day of the year."
Local Girl Takes boohoo.com Real Women Competition by Storm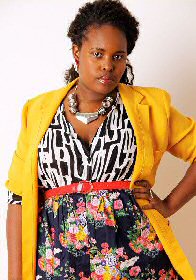 LAST month, leading fashion e-tailer boohoo.com launched their search for real women in the UK to become a brand ambassador. The competition was fierce and 11 finalists made the cut culminating in a final round taking place in Manchester on Friday, 28 October 2011. Liverpool-born Tiwonge Gondwe, 23, is one of the lucky 11 who impressed the panel of celebrity judges with her vivacious personality and fashion style. Coronation Street's Michelle Keegan (Tina McIntyre) and Ryan Thomas (Jason Grimshaw) and also X-Factor's Mischa B were just three of the celebrities that the contestants had to impress. Tiwonge's fashion icon's include Marilyn Monroe, Jill Scott, Lauryn Hill and Solange Knowles. Her fashion motto is to strive to stand out, not blend in and wear clothes that suit your personality. Tiwonge has always been interested in fashion but recently got the courage to wear what she really likes after gaining positive feedback about her style choices from peers. Tiwonge enters the competition with no prior modelling experience but the judges were amazed at her confidence and presence. For Tiwonge winning the modelling competition would help her future career choices:- "The competition is an amazing opportunity and my career aim is to be a fashion stylist so this would be a great first step. I also think I would make a great brand ambassador as a plus size model."

Celebrity TV DIY Expert Craig Phillips Big Birthday Bash!
Photographs by Ian Fairbrother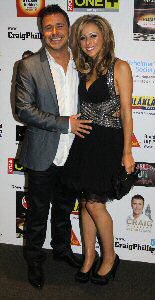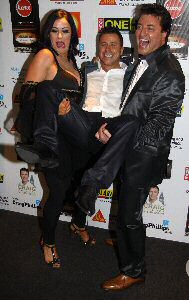 LIVERPOOL has been packed full of celebrities this last week, and many of them popped in to wish Liverpool's very own, Craig Phillips, a Happy Birthday... He was Big Brother's first winner and has go on to bigger and better things... Prior to the reality TV series, he ran his owned building company. From his TV status and his background as a builder, he moved onto DIY programmes as presenter and expert. Not only that, but he also found time to make a Christmas single and returned to the Big Brother family earlier this year, in order to appear in trailers to plugging the shows move to Channel 5. the night was full of the unexpected, as any old conventional birthday card would have been far too traditional for this colourful event, held at Liverpool's swanky Park Hotel, Aintree. One of the many highlights was a birthday cake, 'The the Power Drill Sponge' provided by Ryobi Tools. Craig said that:- "I am was looking forward to my birthday party and what a night it was... I would like to thank all of those who have supported me in organising it! This list is so ling but these are just a few names I can think of... Sorry if I missed you out! PWS Management, The Park Hotel, Sitting Pretty Covers, Sweet Creations, Candy Buffets, Prominent Events, Blaklader, Sika, Daytona Lights, Hubris Records, Laura White, Andy Abraham, Victoria Jones, The Driftars, Elsie Music, Scott Wright & Band, Blind Mikey DJ, Laurel and Hardy, The amazing Sugar Dollets, Heat Holders, and Home TV."
Happy Birthday Craig from us all at Southport & Mersey Reporter.