Merseyside Scouts Do Sponsored Walk
Photographs and report by Viv Rathbone.

ON Sunday, 20 November 2011, over 50 Scouts, Explorer Scouts and their leaders started from Freshfield Station to walk to the District H.Q. at Waterside Lodge. They were raising funds to purchase a much needed District Minibus for use by Scouts of all ages in the Southport District. The weather was pleasant, especially once the slight mist lifted and we had blue skies and sunshine for a while. On reaching Ainsdale the Scouts were joined by Cubs and their leaders and at Weld Road, they collected the youngest section, the Beavers, all bringing their leaders along too. Several parents also walked along the beach to Waterside where a welcome hot drink was waiting. At all the joining points they were greeted by members of the newly forming Rotary Club of Southport Sunrise who plied the young people with Gingerbreadmen (thank you Martins Foods, yum yum) and orange juice (thank you McDonalds). The Rotary Sunrise members also acted as marshals at some points where road crossings were needed. Travel to the joining points along the line and back was provided by Merseyrail with special tickets. Thank you to all who supported these young people and their leaders and whilst raising money for this much needed minibus, they certainly got the OUT into SCOUT.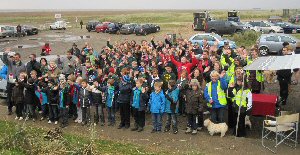 If anyone wishes to assist the Southport Scouts in their endeavour and add to the monies collected on this event, please contact Rob Brayshaw from the Scouts on:- 01704 513162 or Di Harrison of the Rotary on:- 07955 004 145.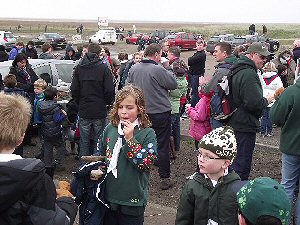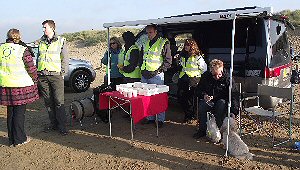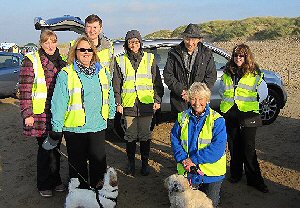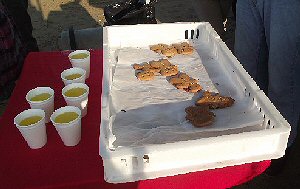 A WORLD FIRST THE REAL SANTA CLAUSE COMES TO LIVERPOOL AS THOUSANDS TAKE TO STREET TO DEFEND WORLD CHALLENGE TITLE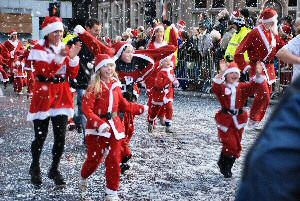 ON 4 December 2011, thousands of Santa's will take to the streets of Liverpool to take part in the world Santa Dash challenge in an attempt to keep the title in Liverpool, supporting children and charities across the region and the real Santa Clause is coming to town to start the world famous race courtesy of Liverpool celebrity hairdresser Herbert.

Organisers Runliverpool launched the "BACK THE DASH" campaign with support from Olympic athlete Beth Tweddle, Boxer David Price, St Helens Rugby Captain Paul Wellens joined Liverpool legends Phil Thompson, Alan kennedy and former Manager Roy Evans, Everton Legends and a host of Liverpool personalities including Big Brothers Craig Phillips, actresses Suzanne Collins and Pauline Daniels, Peter Hooton (The Farm) and MP Steve Rotherham.

A Christmas window display came to life with all patrons waving at children and shoppers with the challenge trophy in front for all to see. Alan Rothwell race director warns:- "Las Vegas is hungry to take the title back and have a huge backing this year, I urge everyone to back the dash and keep the title in our city. Last year 7,312 people took part to secure the world title but we'd like this year to be the biggest yet."

Liverpool legend and football pundit Phil Thompson said:- "the Santa Dash is a fantastic event for the city that gets bigger and better each year, its great that the money raised stays in Merseyside and the North West Region. Long may it continue."

While at Everton Football Club backed by Graeme Sharp, Ian Snodin and Joe Royle the fans of the premiership team are invited to wear blue suits supporting Everton in the Community Charity their aim to recruit 1878 fans to run the Santa Dash through Liverpool City centre and raise £50,000. Liverpool Unites and Radio City's Cash for Kids are committed to raising thousands for children and young people including Alder Hey hospital.

Herbert commented:- "It's unbelievable Santa is coming here to Liverpool. It's my time to magic to the children of Liverpool. At this time of year not everyone gets the opportunity to visit Santa in Lapland so I wanted to bring Lapland to Liverpool. My mum was a wonderful lady she gave me a magical life and taught me to appreciate the values of Christmas time, a time for forgiving and forgetting and celebrating. She would love nothing more than the city to unite together at this time and for us to believing in the magic of Christmas."

Each year on Christmas Day Queenies Charity seats 500 people at the Adelphi for Christmas Dinner for those who would otherwise be alone at this time of year. 150 young carers from Barnardo's have already visited Blackpool illuminations and plans are in place to take 200 children and 150 carers to the Royal Court Theatre during Panto season. Queenies Christmas also supports The Lord Mayor of Liverpool's Christmas Party for 250 under privileged children at the town hall in December as well as a Christmas Lunch for 600 pensioners.

The world famous race has entries from people from all over the UK and international visitors. To join the race and keep the title in the UK please visit:- runliverpool.org.uk to enter.

Herbert will also be doing his usual visit to Whiston Hospital and the Royal Hospital Liverpool on Christmas Day with gifts for the children and Alder Hey Hospital on 5 December 2011.
Children are invited to visit Santa at his grotto on the following days at the Bling Bling Building on:-

| | | |
| --- | --- | --- |
| Tuesday, 6 December 2011 | N/A | 3pm to 7pm |
| Wednesday, 7 December 2011 | 10am to 2 pm | 3pm to 7pm |
| Thursday, 8 December 2011 | 10am to 2pm | 3pm to 7pm |
| Friday, 9 December 2011 | 10am to 2pm | 3pm to 7pm |
| Saturday, 10 December 2011 | 10am to 2pm | 3pm to 7pm |
See what it looks like by using looking at our report of last years dash by clicking here.
Also for more info read the related report in this weeks issue by clicking on here!
Karen Potter Craven Minor JFL - Fixtures & Results
Fixtures Week Ending 27 November 2011

Under 9
Southport Trinity Blue v Southport Trinity White
Birkdale United S v Redgate Black
Southport FC Juniors v Formby JSC
Redgate Yellow v Town Green
Hesketh Blue v Birkdale United G
Redgate Green v Ormskirk FC Juniors
Hesketh Red v Formby FC Juniors

Under 10
Redgate Rovers v Formby FC Leopards
Formby FC Panthers v Birkdale SAJ
Southport FC Juniors v Town Green Pumas
Ormskirk FC Juniors v Southport Trinity Blue
Formby Athletic v Formby JSC Black
Crosby Stuart v Birkdale DR
Hesketh Colts v Town Green Cougars
Holbank v Birkdale Black
Formby JSC White v Southport Trinity White

Under 11
Birkdale Hawks v Ainsdale Juniors
Redgate Black v Town Green B
Formby FC Juniors v Town Green S
Southport FC Juniors v Redgate Yellow
Hesketh Colts v Formby JSC
Southport Trinity v Birkdale Black

Under 12
Southport FC Juniors v Great Crosby
Formby JSC White v Town Green
Redgate Rovers v Formby JSC Black
Birkdale United R v Birkdale United S

Under 13
Formby JSC v Town Green Athletic
Town Green v Jaguars Red
Birkdale United v Burscough FC Juniors
Southport FC Yellow v Redgate Yellow
Jaguars White v Southport Trinity
Redgate Green v Southport FC Black

Under 14
Southport FC Juniors v Birkdale United
Ainsdale Juniors v Southport Trinity
Burscough FC Juniors v Town Green
Formby JSC v AFC Liverpool
Redgate Rovers v Birkdale Black
Maghull Youth v Formby FC Juniors

Under 15A
BV08 v Formby JSC Black
Marine v Prescot Cables
Crosby Stuart v Burscough FC Juniors
Ormskirk West End v Birkdale United
Formby FC Juniors v Formby JSC White

Under 15B
Burscough FC Green v Hesketh Colts
Ainsdale Juniors v Redgate Yellow
Town Green v Maghull Youth
Redgate Green v Southport Trinity
Crosby Stuart Youth v Hudson Rangers

Under 16 Adam Bell Cup
Ormskirk West End v Jaguars
Southport Trinity v Town Green

Under 16 League
Hesketh Colts v Maghull Youth
Formby JSC v Birkdale United
Formby FC Juniors v Formby Dons

Under 18
Formby Colts v Jaguars
Waterloo Park v Town Green West Lancs
Great Crosby CPSOB v Southport Trinity

Results Week Ending 20 November 2011
Under 9
Formby FC remain unbeaten on 29 points, but are pursued by four teams all on 24.
Town Green 5-0 Hesketh Red
Southport Trinity Blue 4-0 Redgate Yellow
Redgate Black 0-5 Hesketh Blue
Birkdale United G 5-0 Redgate Green
Southport Trinity White 1-2 Birkdale United S
Formby FC Juniors 6-1 Southport FC Juniors
Ormskirk FC Juniors 0-3 Formby JSC

Under 10 Wilf Jenkinson Cup
Hesketh Colts 0-4 Formby FC Leopards
Town Green Pumas 3-4 Formby FC Panthers

Under 10 League
Formby White dropped points to their Black team enabling Birkdale Black to join them at the top.
Ormskirk FC Juniors 2-0 Birkdale DR
Formby Athletic 2-3 Southport FC Juniors
Southport Trinity White 0-2 Southport Trinity Blue
Formby JSC White 1-1 Formby JSC Black
Town Green Cougars 5-0 Birkdale SAJ
Redgate Rovers 1-5 Birkdale Black
Holbank 0-1 Crosby Stuart

Under 11
Redgate Black and Southport pulled clear of Town Green S following a defeat by the latter.
Redgate Yellow 9-2 Ainsdale Juniors
Birkdale Black 9-1 Formby FC Juniors
Hesketh Colts 5-0 Birkdale Hawks
Southport FC Juniors 7-2 Town Green B
Town Green S 1-2 Formby JSC
Southport Trinity 2-7 Redgate Black

Under 12
Great Crosby closed the gap on Formby White who could only draw with third place Town Green
Formby JSC Black 2-0 Southport FC Juniors
Birkdale United R 2-1 Redgate Rovers
Town Green 3-3 Formby JSC White
Great Crosby 3-1 Birkdale United S

Under 13
Redgate Yellow stretched their lead following Trinity's day off.
Southport FC Yellow 1-5 Southport FC Black
Redgate Yellow 4-1 Town Green Athletic
Birkdale United 5-0 Redgate Green
Jaguars White 2-5 Town Green
Formby JSC 2-3 Jaguars Red

Under 14
The top two, Birkdale and Trinity, opened up a gap on their rivals
Burscough FC Juniors 3-2 Redgate Rovers.
Town Green 7-0 Ainsdale Juniors
Southport Trinity 4-3 Maghull Youth
Birkdale United 5-2 Formby JSC

Under 15A
In the battle of the giants, leaders Prescot beat second placed Crosby Stuart.
Prescot Cables 5-2 Crosby Stuart
Formby JSC Black 0-9 Burscough FC Juniors
Birkdale United 3-2 Formby FC Juniors
Marine 1-1 BV08

Under 15B
The top three of Crosby, Redgate Yellow and Town Green all recorded emphatic victories.
Burscough FC Green 5-1 Redgate Green
Ainsdale Juniors 1-6 Crosby Stuart Youth
Town Green 6-1 Hesketh Colts
Southport Trinity 1-0 Hudson Rangers
Redgate Yellow 5-2 Maghull Youth

Under 16
West End closed the gap on Formby FC who had no fixture.
Formby Dons 2-4 Hesketh Colts
Town Green 7-0 Jaguars
Maghull Youth 2-3 Southport Trinity
Ormskirk West End 8-2 Birkdale United

Under 18
In the closest division of all, Jaguars were the only losers in the top three, losing to Trinity who go above them.
Southport Trinity 4-1 Jaguars
Breeze 6-0 Great Crosby CPSOB
Town Green West Lancs 4-2 Formby Colt