Mortuary reopens after £1m refurbishment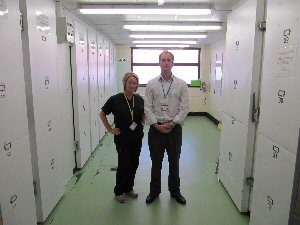 SOUTHPORT and Formby District General Hospital's mortuary has reopened after a £1m refurbishment. The mortuary has been "future-proofed" with the installation of new specialist equipment, including examination tables and chilled storage capable of accommodating patients weighing up to 50 stones. The Town Lane building, which is also the public mortuary for the Sefton Coroner, opened with the original hospital in the late Eighties and was beginning to show its age.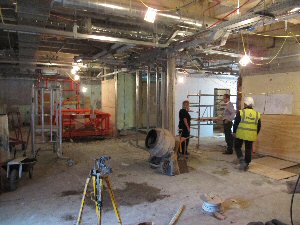 During 5 months' work, it was stripped back to the brick, redesigned and rebuilt to 21st century clinical standards. 62 patients can now be accommodated – 14 more than previously. There is also improved security and infection control measures, easier access for funeral directors and an improved room where relatives can visit loved ones.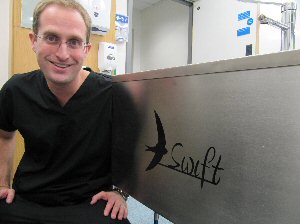 Bereavement and Mortuary Services Manager Ben Swift has also left his mark on the design of the new stainless steel post-mortem examination tables. During his career he has worked on behalf of the Home Office planning for major incidents, in disaster victim identification teams and forensic post-mortem support, and been chair of the North West Mortuary Staff Forum.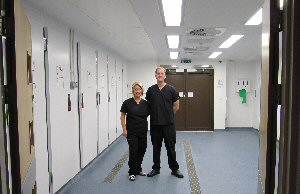 Using this experience he worked with manufacturers LEEC to make improvement to their standard design and has been credited with his own "Swift" logo at the foot of each table. "Mortuaries are an extension of the high quality, end-of-life care the Trust provides for patients, so the planning of this work and collaboration with partners has been essential in ensuring we got this important work right without impacting upon families' needs during a time of loss," he said. "All services within the Trust offer high quality patient care and we are no exception. The refurbished mortuary ensures the high standard me and my colleagues work to are now reflected in our workplace."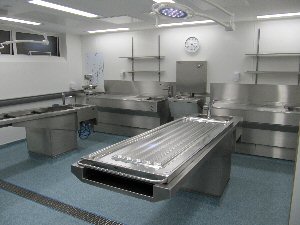 10 COMPANIES WIN PLACES IN LEAGUE TABLE OF BRITAIN'S FASTEST-GROWING PRIVATE FIRMS
THE 15th annual Sunday Times Virgin Fast Track 100 league table ranks Britain's 100 privately-owned companies with the fastest-growing sales over the last 3 years. There are ten companies headquartered in the northwest on the league table (compared to 11 last year). They have made a strong contribution to the local economy over the last 3 years, despite the tough economic conditions. They have combined sales of £230m and employ 2,600 people, having added 2,000 jobs in the last 3 years. The region's highest-ranked company is Warrington-based Secured Mail, which features on the league table for the first time and is ranked in the top 3 nationally. This company collects a total of 400 million letters and small packets each year from business clients and transports them nationwide to depots of Royal Mail, which does the final mile. Sales grew 233% a year from £884,000 in 2007 to £32.6m in 2010, though margins were slim. Also new to the table this year and based in Warrington, childcare voucher administrator Fideliti was started with an investment of £50,000 from Betfred co-founder Fred Done. Sales have grown 87% a year from an annualised £6.3m in 2008 to £41.3m in 2011. Making its 2nd consecutive appearance is natural pet food producer MPM Products. This Cheshire-based manufacturer's products can be found on the shelves of both independent and chain pet stores, with premium flavours including tuna with ostrich. Sales grew 78% a year from £1.5m in 2007 to £8.7m in 2010. The companies in the northwest feature on the league table alongside household names such as Cath Kidston, Ella's Kitchen, Jack Wills, Joules and Patisserie Valerie. The Fast Track 100 is sponsored by Virgin, Barclays, BDO and Microsoft. It is compiled by Fast Track, the Oxford-based networking events and research company that champions the UK's top-performing private companies. Sir Richard Branson of Virgin, which has been the title sponsor of the league table for all 15 years, commented:- "2011 has been another challenging year for the UK in political and economic terms. Against this economic background the strong performance of the Fast Track 100 companies is to be especially applauded."
The national picture
This year's Fast Track 100 companies achieved, on average, sales growth of 87% a year over the last 3 years of available accounts, from combined total sales of £714m in 2007/08 to £4bn in 2010/11. They more than tripled their combined workforce to 18,200 over the 3 years, with more than 13,000 jobs being added over that period. Despite the tough economic conditions, nearly half of the companies have improved operating profit margins over the last 3 years; and 44 made profits of more than £1m. Notable industry groups include consumer goods, which represent 23% of the league table and include fashion stores like Jack Wills and online sports retailers such as Wiggle. This industry group has combined sales of £800m and employs 5,000 people. The 2nd largest industry is food and drink, featuring 15 companies such as restaurant operator Patisserie Valerie and Diet Chef, which delivers calorie-controlled meals to customers' doors. This industry group has combined sales of £326m and employs 5,100 people. In addition, 18 companies are health-related, such as NHS products supplier Medstrom and recruiter Mayday Healthcare, which supplies nursing staff to hospitals. The majority of companies on the league table are headquartered in London (36%) and the southeast (24%). Of the remaining, 17 are based in the Midlands, 10 in the northwest, 5 in the northeast, 4 in the southwest, 2 in Scotland, 1 in Northern Ireland, and 1 in the East. The full league table will be published in a special 10 page supplement within the business section of The Sunday Times which went out on 4 December 2011 and at fasttrack.co.uk, where you can access a searchable database of all 100 companies, as well as past league tables.
Utility help is just a tap away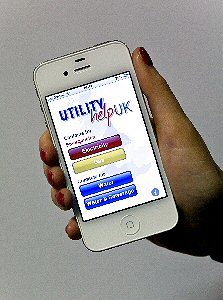 IF you've got a home and a Smartphone, then get Utility Help UK FREE..! Would you know who to 'phone if you have a power cut, or need to report a dangerous gas leak? Many people aren't aware that the companies operating the electricity ines and gas pipes that supply them aren't usually the ones who bill them for the energy they've used. And the companies they buy water from aren't always the ones who deal with sewerage problems. Utility Help UK is a FREE iPhone and Android 'phone app that makes it easy to contact the right company. If the power goes off or you need to report a gas danger, just tap your location on a map to find the right 'phone number for help in your area. Another tap and you'll be calling someone who can help you. And if your problem relates to water or sewerage services, Utility Help UK has a simple map-based directory so you can find the right number in seconds. Utility Help UK has been jointly developed by utility specialist Warwick Emanuel PR and app developer Rantmedia. Warwick Emanuel director Wynford Emanuel said:- "In an emergency you could be at home in the dark, hunting for the 'phone book. And you may also be unsure who to call. The result can be frustration and possibly dangerous delays in getting help. Having this information on your iPhone or Android 'phone makes it simple to access. An added benefit is that you have the information that can help a relative in another part of the country. For example, you can help an elderly relative or student children who may call you to let you know about a utility problem." Rantmedia's Anton Faulconbridge added:- "This app is simple to use and potentially can help everyone with utility services and who has a Smartphone. It's free, so we hope it will benefit many people by enabling them to get speedy help that could also minimise danger." See Utility Help UK here:- iTunes or Android