Formby's Dickensian Day 2011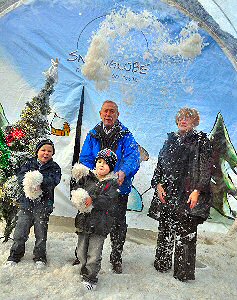 THE weather was horrendous as gales battered the village and rain lashed down, but on Saturday, 3 December 2011, yet it did not put the hundreds of people who came to enjoy this annual event. Many people said the:- "It's definitely worth getting out of bed for..." we just hope our photos and video coverage can explain why it was a good turnout despite the weather... If not take our word for it, the day was packed full of entertainment aimed at all ages!!! Ok, sadly some of the entertainment did not going to plan, due to the adverse conditions, which did dampen the normally extremely lively atmosphere... But that said, it was still a huge success, with a variety of festive treats on offer. The day started with many of the local shops and businesses staff opening up in dressed in fancy dress, and a Santa Dash around the village... If you have photos of the Dash, we would love to know... In the afternoon, the one and only Father Christmas was joined in a parade by the internationally renowned Batala Samba Band who danced through the packed village centre, joined by Eclipse Parade Band as well as the Bootle and District Concertina Band, plus a host of others. But no Dickensian Day Parade would have been the same without Southport Swords and the Argarmoels Morris Dancers who also joined in the small parade. This year there were many charity stalls lining the main street and side streets; not leaving out the stage that hosted many live performances from local bands like the Mersey Cats, who also were joined the Formby School of Dance and Performing Arts to name a few. One of the day's biggest attractions after the steam train was the Snow Dome! Well done to all who came out and supported the event and an extremely big congratulations to the Dickensian Day Committee. This event was a fantastic boost for the local community's shops who have struggled in the last few years. We hope this event continues to grow and develop as it is doing now. It is truly a highlight for not only Formby's event calendar, but also Merseyside's as a whole!

We are running more photographs in next weeks issue, but we have plenty for you in this weeks as well as video footage of the event...
To see this weeks coverage, click on here now to view more photos and the videos...

Please do email us your views and feelings about the event to:- news24@southportreporter.com.
Audio Copy - (Experimental)

Click here to hear this weeks edition in audio format. Please let us know what you think about it. via emailing us. Also if you have a child who can draw a face, send one in and we will look at using it for our news reader for an edition. Adults can try as well! You will get a copy of the animation sent to you and credit on the animation as well!.

KEEP up-2-date with our free daily news emails. Are you subscribed?
Si

g

n

u

p

today

to

our daily email news service via... Formb

y

-

Re

p

orter

.com

.

If you subscribed you can keep in up-to-date with what's going on in and around Merseyside. It is free and we do not send out massive amounts of emails. Also your email is kept under the UK's Data Protection Act, so you can be sure that you will not have problems.