Service for children at risk praised
LIVERPOOL has been praised by Ofsted for its work in identifying and assessing children at risk of harm. It follows an unannounced visit by a team of inspectors who spent several days interviewing staff and reviewing case files. They focused on how the city council handles contact, referral and assessment of vulnerable young people. They found that, from the 6,000 enquiries received every month, children at risk of significant harm are "promptly identified...and appropriate steps are taken to ensure that children and young people are safe".

The management of the referral and contact service, Careline – which is run by Liverpool Direct Limited, the city council's joint venture partnership with BT - is praised for being "effective". Out of hours arrangements described as "well established" with the needs of young people "quickly assessed".

They also found that children's racial, cultural and religious identity is "consistently recorded and appropriately considered during assessments". The transfer of cases between Careline and safeguarding teams is described as working "effectively".

Councillor Jane Corbett, cabinet member for children's social care, said:- "This report reflects the hard work of our dedicated social work staff and partners in keeping the most vulnerable children and young people safe. They are doing a tremendously difficult and challenging job in making decisions about families in very difficult circumstances and children and young people that are not being given the support they need or the best start in life. Their work may go unnoticed and unseen by most members of the public, but it is hugely valuable and important, and it is only when it goes wrong that we tend to hear about it. It is particularly pleasing that we have received such a good report given the increased number of referrals we have seen; in common with all other local authorities; following the Baby Peter case. That has obviously placed additional demands on the services we provide."

Louise Gray, Director of Customer Access, said:- "Careline provides an innovative way of meeting the needs of some of the most vulnerable young people in the city and has significantly improved all aspects of performance whilst providing a tailored service. The expertise of Careline staff combined with the performance measures in place ensures that we consistently provide a reliable service of the highest quality and the excellent results from the Ofsted inspection are testament to this."

Areas identified for development include making sure partner agencies are informed of the course of action to be followed; ensuring there is consistency in the quality of initial assessments and continuing to make improvements to the electronic social care record system. The findings of the inspection will contribute towards next year's annual review of children's services, in which the city was recently graded as "excellent". Around 940 young people in Liverpool are classed as 'looked after' and a further 540 have child protection plans.
Crossens Nursery School's Nativity Play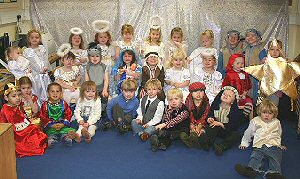 THE children of Crossens Nursery School, Southport held their annual Nativity Play in St John's Church, Crossens. Has your school or nursery held a Christmas event or about to? Let us know by emailing us via:- news24@southportreporter.com . If your school has photos, get them to send us a few shots and we will try and publish them, just like this fantastic photo has been. It was taken by Jim Voiels from Crossens Nursery School. Please note:- DO NOT send the photos if you are not a member of staff and your do not have consent of parents.

Landlady fined £9,000 for putting tenants in danger
A LANDLADY who put tenants' lives in danger at 2 houses, converted into flats, has been fined a total of £9,000 by Liverpool magistrates. Clare M. Sumner, from Formby, admitted, at a previous hearing, 7 offences relating to properties which she owned at 3 and 7 Radstock Road, Kensington. The offences were under section 16 of the Local Government (Miscellaneous Provisions) Act 1976; for failing to comply with 3 Improvement Notices relating to fire safety measures under section 11 of the Housing Act 2004; and to 3 failures in the management of the properties under Licensing and Management of Houses in Multiple Occupation (Additional Provisions) (England) Regulations 2007. She was also ordered to pay full costs to Liverpool City Council of £1940 and a victim surcharge of £15. The prosecution arose following an inspection of the properties in July and August 2010 by an Environmental Health Officer from the former Housing Market Renewal's Health Impact Team (HMRI HIT), as part of an inspection programme funded through the Newheartlands HMR Pathfinder. Both properties had been converted into self contained flats without any Building Control approval and serious hazards were identified including fire detection systems not in working order, flat entrance doors not to the required fire resistance and which lacked thumb turn locks and self closing devices, lack of handrails to staircases, lack of Gas and Electrical Safety certificates. The court heard that council made a number of attempts to bring these matters to the attention of Mrs. Sumner, but no communication was ever received from her. Councillor Ann O'Byrne, cabinet member for community safety and housing, said:- "This prosecution sends out a clear message to owners of Houses in Multiple Occupation that we will not hesitate to take action against those who break the law and put their tenants' lives at risk. The level of fines show that the courts view these matters very seriously."
HAVE YOUR WINTER FUEL READY
WITH severe weather warnings are being issued for parts of the UK later, consumers in rural areas are being advised to make sure they have enough winter fuel. The Oil Firing Technical Association (OFTEC) is urging oil heating users to prepare for the colder weather by getting their storage tanks topped up now. Jeremy Hawksley from OFTEC said:- "People may have been lulled into a false sense of security by the mild autumn temperatures and may not have checked their oil stock. However, once the colder weather arrives demand for oil will increase which could lead to higher prices." OFTEC believes that the harsh winter conditions we experienced last year caused the price of oil to rise as a result of panic buying. The extreme cold weather of December and January caused untold chaos with the UK's transport system, resulting in the closure of major roads and airports with major disruption to the economy. At a time when customers needed their heating most, some distributors experienced difficulties in making deliveries of heating oil to their customers due to the weather. A combination of the bad weather and last minute orders meant oil distributors received an abnormally high number of orders this time in 2010. Government figures show there are over 1 million oil heating users throughout the UK, with the majority of those in rural areas. The price of heating oil has historically always been lower in the summer, and OFTEC advises to fill their storage tanks in July or August if possible. Direct debit payment plans and top up plans are just two of the flexible payment plans now offered by many oil distributors. Rising fuel costs have meant that more households are facing fuel poverty this winter, which has been attributed to the fact that incomes are not increasing at the same rate as the cost of living. The rising prices of gas, electricity and oil mean that an increasing number of consumers are spending more than 10% of their income on heating their homes. OFTEC advises customers to make sure they take advantage of government grants for insulation. Homes that are not properly insulated can lose 35% of heat through walls and 25% through the roof. Old, inefficient boilers can cost 25% more to run than modern high efficiency condensing models. In addition, make sure your boiler is serviced regularly to keep it running efficiently.