Still time to order a Letter from Santa in aid of NSPCC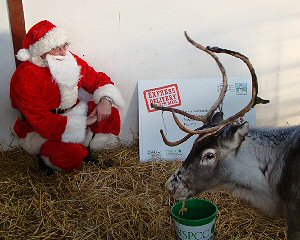 THE NSPCC are reminding people across the North West region that there is still time to add some extra magic to a child's Christmas this year by ordering a Letter from Santa. The charity's annual fundraising campaign gives family and friends the chance to nominate a special child to receive a personalised letter from Santa, for a suggested donation of £5. Over 200,000 letters have already been ordered, over 20,400 of which have been ordered by local parents, grandparents, aunts, uncles and friends in the North West region. To arrange for a child or newborn baby to receive a personalised letter from Santa in time for Christmas, please visit:- nspcc.org.uk/santa or telephone them on:- 0845 839 9304. Orders can be placed online and by telephone until Sunday, 18 December 2011. Any order placed by post must be received by Friday 16 December. Letters will be sent out daily until 19 December 2011. Louise Stimson, NSPCC Head of local fundraising in the North West, said:- "This year's Letter from Santa campaign has already raised an amazing amount of money for our services and helplines, which includes our ChildLine service for children and young people. But our elves still have more magical letters they can send to local children so please get your orders in before 18 December 2011. By making a donation when arranging for a child or newborn baby to receive a personalised letter from Santa, people will be helping to make sure ChildLine volunteers are there to support young people whenever they need us; including over the Christmas period." Over the 12 days of Christmas last year, from 24 December 2010 to 5 January 2011, ChildLine counsellors in the North West at the Manchester and Liverpool ChildLine bases answered 2090 contacts from children and young people across the UK and Channel Islands via telephone, email and 1-2-1 chats. (Manchester base 1200 and Liverpool base 890 contacts). One young person contacted the service saying:- "I just want someone to chat to really as I have no-one with me this Christmas. Mum and dad are working today and I want to cry and feel angry. I just want someone to say Happy Christmas to me and give me a present, but I have had nothing. I just don't wanna be alone." Another young person posted a message on the ChildLine website:- "I was really looking forward to Christmas. We started putting up the decorations today but whilst we were putting them up my Mum got annoyed and started swearing at my Dad and said she hated Christmas. My Dad is an alcoholic and I am thinking about running away." Louise, continued:- "The NSPCC's ChildLine service is available for young people 365 days a year, which is why we are aiming to raise £1.6 million through Letter from Santa to help make sure we can continue to be there for all children and young people whenever and however they need us." This year's Letter from Santa campaign is being supported by Heart FM. Order leaflets can also be found in a range of stores including SPAR, Debenhams, Thorntons, Matalan and Rowlands Pharmacy.
Please note that names and potentially identifying details in this report have been changed to protect the identity of the child or young person.

Double awards success for Ramada Plaza Southport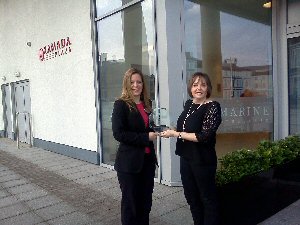 DOUBLE celebrations have been taking place at the Ramada Plaza Southport after it was named Hotel of the Year, while one of its staff received a prestigious industry award.
The 4 star Ramada Plaza was crowned the best in the country by Glenton Holidays, a package holiday tour operator which has taken 22 coach parties to the Marine Lake hotel over 2011.

Hotel General Manager Enda Rylands said:- "We are thrilled to have received this award from Glenton Holidays, which highlights the hard work and excellent customer service of our staff. We've welcomed about 1,000 Glenton visitors in 2011, and we've had consistently high levels of feedback which is wonderful."

Kevin Miller, Commercial Manager of Glenton Holidays, added:- "The stunning Ramada Plaza has proved very popular with our customers in the two years we have worked with the hotel. The sheer elegance of the property and the magnificent panoramic coastal views, combined with a hard working and friendly team, have created the perfect holiday base for our tours."

The Ramada Plaza features 133 stylish rooms including eight with floor to ceiling windows offering panoramic views of the Southport coastline. Other facilities include a fitness suite, four meeting rooms and a brasserie. It is ideally situated next to Southport Theatre and Convention Centre and the Portland Hall Spa. The hotel's Reservations and Sales Office Manager Nicky Goodwin has also been honoured by the Institute of Hospitality in its annual Aspiring Managers awards. Along with just 8 other hotel staff members across the country, Nicky was rewarded for her commitment to the highest standards of quality and service.
Nicky Goodwin won a year's complimentary membership of the Institute, a professional development programme, a hotel break and a trophy. Nicky explained that she began her career in hotels more than 20 years ago as a chambermaid, working her way up the ranks to her current position. The 36 year old, who lives in Southport and has worked at the Ramada Plaza since it was built in 2008, said:- "I'm absolutely delighted to have won this award and feel recognised for the years of hard work I've put into my career."

Enda explained that he nominated Nicky due to her commitment and success in driving occupancy and revenue for the hotel. He added:- "She has helped achieve year on year growth by utilising revenue management and distribution tools despite a difficult economic climate. She is completely dedicated to the success of the hotel."