Winter Wonder at St Georges Hall
Photographs with thanks to Charlotte Corrie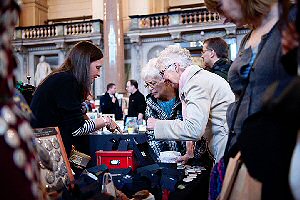 THE Winter Arts Market 2011, Liverpool's largest arts and craft market returned to delight 6,000 shoppers who didn't let the winter weather deter them and poured into St Georges Hall, keen to snap up the unique selection of original artworks, crafts and gifts on offer. Now in its third year, the Winter Arts Market is a winter wonderland offering shoppers an alternative to the high street, encouraging visitors to buy directly from 150 of the regions best artists and crafts people, whilst enjoying the dramatic surroundings of the Grade I listed heritage site.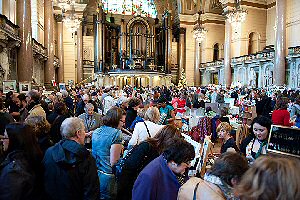 The weekend event organised by Open Culture was brought to life by Queen Victoria and her entourage singing carols from the antique organ, the Crown Court Concerts with great music from performers including Mike Badger, Nick Ellis, Laura James, Mark Delany, Liverpool Ukulele Orchestra, Indigo Vibe Choir, the Rockin' Stockin' workshop run by the KEC's creative elves and the Can Cook pop up café.
CBRE Hotels to sell the valuable Investment in the Travelodge Southport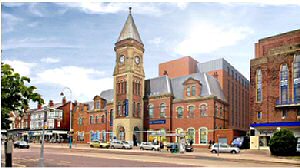 CBRE Hotels are delighted to announce that they have been appointed to sell the long leasehold of the new Travelodge Hotel Southport, on behalf of Ribble Property Investments LLP (Developer).

The development has a prime location on Lord Street in Southport, a bustling and attractive Victorian town just 20 miles from Liverpool. Currently under construction the hotel will occupy the impressive six-storey Ribble Building, a Grade II listed former bus station. Strategically located in the centre of the town the new Travelodge will boast 101-bedrooms and restaurant when complete.

Travelodge have signed a 25 year lease on the Ribble Building, offering investors a secure and lucrative income on an investment purchase of the long leasehold asset.

The Travelodge brand is growing rapidly and has been a great success story in the UK hotel sector. The company has doubled the size of its estate over the last 6 years and plans to grow its market share to around 1,000 hotels by 2025 using a developer-led, leasehold development model such as on offer at Southport.

Jay Singh of CBRE Hotels comments:- "Travelodge are one of the few operators in the hotel space who offer leasehold investments backed by a sound financial covenant, because of this, investment subject to Travelodge leases are greatly sought after and quickly snapped up."

'Down to Earth Christmas' Nativity at St George's Hall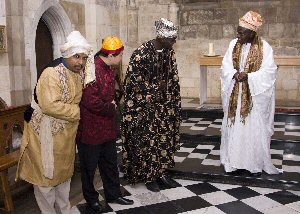 THE acclaimed producers of the Narnia Experience will stage a triumphal return to St George's Hall as they bring their version of the Nativity in December. 'A Down to Earth Christmas' runs from 14 December to 16 December 2011.

Featuring a cast of all ages and backgrounds with a special guest appearance on video by John Sentamu, the Archbishop of York, this magical retelling of the real Christmas story has a real scouse flavour. Filled with singing, dancing and with characters that interact with the audience this promises to be family fun with the real meaning of Christmas.
Beginning with Mary and Joseph's engagement party we follow the highs and lows of this incredible story. The wise men's journey begins on film and ends in a multicultural procession to Bethlehem. From angels and shepherds to the threat of the evil King Herod, this story comes to life with fresh energy and ideas.

Annie Spiers, Creative Director said:- "We're delighted to return to St George's Hall with this exciting Scouse reworking of the traditional Christmas story. We can guarantee it will be a memorable treat for anyone looking to kick start their Christmas with the true Christmas story"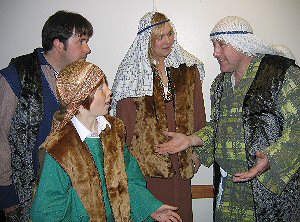 In Another Place took their name and inspiration from Anthony Gormley's Another Place and the Iron Men statues at Crosby beach, where their first performances were produced. They continue to work in collaboration with community groups, offering large creative arts projects and smaller specialist groups including:-

► Assembly Team
► Gospel Choir
► Schools Team
► Puppet Team
► Connect for 18 to 30s
► Festivals and Exhibitions Team

The team were responsible for the sell out Narnia Experience at St George's Hall in February and their acclaimed production "The Greatest Story Ever Told" at Liverpool Cathedral. For more information and to book go to:- inanotherplace.com or call on:- 0870 787 1866

Ticket prices and ordering details as follows:-

Wednesday, 14 December 2011, 7:45pm. £5 Adult/£3 Child.

Thursday, 15 December 2011, 5:30pm. £5 Adult/£3 Child.

Thursday, 15 December at 7:45pm. £7 Adult/£5 Child.

Friday, 16 December 2011 at 5:30pm. £5 Adult/£3 Child.

Friday, 16 December 2011, 7:45pm. £7 Adult/£5 Child.

You can also book in person at The Royal Court box office from 11.00am to 3.00pm; Monday to Saturday.