Sensational Garden
A new 'Sensory Garden' is to be created in Calderstones Park, one of Liverpool's best loved parks. The garden will have something for everyone but is particularly designed to stimulate the senses of young children and those with a disability.

It will bring together carefully selected plants and landscape features to create an area in which visitors will be encouraged to utilise all their senses through sound, water, air, wildlife and the texture and smell of plants.

There will also be other sensations beyond the familiar 5 senses which will be incorporated into the garden including gravity, temperature change, space and enclosure.

Councillor Tim Moore, cabinet member for the environment and climate change, said:- "Natural environments such as parks are already recognised as being beneficial to our health. Creating a special sensory garden in the park will give this effect an extra boost and will be of particular benefit to disabled people."

The Sensory Garden will replace a derelict greenhouse at which has been closed for 2 years as it had fallen into a state of disrepair and become unsafe. Where possible, the plants in the greenhouse have been moved to other locations in the city. The design and layout will be designed to meet its users' needs with disabled children and their families having their say on these issues.

Construction of the Sensory Garden is a significant contribution towards Liverpool's Decade of Health and Wellbeing 2020, a collaborative initiative to create a healthier region through encouraging and developing healthier lifestyles.

Access for public back into the garden is expected in Spring 2012 and it will also be free, with improved access to the area included in the plan.

The project, which will cost £30,000, has been funded by Short Breaks, a fund provided by the Government's Aiming High for Disabled Children programme to enable and enhance facilities for disabled children.

It follows the positive reaction to the successful completion of special 'Changing Places' facilities now open at Croxteth Country Park and Calderstones Park, which were also funded by the scheme. Changing Places facilities provide special toilets with changing rooms for people with complex needs. Installing these facilities has removed barriers for children and other visitors with complex or multiple disabilities and allowed them to spend longer periods of time in Liverpool's parks.
MFH - SCOTT FLETCHER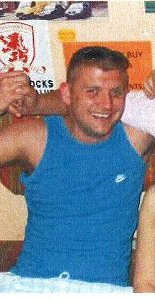 FURTHER Appeal as Family Faces Christmas without Son.
Cleveland Police are appealing for further information regarding missing Scott Fletcher as his family faces Christmas without him, and his daughter faces her first Christmas without her Dad.
27 year old Scott was last seen on 11 May 2011, at around 8.20pm, in the lay-by opposite the Jet garage on the A181 at Wheatley Hill in Durham.
The search for Scott has extended to the Durham, Cumbria and Liverpool areas, as it is believed he has connections there. Scott's family, Mum and Dad, Julie and John Fletcher, 4 year old daughter Lucie, and Scott's ex-partner Shelley Marshall, who is Lucie's mother, have been distraught since his disappearance.
Detective Chief Inspector Jon Green said:- "I have seen first hand the turmoil Scott's family have suffered since he went missing and as Christmas draws closer, it is going to be even more distressing for them as his whereabouts remain unclear. As time passes, we are increasingly concerned about where Scott may be and we cannot rule out the possibility of him having come to some harm. I am certain that people locally can help to unlock the answers in relation to Scott's whereabouts and I would appeal to them to contact us, in confidence if necessary, and help end the suffering his family are going through."
Julie Fletcher, Scott's mother, said:- "I cannot describe how difficult it has been since Scott went missing, especially because we don't know what to tell his daughter; we don't know ourselves, so what do we say to Lucie when she asks where her Daddy is? What do we tell her on Christmas Day when she is opening her presents and asks where her Daddy is? It is even harder to cope with the situation now that Christmas is here, not knowing where Scott is and knowing that he won't be with us and Lucie, at a time when families should be together. We have lived with this every minute of every day for the last 8 months on; we just want to know where Scott is. I would plead with anyone who may know something; anything, in relation to Scott, to contact the police and help to end this nightmare for all of us."
Anyone with information regarding Scott's whereabouts is asked to contact Detective Chief Inspector Jon Green of Hartlepool Police on:- 01642 302110.
HAVE A FESTIVE & FAT FREE CHRISTMAS
THE Consumer Council for Water has some words of warning about the dangers turkey fat could pose to your pipes this Christmas.

Tipping left over fat and grease from the Christmas turkey down the kitchen sink or toilet could cause some unwelcome woes this holiday, and people might want to think twice before dumping fat, oil or grease down the drain.

Tony Smith, Chief Executive of the Consumer Council for Water, said:- "Having your home flooded with sewage is very unpleasant and water companies should provide the best customer service possible to prevent it from happening in the first place. Everyone has a role to play too by disposing of fat, oil and grease responsibly, especially at Christmas."

It is all too easy to simply rinse the fat and oil from greasy pots and pans down the sink with soap and hot water, but as the fat cools it will thicken again, building up to a level that could cause a blockage and eventually cause wastewater and even sewage to back up.

Fat, oil and grease should be poured into an empty container with a lid or wiped out of the tray with kitchen roll and put in the bin. Most water and sewerage companies provide 'fat traps' free of charge to collect kitchen waste which can then be thrown away.

There are around 200,000 sewer blockages throughout the UK every year, and three quarters of them are caused by fats, oil
and grease clogging up pipes. Clearing these blockages costs millions of pounds a year; costs which are passed onto customers in their annual sewerage bills.

The costs of pouring fats, oils and grease down the drain can quickly add up for companies and customers.
SEWER FLOODING FACTS:-
Drains from the home are normally no wider than 100mm (4 inches).

If you find it difficult to flush your toilet or notice that water begins to drain away slowly or bubbles come from the bottom of your toilet, contact your sewerage company and clearly explain the symptoms. Do not try to flush the toilet again as this could cause internal flooding.

If the problem is due to a blockage or fault in your private drain, you will need to hire a drainage contractor to clear the blockage or repair it. Sewerage companies are only responsible for unblocking and maintaining public sewers.

If sewage has entered your property from a public sewer, the company will send someone to visit you as soon as possible and help clean your property.

You are entitled to a rebate of your annual sewerage bill (up to £1000) to cover damages to the inside of your property caused by flooding of a public sewer. Also don't forget to check to see if your household insurance covers sewer flooding.
Dog Control Order Takes Effect
AN order which will introduce controls on dogs in North Liverpool will be enforced from the New Year. The Order was approved following a month long consultation period and will apply to the Anfield, County and Kirkdale wards.

It means:-

► Dogs will be banned from cemeteries, school play grounds and playing fields, children's play areas and sports pitches in parks.

► Dogs must be kept on leads on pavements and when owners are directed to do so by an authorised officer if dogs are causing a nuisance or annoyance in outdoor public places

► Owners will still be able to exercise their pets, without a lead, in general areas of parks

► Assistance dogs for people with disabilities are exempt from the order.

It comes into force from 1 January 2012.

Councillor Tim Beaumont, assistant cabinet member for the environment and climate change, said that:- "This order is aimed at encouraging responsible dog ownership. There has been overwhelming support in the area for this initiative from teachers, friends of parks groups and local residents This is a pilot scheme and if it proves successful then we will look at extending it throughout the city. It is about dog-owners showing pride in their neighbourhoods and acting responsibly."

The Dog Control Order specifies 5 offences:-

► Failing to remove dog dirt

► Not keeping a dog on a lead

► Not keeping a dog on a lead when ordered to do so by an authorised officer

► Allowing a dog to enter land from which they are excluded

Breaches of the order would result in a fixed penalty or prosecution. As well as the order it has also been agreed that the fixed penalty for failure to clear up dog dirt be increased from £50 to £80. This applies across the city. Councillor Beaumont said:- "There is a lot of public feeling about this issue and residents want us to take action. We've listened to what they have said and are introducing some of the toughest penalties in the country."