SPAMALICIOUS TREAT IN STORE FOR LIVERPOOL DINERS!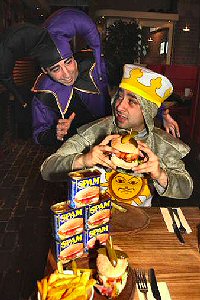 THE Albert Dock's What's Cooking restaurant has cooked up a Spamalicious treat to celebrate Spamalot; the hit Monty Python musical is returning to the Liverpool Empire in January after 2010's hilarious visit.

A Spamalot Burger will be added to the restaurant's menu and available up to and during the Spamalot's Liverpool visit. Guy Lawrenson, who runs What's Cooking, was more than qualified to create the tasty Spam treat, as his father Max is credited as becoming the first UK manufacturer of Spam back in the 1960s. The Hickory Smoked Spam burger comes loaded with Monterey Jack cheddar, smoked back bacon, mayo, tomato, dill pickle and lettuce, served on a maize oval bun.

Visitors to What's Cooking who order a Spamalot burger, priced at £7.99 including fries, will also receive either another Spamalot Burger with fries or a Hickory Smoked Beef Burger with fries absolutely free!

King Arthur (pictured) said:- "The ye olde What's Cooking Spamalot Burger is the tastiest thing that's ever been served at my round table."

Lovingly ripped off from the classic film comedy Monty Python and the Holy Grail, Spamalot is a kind-of new musical with a book by Eric Idle and an entirely new score, (well, almost) created by Eric Idle and John Du Prez. Following a staggeringly successful (yes, we staggered) UK tour in 2010, the production will pop over to Liverpool from 16 January to 21 January 2012.

Audiences all around the world have been roaring with laughter since Monty Python's Spamalot won the Tony Award for Best Musical. Spamalot tells the legendary tale of King Arthur and the Knights of the Round Table and features a bevy (or possibly a brace) of beautiful show girls, witch burnings (cancelled - health and safety) not to mention cows, killer rabbits and French people. The show features fantastic tunes more magical than a Camelot convention, including He Is Not Dead Yet, Knights of the Round Table, Find Your Grail and of course the Nation's Favourite Comedy Song (Reader's Digest Poll 2010) Always Look On The Bright Side Of Life.

The Liverpool run reunites Marcus Brigstocke, Jodie Prenger and Todd Carty from the original national cast. Spamalot is directed by Christopher Luscombe and features Eric Idle himself as God (as a recording! As if we could afford to cart this God-like comic round the country!).

The original UK and Ireland production began in May 2010 and was seen by more than 300,000 people over 50 weeks. During that time there were seven onstage moustache incidents, one suspected case of swine flu (French pigs!), one outbreak of nits and 36 pairs of coconuts used (That Todd Carty is stronger then he looks!). The cast looked "Looked on the Bright Side of Life" a staggering 791 times in more than 378 performances (and they still don't know the words!).

For full production details visit:- spamalotontour.co.uk.

What's Cooking celebrates its 34th anniversary in 2012 and you can still find them serving up great food, great fun and great value, down at the Albert Dock, Liverpool. Check them out at whats-cooking.co.uk and reserve your table online for your free 'Spamalot' burger!

Spamalot performance details:-

Monty Python's Spamalot runs from Monday, 16 January to Saturday, 21 January 2012. Times are 7.30pm, Wednesday & Saturday maturnay 2.30pm, at the Liverpool Empire Theatre. Tickets are from £14.50 to £43.50. To book visit the Empire box office, call:- 0844 871 3017 or book online.
HMRC ready to invoke fuel concession for gritting as weather turns
HM Revenue & Customs (HMRC) is monitoring the Met Office forecasts of extreme weather for parts of the UK, so that we are ready to respond to the needs of farmers who use 'red diesel' in their tractors when gritting public roads for their local communities. Under normal circumstances, only vehicles designed and used solely for the purpose of gritting are entitled to use red diesel. Consequently, farmers who wish to use their tractors to grit public roads for their local communities are legally prevented from doing so. We understand that extreme weather requires a flexible response and HMRC have made plans to relax the rules on gritting temporarily, in the event of the UK experiencing a prolonged period of severe weather. If a temporary relaxation of the rules is required a formal announcement will be made on HMRC's website. Under existing rules, any vehicle, including a tractor, that clears snow from public roads by means of a snow plough or similar device, is allowed to use 'red diesel' when doing so. Farmers are often best placed to deliver the skills and equipment needed to keep rural roads open, provide access to local schools and hospitals, and prevent remote communities from becoming isolated by blizzards. Further information can be obtained by calling the Excise and Customs Helpline on:- 0845 010 9000.
10 top tips for personal statement success, ahead of the January 2012 UCAS deadline
WITH the 15 January 2012 deadline fast approaching, UCAS has released these 10 top personal statement tips for anyone applying to university or college.

Christmas is a great time to put the finishing touches to the statement, which could be the only piece of written work admissions professionals see before making a decision.

The writing should show applicants at their very best and following these ground rules will get you (or your son or daughter) off to a great start.

1. Express interest in the subject and show real passion

UCAS adviser Ross Sanger said:- "My major tip is to really show your ambitions and desires for wanting to do the course. In other words, putting across your passion in as much detail as possible. At the end of the day, you need to be doing something that you really like."

Beverley Woodhams, Head of Central Recruitment at the University of Greenwich, said:- "If you completed an extended project, briefly summarise its focus and what you learned."

You can show how you have acted on your interest in particular subjects by attending extra-curricular activities or events. Talks at the Royal Society or local university are good examples of where someone has taken their passion beyond the school gates.

2. Go for a strong opening line to grab the reader's attention

Mr Sanger said:- "A punchy opening line will call attention to your application straight away."

3. Relate outside interests to the course

Karen Martin, Marketing Communications Manager for Admissions and Student Recruitment at the University of Dundee, said:- "For example, playing a musical instrument shows sustained commitment and/or the ability to manage your time effectively between juggling school study and music study."

Ross Sanger adds:- "There is an employment section on the application where you can put paid employment down so they can get an idea of whether you have been doing anything towards the course. The statement allows you to elaborate on what you have learnt and particularly why you want to do the course."

4. Think beyond university

"For courses with a high placement element and a specific career at the end applicants must show a strong knowledge of the role of a professional in that career." said Ms Martin.

5. Get the basics right

Ms Martin added:- "Check your spelling and grammar before submitting the application. Admissions selectors are assessing your ability to write an essay to university standard. Think about your paragraph and sentence structure."

6. Don't try to sound too clever

It's important to use language you are comfortable with so as not to lose the focus of your writing. Ms Martin explained:- "Try not to go too far and use words you wouldn't normally choose, to try and sound more 'academic'. For example, an 'incomparable orator' is more naturally described as 'having an aptitude or interest in public speaking'."

7. Take time and make it your best work

Applicants' personal statements help institutions identify suitable candidates, especially in the most competitive courses. Rushing will mean mistakes and not provide you with enough time to get it checked over by your parents or teachers.

8. Don't leave it until the last minute - remember the 15 January deadline!

The deadline for most courses starting next year is 15 January 2012. While that may still seem like a long way off, it is never too early to start drafting your personal statement.

9. Get a second opinion

"If you want your personal statement to sell your abilities to a university, it is quite nice to get feedback from parents or family members on how they see you and the right words to describe yourself." said Ross Sanger.

10. Honesty is the best policy

Every personal statement is checked against a library of those previously submitted to UCAS, sample statements, and other sources. Any statement showing a level of similarity of ten per cent or more is reviewed by members of the UCAS Similarity Detection Service Team.

Beverley Woodhams said:- "Be honest and enthusiastic. Don't make exaggerated claims as you could be questioned in some detail at the interview on the things you claim."