ENERGY LEGISLATION WILL AFFECT PROPERTY VALUES
NEW Government legislation on the energy efficiency of buildings will have a significant effect on property values in the North West and across the country, leaving landlords exposed to diminishing property values and potentially unlettable premises, according to experts at commercial property consultancy Lambert Smith Hampton (LSH).

The Energy Act 2011, which has just received Royal Assent, will make it unlawful to let buildings with F and G rated Energy Performance Certificates after April, 2018. This means landlords need to act now to avoid falling property values and significant improvement costs in the future.

LSH Regional Director, Darren Hughes said the degree of risk attached to F and G rated properties was high, and would get higher as the 2018 deadline approached. "Proactive Investors and landlords should be starting to identify which of their properties are at risk of falling foul of this new legislation and putting a plan in place to improve the future environmental performance of their properties."

Gayle Taylor, Director in LSHís Manchester office said:- "This legislation could have a significant impact on the marketability and value of investment stock well before the 2018 enforcement date. Investors and Landlords are already under a huge amount of pressure in the current climate. Additional expenditure will undoubtedly impact on the market, particularly for secondary stock where we are already seeing the effect of physical obsolescence on pricing and marketability."

Government figures suggest that as much as 18% of buildings with an Energy Performance Certificate fall into the bottom 2 categories, spread across all asset classes. Gayle added:- "Statutory compliance costs will increase if work isnít done to improve environmental performance. Itís Far better to identify the reasons for poor performance and carry out efficiency improvements during routine maintenance or periodic refits. Landlords also need to revisit their leases to understand to what extent compliance costs are recoverable from the tenant and which they will have to bear themselves. Tenants will be reluctant to agree leases on poor performing buildings, so this will have an inevitable effect on values. Itís also important that landlords of D and E rated buildings donít get complacent. Falling values will affect them too over time as regulations get more stringent. Investors and landlords should act now to secure the highest possible energy rating."

LOCAL BUSINESS RAISES £6000 FOR DIABETIES RESEARCH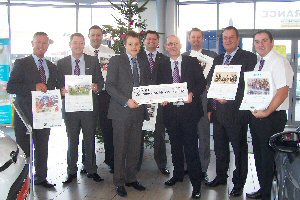 STAFF at the Polar Ford dealership in St Helens, together with the other Polar Ford dealerships across the North West, have been raising money for the Juvenile Diabetes Research Foundation (JDRF) with a series of fundraisers, a 2012 charity calendar and even a sky dive. In total, the dealerships raised £6,000 for the charity, money which will be used to fund breakthrough diabetes research. JDRF exists to cure, treat and prevent Type 1 diabetes and invests in new treatments to keep people with type 1 as healthy as possible until a cure is found. Ford of Britain announced in 2011 that it aimed to raise £100,000 for the charity by the end of the year, with Ford dealerships across the UK contributing to this total. Speaking of the fundraising activity, John Leeman, regional director at Polar Ford said:- "A big thank you to all the staff and customers who purchased our charity calendar and helped raise money for the JDRF. We had a fantastic time creating the calendar to help raise much needed funds for the charity which does so much to support people with diabetes." For more information about the JDRF, please visit their website.
Act Now - Unison and warned the government
COMMENTING on the latest UK unemployment figures that show a rise of 118,000 to 2.68m in the three months to November - UNISON General Secretary, Dave Prentis, said:- "The government is certainly setting records, but a 17 year high in unemployment and a record number of young people without work is nothing to be proud of. It must accept that its economic strategy isnít working and act now to help people who are struggling to find a job and stop another generation of young people being thrown onto the scrapheap. History is repeating itself. Now, as in the 1980s, the Tories are pushing through cuts and ignoring the impact of their actions on communities across the country. Low paid women are also bearing the brunt, as they make up the majority of the public sector - where 700,000 jobs are being cut by 2017. The private sector is buckling under the pressure being put on it to pick up the pieces of the public sector cuts. The government must get a grip on the economy or watch with despair as figures continue to rise."