For the love of the limelight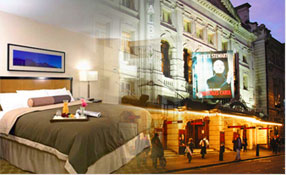 THEATRE breaks make it easy to experience the magic of live acting in the world's best cities for the arts. By combining hotel booking and theatre ticket purchases into one transaction, a theatre break makes a night out on the town smooth and enjoyable. London is one of the best places to purchase a theatre break because of its multiple theatres and long history as a home to multiple acting troupes.

Did you know that London Theatre Breaks can be customised in many ways? Shoppers can book a 5 star hotel for maximum luxury or a 3 star hotel if the budget requires. Restaurant reservations and transportation options can be added. Some theatre breaks have the option for add-on visits to tourist attractions like Big Ben or Buckingham Palace. Shoppers can choose the plays they want to see and the extras they want to add. Booking a theatre break is quicker and easier than booking every component separately. A booking agency will handle the paperwork for consumers, and can even offer a discount of a few pounds because of bulk purchases.

Anyone who loves the limelight will be delighted with the 2012 theatre season. Musicals are always lovely to experience in person, and the upcoming season features several classics. A beloved tale of crime and redemption, Les Miserables will be playing until 27 October at the Queen's Theatre. The Phantom of the Opera with music by Andrew Lloyd Webber is at Her Majesty's Theatre, until 14 January 2012. Billy Elliot, the story of a boy who wanted to dance ballet, will be at the Victoria Palace Theatre throughout the year. Chicago, featuring songs like "Razzle Dazzle" and "Mr. Cellophane" will be at Garrick Theatre until January 2013. Wicked, a pop culture hit, is at the Apollo Victoria Theatre until 27 October 2012.

Lesser-known musicals also abound. Backbeat, an adaptation of a Beatles' film, will be at the Duke of York's Theatre until 18 February 2012. Children of Eden, based on the Biblical book of Genesis, is at the Prince of Wales Theatre until 29 January. Legally Blonde The Musical will be at Savoy Theatre until 27 October 2012.

Children's musicals will entertain the whole family. The theatre adaption of The Lion King, the story of family and betrayal made famous by Disney movies, is playing at Lyceum Theatre until 09 September. Matilda The Musical, based on the book by Roald Dahl, will be at Cambridge Theatre until 21 October 2012. Shrek The Musical will be at the Drury Lane Theatre Royal until 21 October 2012. Singin' In The Rain, a classic family-friendly story, will be at the Palace Theatre until 29 September 2012. Parents can enjoy these timeless musicals with their children.

London theatres are putting on their best performances in 2012 for the Olympic year. Shoppers have a wide selection of family and adult-oriented plays to choose from when booking a theatre break. Hotels and theatre tickets will sell out fast. Savvy shoppers will book London theatre breaks right away to ensure accommodations will be available.

For more information and to book breaks go to:- justlondontheatrebreaks.com today! ...Advert...


Take part in the Great Manchester Run and join the fight against meningitis & septicaemia
THE Meningitis Research Foundation (MRF) estimates that there are around 3,400 cases of bacterial meningitis and septicaemia every year in the UK. This means that every day 9 people become ill with the diseases. With 1 in 10 people dying, a death will occur almost every day. A further 2 people will be left with life-altering after effects as severe as brain damage, deafness and multiple amputations. To help raise awareness and vital funds MRF is appealing for runners to take part in the Great Manchester Run on Sunday, 20 May 2012. The race is staged over a course of 10km and takes in the sights of Manchester city centre. Meningitis Research Foundation (MRF) has places in this event and is looking for runners to take up the challenge; so here's your chance to join us, get fit, and run for a fantastic cause. Sign up free and we will supply you with your own running and sponsorship pack to help you on your way, and your own MRF running vest to wear for the race. If you are interested in taking part please email Nikki from MRF, or call her on:- 01454 280415. Places will be offered on a first come, first serve basis. For further information on the Great Manchester Run, click.
Health worker convicted of obtaining patient details unlawfully
A former health worker has pleaded guilty to unlawfully obtaining patient information by accessing the medical records of 5 members of her ex-husband's family in order to obtain their new telephone numbers.

Juliah Kechil, formerly known as Merritt, a former Health Care Assistant in the outpatients department at the Royal Liverpool University Hospital, was convicted under section 55 of the Data Protection Act at Liverpool City Magistrates Court today. She was fined £500 and also ordered to pay £1,000 towards prosecution costs and a £15 victim surcharge.

Ms Kechil accessed the medical records of the five individuals between July and November 2009. Royal Liverpool University Hospital began an investigation in November 2009 when the defendant's father-in-law contacted the hospital after receiving nuisance calls which he suspected had been made by his former daughter-in-law. Having changed his phone number in July 2009 following unwanted calls from Ms Kechil, he was immediately concerned that there had been a breach of patient confidentially.

Checks by the hospital revealed that all of the patients whose details had been compromised were not at any time under the medical care of Ms Kechil and she had no work-related reasons to access their records. She accessed the information for her own personal gain without the consent of her employer. The accesses were traced through audit trails which were linked to the defendant's smartcard ID.

Head of Enforcement, Steve Eckersley, said:- "Unlawfully obtaining other people's information for personal gain is a serious offence which can have potentially devastating effects. Ms Kechil accessed medical records for entirely personal reasons. The breach of their privacy would obviously have been very distressing for the individuals involved. People should be able to feel confident that their personal details will be stored securely and only accessed when there is a legitimate business need. We will always push for the toughest penalties against individuals who abuse this trust."

Unlawfully obtaining or accessing personal data is a criminal offence under section 55 of the Data Protection Act 1998.
The offence is punishable by way of a financial penalty of up to £5,000 in a Magistrates Court or an unlimited fine in a Crown Court. The ICO continues to call for more effective deterrent sentences, including the threat of prison, to be available to the courts to stop the unlawful use of personal information.