Job Joy in Liverpool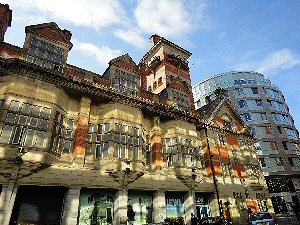 MIDDLE England Developments and Penlake Ltd. have announce the creation of 300 jobs in the region both directly and in-directly.

MED (Middle England Developments) & Penlake Ltd in Liverpool are a leading developer and manager of student accommodation, with a success rate of 100% occupancy. Established as a student accommodation manager over 10 years ago, Penlake has a history of successfully developing and managing student accommodation.

The firm is based in Beacon Building on London Road in Liverpool City Centre and by March this year it will see an extra 300 joiners, brick layers, electricians, laborers and several other building professions start work on several large scale projects across the city.

Middle England Developments began redeveloping historic buildings into student properties in Liverpool around 3 years ago.
The new projects to be developed and included in the job creation are the old Fire Station on Hatton Garden, Candia Tower and Crete Tower, a pair of apartment blocks in Everton as well as St Andrews Place on Rodney Street.

The Hatton Garden project will see 93 student properties created as well as a manager's office opposite the main building entrance, a gym, retail space housing a convenience food store, a hairdresser/salon, and a coffee shop.

On agreeing the Hatton Garden development last year the council stated:- "This type of housing proposed meets an identified need and is in keeping with nearby developments. This innovative development proposal will make efficient and sensitive reuse of a fine, Grade II-listed building and therefore make a valuable contribution to this part of the city centre."

Managing Director Nigel Russell also added that:- "At a time when significant job cuts are being made in industry as a result of the economic downturn, I am delighted that Middle England Developments / Penlake Ltd are able to create employment opportunities due to its expansion. There are vast opportunities open to us within our sector and we look forward to recruiting new members of staff to our business."
Tile triumph as thousands visit Hall
MORE than 6000 visitors have flocked to St Georgeís Hall for a rare glimpse of its world famous Minton Tiles. The floor in the Great Hall was uncovered on Saturday, 7 January 2012, to reveal its magnificent tiles and visitors have only 1 more week to see the detailed floor for themselves. Cabinet member for culture and tourism, Wendy Simon said:- "Each time the floor is unveiled it attracts a huge response. It is a great chance for visitors to see this amazing display of craftsmanship. I would encourage anyone who hasnít yet seen the Minton Tiles to visit St Georges Hall and take the opportunity to see one of Britainís finest Victorian wonders." The last time the tiles were displayed to the public was in 2009 and they are not expected to be on display again for another 2 years. The floor consists of 30,000 hand crafted tiles, many depicting the world famous Liver Bird along with Neptune, sea nymphs, dolphins and tridents. Minton Tiles on display until Sunday 22 January 2012. The tiles can be viewed daily from 10am with the last admission at 4.30pm every day. There is a small admission charge of £1 for adults, under 16s are free.

Premiere for Films Which Could Change Lives
TWIN Vision is a registered media charity that was set up by Paul McCann and his twin brother Gary in 2000, following 18 months self funded voluntary work teaching photography and film to deaf and disabled children and young people in Rajasthan, India. The twins returned to the UK to register and base their charity in Liverpool, and are currently based at St Anneís Catholic Primary School, Kensington. Tragically, Gary was killed in a hit and run collision in India while doing charity work. Following this devastating tragedy, Paul decided to continue the innovative and life changing work of Twin Vision that he and Gary had striven so hard to set up and, with the help of Pauline Fielding of Road Peace North West, set to work on making Echoes Documentary Film Project a reality through support from First Light Movies and Liverpool City Council.

Echoes is a powerful documentary film project that has seen young people from across Merseyside form production crews and
create three documentary films. These explore the devastating and life changing effects of loss due to criminality as well as the power of individuals to help and support others.

Since April 2011, Paul together with his colleagues, Wes Storey, Leila Romaya and Chris Chadwick, and the young film crews recruited form Sefton Youth Service, Young Addiction and Liverpool schools have been working with protagonists from across the city to explore loss on the roads, the devastating effects of substance misuse and loss due to murder and manslaughter.

They have worked with many inspirational contributors including Marie McCourt, who, following the murder of her daughter Helen over 24 years ago, headed SAMM Merseyside (Support After Murder or Manslaughter) to support other victims of murder or manslaughter and work tirelessly to campaign for change. Pauline Fielding, another inspirational innovator, set up Road Peace North West following the tragic death of her son, to help make roads safer for everyone and offer support to the thousands of families who loose a loved one in road traffic incidents each year.

The Twin Vision team have felt privileged and humbled to meet such amazing and inspiring people who, despite such tragic loss of loved ones, have found the inner strength to campaign for change and offer support to others.

"This is a very important project which is using the talents and creativity of our young people to help change lives. It explores extremely difficult subjects but, hopefully, it will change attitudes and make our society safer." said Councillor Joe Anderson, Leader of Liverpool City Council

"The young film crews have created 3 thought provoking films. Each shows an approach which is both respectful and compassionate towards the individuals who offered a personal insight into their experiences of loss of loved ones through criminality. The films created a resource to educate young people to the tragic and devastating consequences that becoming involved in acts of criminality can have, not only on the victimís families and loved ones, but the offenders also." Paul McCann, Twin Vision

"I greatly admire all our contributors for the life changing work that they do and the strength that they have found to channel their pain into something positive. It has been very rewarding to see our young film makers grow from the creative process and I feel very proud of them." Leila Romaya, Twin Vision

"I am delighted to have had the opportunity to be involved in this inspirational project with Twin Vision who are to be applauded for their innovative work which will help prevent further loss of life." Pauline Fielding, RoadPeace NW.

"Whatís so good about this project is that the young people who were involved in making it are part of the group it is aimed at. Peer pressure is powerful. If we can encourage young people to deliver the right message within their group that must help to improve society. I believe education is the key to changing Attitudes; once we do that, we modify Behaviour and determine Consequences. So itís as simple as ABC." David Midmer RoadPeace NW.

The Project will launch at 10.30am, on Thursday, 19 January 2011, at FACT Media Centre, Cinema 3, Wood Street, Liverpool, L1 4DQ, for all those involved in the project. The finished films will be shown and the work of everyone involved will be celebrated.