Runshaw Cake Sale to:- "Help Holly Home"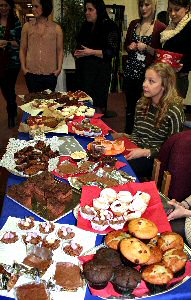 STUDENTS and staff from Runshaw Adult College's Foundation Diploma in Art and Design course organised a cake sale in aid of local charity 'Help Holly Home'. Holly Raper, who met with a serious quad bike accident whilst working in Tasmania, was a former Runshaw art student.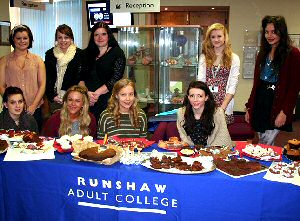 A talented photographer, Holly had been working on a cattle farm in King Island Tasmania, where she suffered a serious quad bike accident on 30 December 2012. Although responding to treatment, Holly remains in a critical condition in Tasmania's Hobart hospital.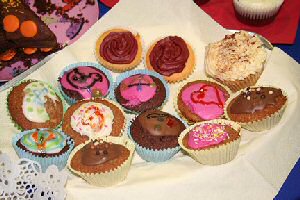 Holly's tutor at Runshaw, Alex Lowman, commented:- "Holly is very creative and intelligent. She achieved a high grade on the Foundation Diploma Art & Design course and moved to Leeds College of Art to complete a degree. She was always friendly and optimistic, and had a bright future in the art industry. It is very shocking to hear about her accident, and our current students have been keen to help raise funds for her appeal. We all wish Holly a healthy and speedy recovery."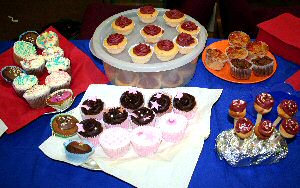 Holly's friends and family have launched the 'Help Holly Home' campaign to raise £25,000 for medical treatment and long term support. To donate, visit:- charitygiving.co.uk/helphollyhome.

Police Appeal For Information About Dangerous Prisoner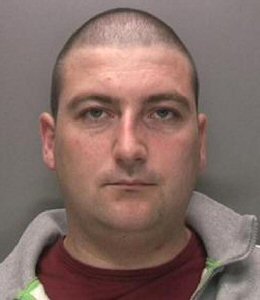 POLICE in West Mercia have issued an urgent appeal after a dangerous prisoner escaped from a prison escort van in North Worcestershire on Monday, 23 January 2012. It happened at about 8.20am in Hewell Lane, Tardebigge, near Bromsgrove, close to HMP Hewell Grange. The prisoner, John Anslow, was charged with murder by Staffordshire Police. Anslow, aged 31, who is from the Tipton area, is 1 of 5 men charged with the murder of Richard Deakin, who was shot dead in Chasetown, Staffordshire, in 2010. He was charged on Wednesday, 18 January 2012, and was on his way to Stafford Crown Court. Anslow is described as white, 5ft 10ins tall, of medium build, with short straight dark brown hair.

Detective Inspector Jon Marsden of West Mercia Police said:- "3 men wearing balaclavas, 2 of whom were carrying sledgehammers, got out of a silver Volkswagen Scirocco, and smashed the windscreen and driver's window of the GEO Amey prison escort van. The van driver was punched but no serious injuries were sustained by escort staff. There were 2 other prisoners in the van at the time, neither of whom were released."

The Scirroco drove off at speed. The group are believed to have switched to a silver Mercedes car in Stoney Lane, Bromsgrove, soon after.

Det Insp Marsden added:- "Anslow has recently been charged with murder and is considered dangerous. We are working closely with our colleagues from West Midlands and Staffordshire Police forces and a large number of officers from all three forces are involved in the search for him. However we would urge any members of the public who sees him not to approach him directly, but to contact Police immediately on 999."

Information can also be passed on to West Mercia Police on:- 0300 333 3000 quoting incident:- 87-s-230112, or the independent charity Crimestoppers anonymously on:- 0800 555 1111.
8 people arrested in relation to gun offences
POLICE Officers from Merseyside's specialist Matrix Team on Friday, 20 January 2012, arrested 8 people in relation to gun offences. The arrests follow the execution of two warrants in Liverpool, during which firearms have also been recovered. A sawn off shotgun was recovered at an address in York Way, Garston and a 44 year old man, a 36 year old woman and 17 year old girl, who are local to the area, have been arrested on suspicion of being in possession of a firearm. Following the execution of a warrant at an address in Herrick Street, Old Swan a double-barrelled sawn off shotgun was recovered. A 24 year old man and a 17 year old youth have been arrested on suspicion of possession of firearm and criminal damage. 2 women aged 18 and 22, along with a 17 year old girl have been arrested on suspicion of possession of a firearm and abstracting electricity. All are local to the area. Head of Matrix, Detective Chief Superintendent Tony Doherty said:- "These warrants have been executed following information received directly from the community, and the removal of these guns could have potentially saved someone from being injured, or even killed. We act on all information we receive and urge anyone who may have further information on where guns or ammunition are being stored, or those involved in this illegal activity, to tell us so we can take action and get them off our streets." Anyone with information about guns in their area is asked to contact the Matrix Team on:- 0151 777 5699 or Crimestoppers on:- 0800 555 111.