For the love of the limelight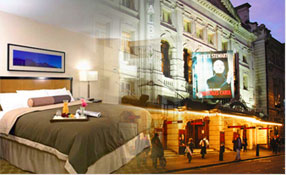 THEATRE breaks make it easy to experience the magic of live acting in the world's best cities for the arts. By combining hotel booking and theatre ticket purchases into one transaction, a theatre break makes a night out on the town smooth and enjoyable. London is one of the best places to purchase a theatre break because of its multiple theatres and long history as a home to multiple acting troupes.

Did you know that London Theatre Breaks can be customised in many ways? Shoppers can book a 5 star hotel for maximum luxury or a 3 star hotel if the budget requires. Restaurant reservations and transportation options can be added. Some theatre breaks have the option for add-on visits to tourist attractions like Big Ben or Buckingham Palace. Shoppers can choose the plays they want to see and the extras they want to add. Booking a theatre break is quicker and easier than booking every component separately. A booking agency will handle the paperwork for consumers, and can even offer a discount of a few pounds because of bulk purchases.

Anyone who loves the limelight will be delighted with the 2012 theatre season. Musicals are always lovely to experience in person, and the upcoming season features several classics. A beloved tale of crime and redemption, Les Miserables will be playing until 27 October at the Queen's Theatre. The Phantom of the Opera with music by Andrew Lloyd Webber is at Her Majesty's Theatre, until 14 January 2012. Billy Elliot, the story of a boy who wanted to dance ballet, will be at the Victoria Palace Theatre throughout the year. Chicago, featuring songs like "Razzle Dazzle" and "Mr. Cellophane" will be at Garrick Theatre until January 2013. Wicked, a pop culture hit, is at the Apollo Victoria Theatre until 27 October 2012.

Lesser-known musicals also abound. Backbeat, an adaptation of a Beatles' film, will be at the Duke of York's Theatre until 18 February 2012. Children of Eden, based on the Biblical book of Genesis, is at the Prince of Wales Theatre until 29 January. Legally Blonde The Musical will be at Savoy Theatre until 27 October 2012.

Children's musicals will entertain the whole family. The theatre adaption of The Lion King, the story of family and betrayal made famous by Disney movies, is playing at Lyceum Theatre until 09 September. Matilda The Musical, based on the book by Roald Dahl, will be at Cambridge Theatre until 21 October 2012. Shrek The Musical will be at the Drury Lane Theatre Royal until 21 October 2012. Singin' In The Rain, a classic family-friendly story, will be at the Palace Theatre until 29 September 2012. Parents can enjoy these timeless musicals with their children.

London theatres are putting on their best performances in 2012 for the Olympic year. Shoppers have a wide selection of family and adult-oriented plays to choose from when booking a theatre break. Hotels and theatre tickets will sell out fast. Savvy shoppers will book London theatre breaks right away to ensure accommodations will be available.

For more information and to book breaks go to:- justlondontheatrebreaks.com today! ...Advert...
Eric Faulkner + support live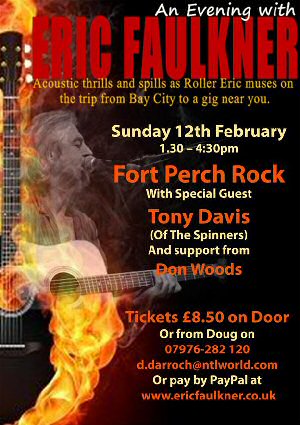 GREAT news Eric Faulkner ex teenage pop idol of the 70's/80's band The Bay City Rollers will appear at Fort Perch Rock. Eric will treat his audience to a beautiful Folk acoustic session and will relate tales of his journey from The Rollers to the present day. Eric is a talented singer/songwriter and is much sought after in Art Centres, Folk clubs, and many venues in the UK and Europe, and also appeared at the Glastonbury and Guilfest Festivals. Eric's unique concert will be performed at New Brighton's very own Fort Perch Rock on Sunday, 12 February 2012, at 1.30 to 4.30pm. Tony Davis from The Spinners will also be supporting along with Don Woods. Tickets are just:- £8.00 on the door or in advance from Fort Perch Rock on 07976282120. You can also book online at:- ericfaulkner.co.uk.

Karen Potter Craven Minor JFL
THESE are the results for week ending 22 January 2012...
Under 9 Leopards
Leaders Formby FC beat second placed Trinity Blue to reinforce their lead.

Birkdale United S 0-4 Town Green
Southport Trinity Blue 1-2 Formby FC Juniors
Hesketh Blue 5-0 Formby JSC
Under 9 Panthers
Redgate Yellow dropped points to their local rivals and allowed Ormskirk to close the gap.

Redgate Yellow 0-0 Redgate Green
Ormskirk FC Juniors 4-0 Redgate Black
Under 10
5th Placed Pumas held leaders Formby White who now have only a single point lead.
Formby JSC Black 2-1 Town Green Cougars
Southport Trinity Blue 2-2 Southport FC Juniors
Hesketh Colts 1-6 Formby FC Leopards
Town Green Pumas 1-1 Formby JSC White
Birkdale SAJ 1-5 Redgate Rovers
Crosby Stuart 1-1 Birkdale DR
Under 11
With the top 4 all recording away wins, Redgate Black maintain their lead at the top.
Formby FC Juniors 1-9 Redgate Black
Ainsdale Juniors 1-3 Southport FC Juniors
Hesketh Colts 0-3 Town Green S
Southport Trinity 1-2 Town Green B
Redgate Yellow 1-2 Birkdale Black
Under 12
Formby White won again to further stretch the division.
Birkdale United S 2-4 Formby JSC Black
Formby JSC White 4-1 Southport FC Juniors
Under 13
Southport Trinity finally put three points between themselves and Redgate Yellow, beating Formby whilst Redgate lost.

Redgate Yellow 1-3 Town Green
Southport FC Black 8-0 Jaguars Red
Formby JSC 0-4 Southport Trinity
Town Gren Athletic 4-2 Jaguars White
Redgate Green 3-2 Southport FC Yellow
Burscough FC Juniors 2-1 Birkdale United
Under 14
Birkdale's loss at home to second placed Trinity puts their rivals at an advantage being two points behind now with a game in hand.

Formby FC Juniors 5-2 Maghull Youth
Birkdale United 1-3 Southport Trinity
Ainsdale Juniors 0-6 Formby JSC
Town Green 3-2 AFC Liverpool
Under 15 Tom Owens Cup
Prescot Cables 3-0 Formby FC Juniors
Under 15A League
With the leaders, Prescot, in cup action, 2nd, 3rd and 4th all won away from home and closed the gap.

Marine 2-4 Crosby Stuart
Birkdale United 1-2 Ormskirk West End
Formby JSC Black 0-3 Formby JSC White
Under 15B League
Colts missed the chance to go top with a surprising reverse against fourth placed Town Green.

Maghull Youth 3-1 Hudson Rangers
Redgate Yellow 4-3 Ainsdale Juniors
Hesketh Colts 0-5 Town Green
Under 16
With the top 2 out of action 3rd and 4th JSC and Town Green closed the gap.

Southport Trinity 3-0 Jaguars
Birkdale United 4-0 Formby Dons
Hesketh Colts 1-5 Town Green
Maghull Youth 0-3 Formby JSC
Under 18
Only 4 points now covers the top four with victory for Trinity and Jags causing leaders TGWL to look over their shoulders.

Jaguars 2-0 Waterloo Park
Southport Trinity 2-0 Formby Colts