Liverpool School of Tropical Medicine gets new support
ON 21 January 2012, The Centre for Neglected Tropical Diseases (CNTD) at the Liverpool School of Tropical Medicine (LSTM) has received a major boost from the UK Department for International Development (DFID) in its drive to eliminate elephantiasis globally. The new commitment of £22 million over the next four years will provide 400 million treatments to protect 100 million people in Africa and Asia from this painful and disfiguring disease. A leading organisation in combating neglected tropical diseases around the world, CNTD is currently supporting 12 countries to eliminate elephantiasis by 2020. With support from DFID and GlaxoSmithKline, it has been providing treatment to millions of people since 2000.

"Those of us who are dedicated to controlling neglected tropical diseases applaud this generous support from the UK government. It builds on the extraordinary commitment of the pharmaceutical industry to supply drugs for as long as needed to treat and prevent these diseases and recognises the outstanding work of all those involved who have made the elimination of the most prevalent disease of the poor their priority. The UK government support will literally change the lives of many millions of the poorest." said Professor Moses Bockarie, Director of CNTD.

Elephantiasis (the common name for lymphatic filariasis) is a painful and disfiguring tropical disease with over one billion people at risk. It is controllable by a simple, effective parasite-killing treatment via annual mass drug administration in areas where the disease is endemic. Pharmaceutical companies GlaxoSmithKline, Merck & Co. Inc. and Esai donate all the drugs necessary for controlling elephantiasis. Mass drug administration is considered a 'best buy' by the international health community in terms of its value for money in tackling disease. "Building on Liverpool's global excellence in this field, Britain is helping to lead the way with other partners in providing critical treatments to millions of men, women and children whose lives are blighted by these horrific diseases. We have the tools at hand to eliminate or control these preventable diseases. Helping people trapped in poverty by ill health is one of the best investments we can make. Their lives will be transformed, they can go to school, they can work, and eventually pull themselves out of poverty." said Minister for International Development Stephen O'Brien.

According to Professor Bockarie, neglected tropical diseases affect over one billion of the world's poorest people, threaten the lives and health of many millions more and cause significant levels of disability, stigma and exclusion. If elephantiasis is left untreated, the parasites, transmitted by mosquitoes, nest in the human lymphatic system. This causes painful and disfiguring symptoms such as swelling of the lymph nodes, limbs and genitals, and often leading to kidney damage. Usually contracted by children, the mental, physical and social effects are felt throughout adult life. "This is the decade in which we have the potential to eliminate some of the world's most disabling and debilitating diseases. We are incredibly proud that the British government has taken such a leadership role and doubly proud to be part of the history in the making. We and our partners around the world are poised to help end the cycle of poverty and suffering caused by these diseases." said LSTM Director, Professor Janet Hemingway,

In partnership with Imperial College, LSTM will also receive additional funding from DFID over the next 4 years to provide treatments to protect 40 million people from schistosomiasis in at least eight African countries. Caught through contact with contaminated fresh water that contains parasites, schistosomiasis or more commonly known as bilharzia leads to chronic ill health, damages internal organs, impairs the growth of children and causes more than 200,000 deaths a year in Africa. "We at WHO are delighted to hear the news of the greatly increased commitment of DFID to neglected tropical disease interventions. This makes a step change in the resources available to complement drug donations. WHO looks forward to expanding our long standing collaboration with CNTD in Liverpool which has to date been so productive in making real progress towards the elimination of elephantiasis." said Dr Lorenzo Savioli, Director of the Control of Neglected Tropical Disease Department of the World Health Organisation. The pledge of new funding from DFID marks a 5 fold increase in Britain's support as part of an international effort to help rid the world of neglected tropical diseases.

Sefton Central MP calls for change to cigarette packaging to protect children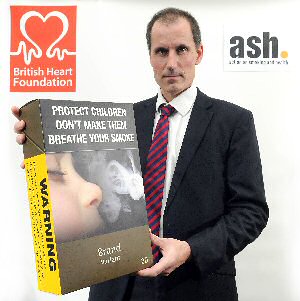 THE MP for Sefton Central, Bill Esterson, has pledged his support for a campaign to protect children and young people by putting tobacco in plain, standardised packaging. The British Heart Foundation (BHF) and Action on Smoking and Health (ASH) are urging the government to put all cigarettes in plain packs with no attractive colours. Evidence shows young people find current packaging more attractive and the health warnings have less impact than on plain packs. At a meeting hosted by the charities in Parliament this on 18 January 2012, MPs watched a short film featuring the reactions of young people to current packaging and then plain packs. They also heard that more than a quarter of young smokers mistakenly believe one pack of cigarettes is healthier than another based on the pack design alone. 3 quarters of young people think selling cigarettes in plain packs would make it easier for people to smoke less or quit. Bill Esterson MP said:- "It's shocking that despite a ban on tobacco advertising, children are still being lured into a lifetime of addiction because of the way glitzy packaging makes cigarettes look so appealing. The reality is that smoking is a deadly addiction that kills half of smokers but many young people are simply unaware of this. Introducing plain packs would minimise the dangerous allure of cigarettes and reduce the chances of children starting to smoke."

Do you agree with this idea? Let us know by emailing our newsroom news24@southportreporter.com.
Vote now for best young people's sexual health film
THE Southport and Ormskirk Hospital NHS Trust is rolling out the red carpet and searching for the best young filmmakers in the area. Students from Southport College have produced films as part of the Sefton Shorts competition to engage young people in sexual health and relationship issues in an innovative and creative way. Film competition entries have been received and now it is up to the public to find the next Martin Scorsese or Kathryn Bigelow. The videos are available to watch online where you can also cast your vote for the best film. The Best Film Award will be announced at a Hollywood-style awards ceremony on 23 February 2012 at The Plaza Community Cinema in Crosby. Winners for Best Audio, Best Editing, Best Script and Best Actor will also be chosen by a panel of judges, which includes Dr Mark Fremaux, programme leader for television and production at Edge Hill University at Ormskirk, Liza Williams, health reporter for the Liverpool Echo and Morag Reynolds, public health lead at NHS Sefton. Elizabeth Kay, ISIS sexual health service health promotion lead for the Trust, said:- "The film competition is designed to raise awareness of sexual health issues among young people and encourage them to make informed choices and positive decisions around their relationships. The entries have been fantastically creative and have some strong messages. It's now up to the public to pick a winner." You can cast your vote today by logging on to:- bit.ly/seftonshorts.