Ditchy And Salty Are Back Together For Podcast Banter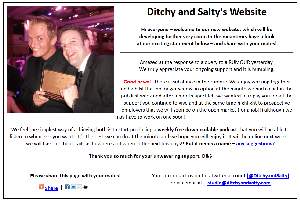 THE highly popular DJ's Ditchy and Salty have announced that they are to produce free downloadable Podcasts for their fans and listeners, in response to rumours on the internet that the pair will work together again soon.

Since Ditchy & Salty; who won a 2011 Best Entertainment Programme Sony Bronze Award for their Real Radio Breakfast show - were axed from the show at short notice on 23 December 2011. due to the axing, listeners of the station have been in uproar and thousands have supported the pair via facebook and twitter. Until their contracts run out in June 2012, Ditchy & Salty (real names David Ditchfield and Paul Salt) are working separately on the overnight shifts on Real Radio, with Ditchy also doing the Saturday and Sunday breakfast slot.

The pair who earned the title:- "The Ant and Dec of the Radio" have released the statement today, which says that they are:- "Amazed at the response to a query to a rumour. We truly appreciate your ongoing support and it is humbling. Good news!!! There is substance in the rumour. We enjoy working together and whilst that no longer seems an option at the minute we had a chat in the pub last week and after a month apart felt we wanted to repay you for all the support you continue to give and at the same time highlight to prospective employers that we will soon be on the open market for a job!! Although we may have to work on one soon! We feel the simplest way of achieving both is to start producing a weekly free downloadable podcast that you will be able to listen to whenever you want! It's the best we can do at the minute and we hope you will enjoy it. It will be online next week; We will have all the details as to where and when in the next few days!! But it needs a name, any suggestions?"

The reaction from their fans has been immediately positive, with one listener saying:- "I just cannot settle with any other radio station and really miss the boys' good family humour and banter of a morning. Now I can listen to their podcast whenever I want and I know I will be immediately cheered up! I have no idea why Real Radio management would axe such a brilliant and successful show, but this is their loss and our gain... I'm really excited."

Whilst their supporters are fully behind Ditchy and Salty, they would love to be able to tune into the pair on another radio show, but as one fan commented that:- "At least this way the 2 lads are still working together! They have been brilliant and I hope will keep their brand intact. Now they can show the world what they are about and what we have all been enjoying since May 2008 and what we miss now on the station. Another employer should snap them up as they have thousands of ready-made loyal listeners that they'll take with them anywhere and I am one of them."

Listeners and fans can see the statement on the Ditchy and Salty website and can send in suggestions for the podcast. What do you think about them and the station? Email us now to:- news24@southportreporter.com and keep us posted.

Search extended for missing Skipton man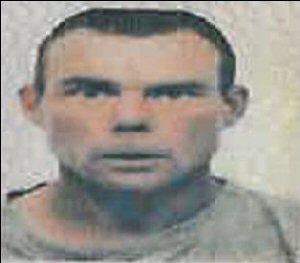 NORTH Yorkshire Police are looking for missing Skipton man Matthew John Thornton have extended their search to other areas of the country. Matthew, aged 45, of Petyt Grove, Skipton, was reported missing by a friend on Sunday 22 January 2012, however he had not been seen for over a week before that time.
Police Officers are concerned for Matthew's welfare due to the length of time he has been missing and the fact that he is suffering from a long-standing illness.

Following an earlier media appeal, police received reports of a sighting of Matthew on Church Street, in Windermere, Cumbria, on Friday, 13 January 2012.
The Police are continuing to make extensive enquiries in and around Windermere in an effort to trace him and ensure he is safe and well.
It is believed that Matthew, who walks with a distinctive gait and has obvious physical tics as a result of his illness, has been getting around by train and police think that he may well visit the areas of Scotland around the Cumbrian border.

It is also thought that he may head to Merseyside, as he is a Liverpool supporter and could also head to Blackpool. Officers are keen to hear from anyone who has seen Matthew around or knows where he might be.

Inspector Craig Linton, of Skipton Safer Neighbourhood Team, said:- "Matthew has been missing for well over a week now and obviously we are concerned for his safety. It is out of character for him to be away from home for this length of time and his family and friends are clearly worried about him. There have been positive sightings of him in Cumbria, which is encouraging, and I would urge anyone who sees Matthew or knows where he is to contact the police as soon as possible. I would also like to appeal directly to Matthew and ask him to get in touch if he sees this appeal and let us know that he is ok."

Matthew is described as being 5ft 10in tall, with a medium build, brown eyes and short dark brown hair. He is believed to have been wearing a dark blue raincoat and blue jeans.

Anyone who can help police to locate Matthew is urged to contact North Yorkshire Police on:- 101 – select option 2 – and ask for Skipton Police, quoting reference number:- 12120011501.