Rail companies respond to report into released capacity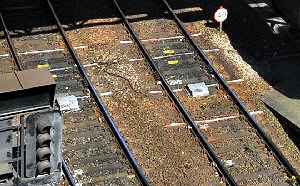 RESPONDING to the joint Network Rail/Passenger Focus report into priorities for the released capacity on the West Coast Main Line due to high speed rail, Michael Roberts, Chief Executive of the Association of Train Operating Companies (ATOC) said:- "HS2 would not only help solve a looming capacity crunch for people travelling between our major cities. By freeing up space on the existing West Coast Main Line, passengers in towns such as Rugby, Milton Keynes and Northampton could benefit from improved local services and better, more frequent connections."
Cameron pledges his allegiance to the Vikings Party
CAMERON Phelps has become the Vikingsí 15th new recruit ahead of their much anticipated return to Super League in February, having put pen to paper on a 2 year contract, which is subject to receiving the necessary visa.

The 26 year old Australian centre who can also play on the wing and at full back will wear squad number 19 in Denis Bettsí 2012 first team squad. A former Australia U19ís player, Cameron rose through the junior ranks at Canterbury and made his senior debut in 2005, going on to make 39 first grade appearances for the Bulldogs, scoring 12 tries in the process.

The move to Wigan followed in 2008 and Phelps remained there until the end of the 2010 season before moving to East Yorkshire to take up a one-year deal with Hull FC, where he spent the 2011 campaign.

"To unearth a player of Cameronís calibre, literally weeks before the start of a new season is a massive bonus and having him on board adds even more competition for places and greater strength in depth to our squad. Having played at Super League level for the past few years, heís well aware of the standard of the competition and the demands that come with it. At both Wigan and Hull, he proved himself to be a quality player and a quality professional, so heíll bring a lot to our environment, both on and off the pitch." said Vikingsí head coach Denis Betts.

Pleased to have secured his Super League future, Phelps added that:- "I sat down and had a good chat with Paul Cullen in Australia recently and I was very impressed with what he had to say about the club and its plans. The same also applies for Denis Betts who only had good things to say about the place. Itís an exciting time to be involved at the Vikings and Iím looking forward to helping the team in their push towards the finals. Hopefully Denis can find a berth for me somewhere in his team and then itís up to me to add value and contribute to the team wherever Iím selected and itís going to be interesting to see how it all pans out. I have been keeping myself in good shape by training with Canberra Raiders back home and Iím really looking forward to the fresh new challenge in front of me. Iíve played at the Stobart Stadium for both Wigan and Hull in the past and I know already what a passionate bunch the Vikingsí supporters are, so running out and playing on the new i-pitch in front of them is something I canít wait to do."

Gas leak in Liverpool Closes City Centre Roads
MERSEYSIDE Police closed off city centre roads and evacuated buildings after reports of a gas leak at 11.30am on 19 January 2011, at the former Lewisís department store on the corner of Renshaw Street and Ranelagh Street. A number of buildings around the former Lewisís department store in Renshaw Street had to be evacuated. The cordon had a big impact on the transport network, particularly buses and some of which wee diverted. The cordon caused some disruption for rush hour travellers. Central Station was temporarily closed and trains were not stopping, but they were passing straight through the station. The rest of the railway network in Liverpool area was still running normally. Merseyside Police have now lifted the safety cordon and ALL the roads have now re-opened. Central Station has also been re-opened and trains are now able to stop there. If you do have any photographs, then please send them to us via news24@southportreporter.com.
Moving tales mark Holocaust Memorial Day
LIVERPOOL will hear moving tales from survivors of the Holocaust and Rwandan genocide this week, as the city pays tribute to all those who suffered Nazi persecution.

At a remembrance service at the Town Hall on Thursday, 26 January 2012, Inge Goldrein, who escaped from Germany as a young child and AimeClaude Ndongozi, a Rwandan survivor, will share their experiences with invited guests at a service titled 'Speak Up Speak Out'.

The service will begin with candles being lit to remember all victims of atrocities as well as other more recent genocides in Cambodia, Rwanda, Bosnia and Darfur.

Liverpool Vision chief executive, Max Steinberg will also tell the story of Sir Ludwig Guttmann who was born into an orthodox Jewish family. After fleeing Nazi Germany with his family in 1939 and emigrating to Oxfordshire, Sir Ludwig went on to become the founder member of the Paralympic Games.

Councillor Prendergast said:- "Holocaust Memorial Day is a time for reflection and remembrance, an opportunity to bring together people of all faiths and ages to learn the lessons of history and to ensure they are never repeated. It is everyoneís responsibility to use their voice against such persecution and itís essential we do as much as we can to ensure that future generations never forget what happened and that such horrors never happen again."

Also during the day the Lord Mayor of Liverpool, Councillor Frank Prendergast, will join council leader, Councillor Joe Anderson, opposition Councillor Tina Gould and Rabbi Mordechai Wollenberg at a wreath laying ceremony in St Johnís Gardens.

The 2 special events will mark Holocaust Memorial Day and the 67th anniversary of the liberation of Nazi extermination camp Auschwitz-Birkenau in 1945.

In addition to this there will be an exhibition in the Town Hall for the duration of the service called:- "Echoes of Sorrow" by Liverpool photographer John Guy. The exhibition was first shown at the Holiday Inn in Liverpool in 2007, followed by Liverpool Town Hall in January 2008 then Liverpoolís World Museum from May to August 2008. Auschwitz-Birkenau was the largest Nazi killing camp, where around 1.1 million men, women and children were murdered."
Princes Dock Waterfront Totem Will Sign Stands Tall
A new totem sign will soon been installed at Princes Dock in Liverpool. The sign is 9 metres tall by 1.25 metres wide, and has ĎPRINCES DOCKí etched in white, with internal lights for at night. The sign has been paid for and is being installed by Peel outside the Crowne Plaza Hotel, with assistance from the Waterfront Partnership to ensure it fits with the guidelines for waterfront signage.