One Direction announces new 2013 UK and Ireland Tour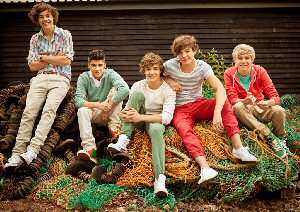 THEY'VE sold over 1.6 million records in just four months; had 100 million views on YouTube; have not 1 but 2 No.1 selling books; scored 2 major hit singles and a platinum selling debut album in the UK; and have been nominated for Best Single for 'What Makes You Beautiful' at this year's BRIT Awards. nNow Zayn, Niall, Liam, Harry and Louis announce an arena tour of the UK and Ireland in February and March 2013. The 11 date tour will see the boys perform at key venues across England, Scotland and Wales, taking in Manchester Arena, London's The O2 Arena, Glasgow's SECC and Cardiff's Motorpoint Arena, amongst others. Full dates for the tour are as follows:-
Friday, 22 February 2013 - London The O2 Arena
Saturday, 23 February 2013 - London The O2 Arena
Tuesday, 26 February 2013 - Glasgow SECC
Friday, 1 March 2013 - Cardiff Motorpoint Arena
Saturday, 2 March 2013 - Cardiff Motorpoint Arena
Friday, 15 March 2013 - Manchester Arena
Sunday, 17 March 2013 - Liverpool Echo Arena
Tuesday, 19 March 2013 - Sheffield Motorpoint Arena
Wednesday, 20 March 2013 - Nottingham Capital FM Arena
Friday, 22 March 2013 - Birmingham LG Arena
Sunday, 24 March 2013 - Newcastle Metro Radio Arena

Tickets are on sale from Saturday, 25 February 2012, at 9am. Links to buy tickets are available online.

Currently making waves in the USA by entering the US iTunes Top 10, the band are about to embark on a tour of America with boy band Big Time Rush. They recently filmed a cameo appearance for the immensely popular Nickelodeon show iCarly, as well as appearing on the cover of the likes of M Magazine. Over 100,000 fans in America also signed up to the band's US Facebook page in a bid to bring 1D to their home state; Dallas showed the most love for the band to emerge triumphant.
Liverpool Artists heads to Benicassim Festival
A Liverpool artist is going to be soon playing at an incredible festival, FIB, in the 3rd largest city in Spain after Madrid and Barcelona, Valencia. Miles Kane will be on one of the three stages, as one of the over a hundred 100 acts taking part. Promoter Kate Ford said:- "Benicassim is an all ticket event, but it is not just the event you get with the ticket. All tickets include 8 days free camping, allowing you to make a holiday out of it, spending the day at the beach and the evening listening to some of the world's best bands. Music lovers can holiday and explore all the different activities, sights and beautiful beaches that Benicassim has to offer during the day and then rock out to the music entertainment at night. Benicassim is easy to get to from different locations in Spain. The closest airport is Valencia which is only a 30 to 40 minutes drive from the FIB site." For more information and to listen to his new songs go to:- mileskane.com or follow him on Facebook. For more information about the festival go to:- fiberfib.com.
Limehouse Lizzy 2012 tour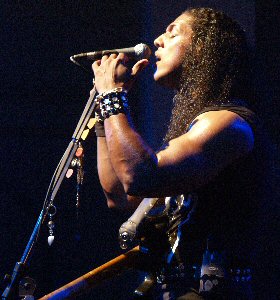 THE Limehouse Lizzy are officially one of the hardest working bands in the UK. They were accredited for their live shows by the Performing Rights Society in December 2011 and received their certificate from PRS Chairman (and respected songwriter) Guy Fletcher OBE.

Renowned for an action-packed pyrothechnic-fuelled explosion of a show, Limehouse Lizzy continue to keep the spirit of Celtic rock icon Philip Lynott and his band Thin Lizzy alive, well and dominating stages worldwide. The band have also added a tribute into their show to ex-Thin Lizzy guitarist (and world renowned solo artist) Gary Moore who sadly passed away last year.

Attention to detail, playful audience interaction and that all important X-factor that leaves you with the feeling of witnessing the real thing have led to their performance being described as "beyond tribute", by both audience and critics alike.

Following the enormous success of their "Live & Dangerous" also "Dedication" tours, the band embarked upon their ""Into the Limelight" 2008 tour to tie in with their appearance on an episode of BBC2's 'Arena' documentary series of the same name. The tour travelled as far as a headline slot at a Rock festival in Greece, and the Virgin Atlantic Music festival in Barbados. The band appeared alongside diverse world music acts, and played a Thin Lizzy set representing the celtic rock genre.

In 2012 the band's European tour continues to explore and celebrate the artistic and musical legacy of the hard-living, hard-rocking, yet at times surprisingly tender and romantic artist that was Philip Lynott. This year they will be appearing in the UK, Ireland, Germany, France, Holland and Belgium.

Expect more of the Celtic influenced tracks like:- "Whisky in the Jar" and "Black Rose", amongst the usual razzamatazz and classic tracks:- "The Boys are Back in Town", "Sarah" and many others we've come to expect from one of the most highly rated acts on the circuit.

Limehouse Lizzy play at Pacific Road Arts Centre, Birkenhead on the 17 March 2012. Call the venue box office on:- 0151 666 0000 for further details, or tickets are available online.

Ryanair's 'flipping' low fares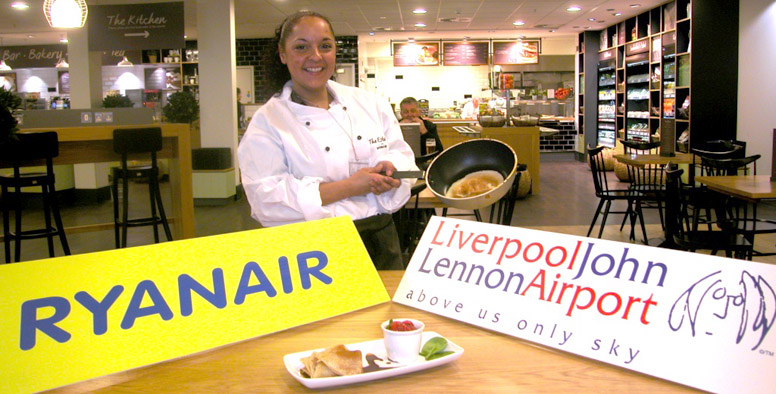 PASSENGERS departing from Liverpool John Lennon Airport (JLA), on Shrove Tuesday (Pancake Day), 21 February 2012, were served up a treat by one of the chefs at the Airport, as part of a promotion to highlight Ryanair's 'flipping' low fares.

To help celebrate Pancake Tuesday, Ryanair arranged for Chef Tasha O'Brien, from the Airport's new Estuary Kitchen and Grill restaurant, to serve pancakes for passengers in the departure lounge.

With flights currently available from Liverpool with Ryanair from as little as £9.99 one way for travel in April, but passengers must book before midnight, Thursday, 23 February 2012, to take advantage.

Robin Tudor, Head of PR at Liverpool John Lennon Airport commented:- "We like to celebrate events and special occasions throughout the year with our passengers and many flying out today enjoyed some traditional Pancake fare at the same time as being able to get a taste of Ryanair's great low fares too."
To take advantage of Ryanair's low fares, visit:- Ryanair.com.
Unsigned Only Music Competition
THE newly launched Unsigned Only Music Competition, from the team behind the International Songwriting Competition, is fast approaching its 5 March 2012 deadline for artists to enter.
The competition, based in Nashville, USA is designed for solo artists, bands, and singers who are not signed to a major record label. Unsigned Only's goal is to find an outstanding, talented performing artist:- a band, singer, or solo artist...a newcomer or veteran...raw or polished... the "gem" that needs to be discovered. Unsigned Only is looking for the total package. Judging criteria includes vocals, performance, songwriting, and originality.

Completely separate and distinct from ISC, Unsigned Only is a fresh and novel approach to other music competitions. Not only does it offer great prizes, recognition, exposure, and the chance to be heard by a group of judges consisting of high-profile recording artists and industry professionals, but it also takes it a step further and puts the Grand Prize winner in direct, personal contact with the influential record label executives who are the ultimate decision makers. For the first time ever, a music competition offers the Grand Prize winner the unprecedented opportunity to be mentored by a group of record company presidents, A&R reps, and more. This is a once-in-a-lifetime chance for an artist to directly network with the top echelon of record company professionals and get guidance, advice, feedback, and networking opportunities.

The founders of Unsigned Only, Jim Morgan and Candace Avery, talk about the new venture:- "We are pleased to introduce a new music competition of this caliber to artists throughout the world. Having worked with a wide variety of artists over many years, we know that what artists want most is access to record label professionals. However, it is virtually impossible for most up-and-coming artists to have direct access to this elite and elusive group of decision makers. So, Unsigned Only is offering the unprecedented opportunity for the Grand Prize winner to network with and be mentored by a prestigious group of record label executives. This has never been done before, and we are excited about the possibilities it affords the Unsigned Only winner."

The judging panel is comprised of an impressive group of recording artists, producers, and top-level music journalists. The judges include:-
Cyndi Lauper; Kenny Rogers; Angie Stone; 3 Doors Down; Jeremy Camp; Manchester Orchestra; Craig Morgan; Robert Smith (The Cure); Kelly Clarkson; Musiq Soulchild; Aaron Shust; Steve Lillywhite (Producer); G. Love; Matt and Kim; St. Vincent; The Mountain Goats; Josh Jackson (Co-Founder and Editor-In-Chief, Paste Magazine); Scott Lapatine (Founder/Editor-In-Chief, Stereogum) and Lorraine Ali (Pop Music Editor, Los Angeles Times).

The panel of mentors who have signed on to participate is equally impressive. The mentors will be:-
Monte Lipman (President of Universal Republic); Pete Ganbarg (Executive Vice President/Head of A&R, Atlantic Records); David Wolter (Senior VP of A&R, RCA Records); Kim Stephens (President, Forward Entertainment and A&R/Capitol Music Group); Trevor Jerideau (VP of A&R, RCA Records); David Wilkes (VP of A&R, eOne Music); Pete Giberga (Head of A&R, Razor & Tie Records) and Jason Geter (President, Grand Hustle Records).

The Grand Prize Winner will be awarded $5,000 in cash (plus additional prizes) and 1 on 1 mentoring by an elite group of record company executives. 1st Place and 2nd Place winners will also be selected in each category. Entries are being accepted now until 5 March 2012. Winners will be announced in July 2012.
Categories include:- AAA (Adult Album Alternative), AC (Adult Contemporary), Christian Music, Country, Folk/Singer-Songwriter, R&B/Hip-Hop, Rock, Pop/Top 40, and Vocal Performance.

All entries must be original music except for the Vocal Performance category which accepts original or cover songs. Judging criteria in the Vocal Performance category will be based solely on the quality of the vocals, thereby allowing singers who do not write their own songs the opportunity to enter.

For entry and general information, please go to the competition's website today! Forget X-Factor!
This is an amazing offer for any artist to have a go at. If you enter, do let us know as well, via emailing our newsroom via:- news24@southportreporter.com.