Sarah Mittal from Southport takes on the Step Change 2012
SARAH Mittal from Southport, is taking on the challenge of the Step Change event at London's iconic 'Gherkin' building on 4 March 2012, and is encouraging others to enter and help the NSPCC's ChildLine service to continue to be there for vulnerable children.
ChildLine has been granted exclusive access to '30 St Mary Axe' to host the event, which is open to corporate teams, individuals, families, and groups of friends.
The challenge is to run up 38 flights of stairs and enjoy a well deserved glass of champagne and a panoramic view of the city from the restaurant at the top. 'Tower running' turns the idea of a race literally on its head. Instead of running on a typical route, participants take the stairs up 'The Gherkin' in a race to the 38th floor.

Sarah, who turns 48 on the day of the event, and a nurse, said:- "This is the first time I have taken part in the NSPCC Step Change challenge. It started with my daughter Rebecca saying to my best friend that she would like to see the Gherkin. Then another friend, Diane, told us the NSPCC were organising a fundraising event to climb the steps in the building so the three of us thought it would be a fun event to do and that we could help children in need at the same time. When we signed on and saw more about what the NSPCC do we were amazed to see the charity was founded in 1884. It does so much to help children, not only through ChildLine but also by work in schools and teaching children to protect themselves against things like bullying. We are very much looking forward to the challenge, especially reaching the top!"

The event is being backed by mother of 3 and Olympic gold medallist Sally Gunnell, who said:- "With this event every step counts - 1,037 steps in fact! It's an opportunity to see the fantastic views from the top of the Gherkin, but more importantly, a chance to support ChildLine's vital services during its 25th anniversary year, what more could you ask for on a Sunday morning?! Whether you enter Step Change as an individual, a family group, or as part a corporate team, enter today and help ChildLine to protect vulnerable children in this area."

The entry fee for Step Change is £20 per individual, £70 per team of four, or £20 per adult and £10 per child for the family registration, and participants are also asked to raise sponsorship.
For anyone who doesn't fancy running up the 38 floors there is the option to purchase a 'champagne lift pass' for £75 (accompanied children attend free with a paying adult). This is the 3rd year that Step Change has been staged and it is hoped that the event will raise £200,000 for the charity. For more information on the Step Change and how to enter, visit:- nspcc.org.uk/stepchange for more information.

Dive with sharks to save lives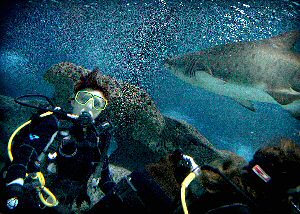 A leading charity which funds research into treatments and cures for muscle diseases is challenging adventurous people to learn the basics of scuba diving in a gigantic aquarium tank - with a variety of sharks, stingrays and conger eels for company.

The 'Discover Scuba' challenge, organised by the Muscular Dystrophy Campaign to raise funds to fight muscle disease, is aimed at diving beginners and takes place at the Blue Planet Aquarium in Cheshire, one of only two places in the UK where this activity can happen. Those brave enough to take the plunge are asked to raise a minimum amount of sponsorship and the next session is on Sunday, 25 March 2012.

Participants learn the basics of scuba diving among one of Europe's largest collection of sharks, including 10 foot sand tiger sharks, as well as hundreds of other fish. Scuba equipment and training is provided under Professional Association of Diving Instructors guidelines.

Maria Drozd, who did a Discover Scuba dive recently said:- "Thanks for organising such a great event. I absolutely loved every second of it. Diving with sharks is a great way to raise funds to help the work of the Muscular Dystrophy Campaign. It was a unique opportunity to come face to face with one of nature's most feared creatures. I would definitely recommend it."

If you would like to learn the basics of scuba diving and get close up and personal with the sharks please contact Charles Horton by email or call the Regional Office of the Muscular Dystrophy Campaign on:- 01244 536551.

Approximately 8,000 children and adults in the North West are directly affected by muscle disease, a condition which causes muscles to progressively waste and weaken. Muscle disease is life-limiting. There are no cures.

The Muscular Dystrophy Campaign is the leading UK charity focusing on muscle-wasting disease. It has pioneered the search for treatments and cures for more than 50 years, and is dedicated to improving the lives of all children and adults affected by muscle disease.

We fund world-class research to find effective treatments and cures; provide practical information, advice and emotional support for individuals, their families and carers; campaign to raise awareness and bring about change; award grants towards the cost of specialist equipment; and provide specialist education and development for health professionals.