Sarah Mittal from Southport takes on the Step Change 2012
SARAH Mittal from Southport, is taking on the challenge of the Step Change event at London's iconic 'Gherkin' building on 4 March 2012, and is encouraging others to enter and help the NSPCC's ChildLine service to continue to be there for vulnerable children. ChildLine has been granted exclusive access to '30 St Mary Axe' to host the event, which is open to corporate teams, individuals, families, and groups of friends. The challenge is to run up 38 flights of stairs and enjoy a well deserved glass of champagne and a panoramic view of the city from the restaurant at the top. 'Tower running' turns the idea of a race literally on its head. Instead of running on a typical route, participants take the stairs up 'The Gherkin' in a race to the 38th floor.

Sarah, who turns 48 on the day of the event, and a nurse, said:- "This is the first time I have taken part in the NSPCC Step Change challenge. It started with my daughter Rebecca saying to my best friend that she would like to see the Gherkin. Then another friend, Diane, told us the NSPCC were organising a fundraising event to climb the steps in the building so the three of us thought it would be a fun event to do and that we could help children in need at the same time. When we signed on and saw more about what the NSPCC do we were amazed to see the charity was founded in 1884. It does so much to help children, not only through ChildLine but also by work in schools and teaching children to protect themselves against things like bullying. We are very much looking forward to the challenge, especially reaching the top!"

The event is being backed by mother of 3 and Olympic gold medallist Sally Gunnell, who said:- "With this event every step counts - 1,037 steps in fact! It's an opportunity to see the fantastic views from the top of the Gherkin, but more importantly, a chance to support ChildLine's vital services during its 25th anniversary year, what more could you ask for on a Sunday morning?! Whether you enter Step Change as an individual, a family group, or as part a corporate team, enter today and help ChildLine to protect vulnerable children in this area."

The entry fee for Step Change is £20 per individual, £70 per team of four, or £20 per adult and £10 per child for the family registration, and participants are also asked to raise sponsorship. For anyone who doesn't fancy running up the 38 floors there is the option to purchase a 'champagne lift pass' for £75 (accompanied children attend free with a paying adult). This is the 3rd year that Step Change has been staged and it is hoped that the event will raise £200,000 for the charity. For more information on the Step Change and how to enter, visit:- nspcc.org.uk/stepchange for more information.
Biggest football competition for deaf children comes to Liverpool
DEAF children from across the north of England will be putting their football skills to the test at the biggest annual tournament for deaf friendly youth football teams on Sunday, 4 March 2012, at Goals Soccer Centre in Liverpool.

Hundreds of deaf young footballers aged 6 to 18 will enter the tournament, organised by the National Deaf Children's Society (NDCS), the leading charity for deaf children and young people, hoping to take home the championship trophy. Among the competitors will be Everton Deaf FC's Under 12s, defending their title from last year's tournament.

The competition is part of the NDCS Deaf Friendly Football Club (FC) project, which encourages junior football clubs of all sizes to open up their teams to deaf players.

Hayley Jarvis, NDCS Inclusion Activities Manager, said:- "The tournament is a celebration of the football clubs and coaches who have succeeded in making football accessible to more than 1,000 deaf children, who otherwise wouldn't be able to enjoy football. We are expecting some great matches to be played and encourage football teams from across the north of England to sign up to this fantastic event and showcase their talent."

Victoria Wenman, GB Deaf Ladies Footballer, said:- "NDCS's football tournament is a brilliant event for deaf young people. It is fantastic to see the continued growth of deaf friendly football. It was only through playing with my deaf team that I really thrived as a confident player. My coach knew how to communicate with me whereas in other teams I'd played in, communication had been an issue. It is so important that deaf young people have the same access to sport as other young people."

The NDCS Deaf Friendly FC Project was set up in 2007 with the help of a grant from the UK's largest sports charity, the Football Foundation (FF). An additional grant of £129,623 was awarded by the FF, and the Football Association also provided £10,000 towards the project. NDCS now works with 100 football clubs all over England, including Everton FC, to create regular playing, coaching and socialising opportunities for deaf children and young people. The tournament will take place on Sunday, 4 March 2012, at the Goals Soccer Centre, 151 Park Lane Netherton, Liverpool, L30 1QQ. Teams can enter by email or go online for details.

Dive with sharks to save lives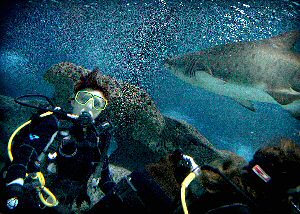 A leading charity which funds research into treatments and cures for muscle diseases is challenging adventurous people to learn the basics of scuba diving in a gigantic aquarium tank; with a variety of sharks, stingrays and conger eels for company.

The 'Discover Scuba' challenge, organised by the Muscular Dystrophy Campaign to raise funds to fight muscle disease, is aimed at diving beginners and takes place at the Blue Planet Aquarium in Cheshire, 1 of only 2 places in the UK where this activity can happen. Those brave enough to take the plunge are asked to raise a minimum amount of sponsorship and the next session is on Sunday, 25 March 2012.

Participants learn the basics of scuba diving among one of Europe's largest collection of sharks, including 10 foot sand tiger sharks, as well as hundreds of other fish. Scuba equipment and training is provided under Professional Association of Diving Instructors guidelines.

Maria Drozd, who did a Discover Scuba dive recently said:- "Thanks for organising such a great event. I absolutely loved every second of it. Diving with sharks is a great way to raise funds to help the work of the Muscular Dystrophy Campaign. It was a unique opportunity to come face to face with one of nature's most feared creatures. I would definitely recommend it."

If you would like to learn the basics of scuba diving and get close up and personal with the sharks please contact Charles Horton by email or call the Regional Office of the Muscular Dystrophy Campaign on:- 01244 536551.
hange 2012
PATIENTS and the public are being asked for their views on proposed changes to the way specialist vascular services are provided at Southport and Ormskirk Hospital NHS Trust. Vascular services are changing nationally and the proposals for Merseyside and Cheshire aim to save more lives and improve the quality of life for patients following treatment. These services are for people with disorders of the arteries and veins, including narrowing of arteries, blocked vessels and varicose veins; but not diseases of the heart and vessels in the chest. Treating vascular disease well is not easy. Research shows that the chances of survival and improved quality of life after the treatment of arterial diseases are greatest when patients are treated by a highly trained specialist team, working in a large centre to which many patients are referred. In addition, some hospitals are unable to offer a comprehensive round-the-clock service; for example, specialist consultant support or the interventional radiology techniques which can help surgeons save limbs and organs. A number of hospitals carry out vascular surgery but one-in-five cases are so complex they would be best carried out at a specialist unit. This means that specialist surgery needs concentrating in fewer centres; something widely agreed upon during thorough engagement with a range of stakeholders in 2011.

Mr David Jones, Consultant Vascular Surgeon at Southport and Ormskirk Hospital NHS Trust, said:- "Earlier engagement with the public, patients and clinicians overwhelmingly supported the approach to concentrate the specialist surgery in order to improve patient safety; even if this meant specialist surgery was not carried out at their local hospital."

Medical Director Dr Geraldine Boocock added:- "Changing the way we provide vascular services will save more lives and improve the quality of life after treatment. We are thoroughly supportive of these proposals which retain day cases, follow-up and rehabilitative care within the Trust."

The Clinical Commissioning Groups, made up of GPs who commission services for their patients, also agreed there should be 2 specialist vascular centres. It is proposed that one specialist centre is at the Royal Liverpool University Hospital, working with hospitals north of the River Mersey, and one at the Countess of Chester Hospital, working with those south of the river. A series of public events is being held to ensure north Sefton and West Lancashire patients can debate the proposals fully.
They would include:-

► Aintree Racecourse, Ormskirk Road, Aintree, L9 5AS on Friday, 24 February 2012.

► Reflections Gallery, The World of Glass, Chalon Way East, St Helens, WA10 1BX on Wednesday, 28 March 2012.

Both events will run from 10am to 2pm; with registration from 9.30am. Further information is available online. The site also lets people as submit their views.