Dogs Trust Merseyside appeals on behalf of its overlooked dogs
ALMOST a 3rd of the dogs currently at Dogs Trust Merseyside are classed as 'sticky', meaning they have been in kennels for 6 months or more waiting to find a new home. The rehoming centre is making an appeal on behalf of two of its stickies, Dream & Dinky, to see if they can be 'unstuck'...!

Dogs can become sticky for a variety of reasons including: medical issues requiring treatment, age, socialisation or behaviour issues requiring treatment or just simply being overlooked by visitors.

Georgina Lowery, Dogs Trust Merseyside Rehoming Centre Manager, said:- "Although beauty is in the eye of the beholder there are some dogs we know will 'fly out' of our rehoming centres. Those dogs that fit people's idea of what a rescue dog should look like – a scruffy, medium sized crossbreed with a cheeky look will always find a home quickly. Dogs that have a limb missing are often popular as people really feel they are helping to 'rescue' a dog. Similarly a dog that is friendly and approaches the front of his kennel wagging his tail or trying to lick or sniff their hands when people walk past, will get rehomed far faster than a dog that remains at the back of the kennel or doesn't make eye contact. Although puppies are perennially popular, middle aged dogs are also a popular choice as the owner knows 'what they are getting'. The hard work of toilet training and socialisation has been done and the dog can often fit into a household without the owners having to completely change their routine. It is older or 'teenage' dogs that can be harder to rehome."

Although favourites with the staff at the centre, it may be the tricky teenage years that are putting people off offering homes for Dream and Dinky.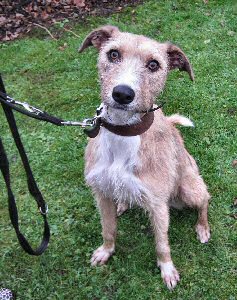 Dream is a female Lurcher, aged 1 ½ years...

Dream is a lovely, lively Lurcher at Dogs Trust Merseyside. She needs a home where she can have time and effort spent with her on training as she is only young and can be a bit over exuberant. She loves to run and play but can be a little bit silly with other dogs so needs to learn how to socialise with others more. Dream is still only a young girl so needs a home with someone home most of the day to help with house training and basic manners. She would prefer an adult only home and would be best as the only pet.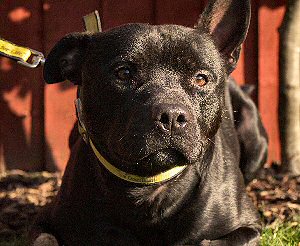 Dinky is a male Staffie Cross, aged approximately 2 years...

Dinky is a lovely boy who greets you with a big waggy tail each morning. He was an unclaimed stray that is now looking for a forever home. Dinky loves any fuss and attention and especially his walks. Dinky would fit into most family homes quite easily and can live with children over 10 years of age but would prefer to be the only dog in the home. He will need a nice active family where he won't be left for very long by himself. He can get a little bored by himself so does need some basic training and regular exercise.

If you would like to offer a home to any of the wonderful dogs cared for at Dogs Trust Merseyside, please call the Rehoming Centre directly on:- 0151 480 0660 or visit:- dogstrust.org.uk.

Dogs Trust is the UK's largest dog welfare charity, caring for over 16,000 stray or abandoned dogs every year through its network of 17 Rehoming Centres across the UK.

Low paid local Goverment workers are facing poverty warns Unison
A report by the New Policy Institute for Unison shows that local government pay has been slashed to 1990's levels by below inflation pay settlements, a 2 year pay freeze and the employers' failure to pay the £250 promised to low paid workers by the Chancellor. It has declined by 13% in the last 3 years alone. "That is a Pay slash of 13% between April 2009 and Feb 2012, taking into account inflation and the pay freeze. Additional cuts to pay and conditions at local level are making a difficult situation even harder for many local government workers." said Unison.

More than a quarter of the workforce; 75% of whom are women; now earn less than the Living Wage of £7.20 per hour. Many are forced to rely on benefits and tax credits to keep their heads above water, and any change in their family's situation can drag them into poverty. Meanwhile, Chief Executive pay in local government has risen by a massive 59% between 1998 and 2007 (According to Audit Commission figures).

Unison is calling for a substantial increase in pay to make up for the decline in living standards. Local government workers are currently in the second year of a pay freeze; including the lowest paid workers who did not get the £250 minimum increase promised to them by George Osborne in his June 2010 Emergency Budget. 69% of NJC workers earn less than £21,00; the Chancellor's 'low pay' threshold.

The union is warning that low and diminishing pay not only has damaging implications for local government workers and their families, but also for local economies and for the quality of vital community services. UNISON, head of local government, Heather Wakefield, said:- "For many local government workers and their families, it's a daily struggle to stay out of poverty. They're doing vital work caring for the elderly, the vulnerable, for young children. And as job cuts hit, they're picking up the pieces doing even more, for ever diminishing wages. It's bad news for families, local economies, and for community services. Hundreds of thousands; especially women; are being hit hard by the Tory-led coalition's unfair pay policy. This unprecedented squeeze cannot continue – low paid families have suffered enough. The local government employers must come forward with a decent offer on pay this year."

Report co-author, Dr Peter Kenway, from the New Policy Institute, said:- "Local government workers are portrayed as part of a pampered public sector. With two thirds of them in manual or clerical jobs, doing important and sometimes essential jobs, this report shows what a distortion that picture is. A quarter of them earn less than the Living Wage. Since the last time pay went up, in April 2009, prices have risen 13%. Everyone is feeling the pinch but a fall in living standards this big is much more than that."

Unison Key Findings have shown that:-

► 1.7 million people worked in local government in England and Wales in 2010, around a quarter of the 6.9 million working in the public sector. Three quarters are women and well over half work part-time.

► Two thirds of the jobs in local government are manual or clerical jobs, almost exactly the same proportion as in the private sector. In the rest of the public sector, only one third of jobs are manual or clerical.

► 8% of full-time workers and 38% of part-time workers in local government earned less than the Living Wage of £7.20 an hour in 2011. This is a quarter of the workforce.

► High inflation coupled with a pay freeze that began in April 2010 slashed the real value of earnings in local government by 13% between April 2009 and February 2012. A fall this big is unprecedented. Continuing high inflation means that earnings will fall further still.

► Thanks to the pay freeze and inflation, typical full-time hourly earnings in local government have sunk back to the levels of the early 1990s. Typical part-time hourly earnings have fallen back to 2002 levels.

► Low paid local government employees usually need benefits and tax credits to keep their household out of poverty. The higher but still modest minimum income standard is rarely reached.

► Low paid local government workers and their families are in a financially precarious position. A reduction in hours, a child leaving school or a partner whose eligibility for contribution-based social security ceases can all take the household to the edge of poverty. This is despite the fact that the local government employee continues to work. Pay for these workers is poverty pay.

► Quality of service considerations; and in the case of care workers and others in personal service occupations, considerations of the human rights of clients; are grounds for improving the pay and conditions as well as the training of local government employees. The pretence that jobs such as caring for elderly, frail or otherwise vulnerable people requires, but little skill is a symptom of our society's inability to recognise and value some of the things in life that matter most.

Do you agree with the findings by Unison? Let us know by emailing us today via:- news24@southportreporter.com...