A helping hand for home buyers
FIRST time buyers in Liverpool are being helped to take their first steps onto the property ladder, thanks to a £3 million city council scheme. The scheme will see the city council working with mortgage lenders to boost the amount made available to house buyers. In the current climate, most lenders are prepared to lend a maximum of 75 to 80% of the value of the property, even if the applicant can afford a 95% mortgage. This means applicants require a substantial initial deposit, which is out of the reach of many first-time buyers. Liverpool City Council will tackle this problem by underwriting 'top-ups' of up to 20% on the loans so that buyers can obtain a 95% mortgage on similar terms to a 75% mortgage, but without the need to provide the large deposit usually required. It will mean that, for a £100,000 property, buyers would only have to pay a deposit of £5,000, rather than £25,000. The £3 million pot of cash from the city council will be placed in a high interest account which can be used to cover any defaults in payments. The indemnity would only be called upon if a loss is made by the mortgage lender. Any interest made by the council would be ploughed back into the scheme to help fund further mortgages.
Liverpool City Council Leader, Councillor Joe Anderson, said:- "Itís vital, if we are to boost housing in Liverpool and encourage people to live here, that home ownership is not restricted to people with higher incomes. We want to do all we can to help people overcome the difficult economic times and get onto the property ladder. We are determined to stimulate the housing market here and to do all we can to support those who wish to buy a home. This scheme is an important part of our plans for achieving that."

The scheme is part of the city councilís Housing Delivery Plan for 2012 to 2015, which will see a £130 million investment in housing over the next 3 years, the delivery of an extra 2,000 new homes across the city and a drive to bring empty properties back into use. Potential buyers will have to meet the strict criteria set out by the mortgage lender in order to qualify for the Local Authority Mortgage Scheme. The city council indemnity; which will be in place for a fixed 5 year period for each mortgage granted under the scheme; will only be available for 1st time buyers. The scheme is also specifically targeting older houses in the city and will not be available for new-build properties. The maximum loan value will be £125,000, with the maximum indemnity provided by the council being £27,000. The scheme will also not be available for buy to let or right to buy purchases. The city councilís Cabinet Member for Housing and Community Safety, Councillor Ann OíByrne, said:- "This is a fantastic scheme, which will provide a real boost to first-time buyers who are finding it increasingly difficult to become home owners. This approach will minimise the cost to the council while taking advantage of the expertise of existing mortgage lenders. It is an imaginative solution to overcoming the problems faced by first-time buyers, and will assist many people to realise their dream of becoming home owners."

The latest figures show the proportion of 1st time buyers under 30 who need assistance from family and friends has more than doubled since 2005. Median house prices now stand at 7 times median earnings, compared with 3 and a-half times in the mid 90's.
Ben Kavanagh injury
A press statement issued via Widnes Vikings to the media on 20 February 2012 said that:- "In relation to recent press speculation regarding the injury to Ben Kavanagh, at the game against Salford on Sunday, 19 February 2012, the Widnes Vikings Medical Department confirms that the injury to Ben was an Achilles tendon rupture which occurred in a recognised mechanism for that injury following rapid dorsi flexion and plantar flexion of the ankle when pushing off to sprint. The club wishes to state that this is an unfortunate injury, but has no direct link to the performance of the pitch."

North West Air Ambulance damaged by vandals in Lancaster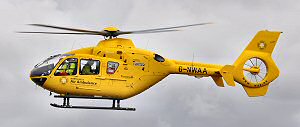 THE North West Air Ambulance has 2 helicopters which are based at Blackpool Airport and City Airport, Manchester are vital emergency transport tools. Sadly one of the helicopter that delivers this life saving service throughout all of the North West region, has a window smashed by vandals in Lancaster. The helicopter was attending an incident at Lune Rugby Club, but it developed a fault and was unable to leave the scene after the aircraft had landed to treat a patient. on Saturday, 18 February 2012. Sadly the crews where forced to leave it there overnight. That night however the charity run service was in for a shock after a security guard saw a number of youths running from the craft and noticed a side window had been smashed. it is said that the incident happened between 7am and 7:30am on the Sunday. Lynda Brislin, chief executive of the charity, told reporters that:- "We are shocked. The service is run by volunteers and is a charity , so we re shocked even more4 by the vandalism. The money raised via the kindness of the general public allow us to operate over 5,500 square miles in the North West of England and parts of North Wales. The service covers a residential population of almost 8 million people and costs in excess of £4 million each year to keep this vital service operational and saving lives and that is why we can ill afford any extra costs, especially through mindless act of vandalism. But our major worry is that the air ambulance was not in operation for a day. Although thankfully, we were able to rely on our other helicopter; the consequences could have been much greater than just a broken window. It could easily have cost lives! I would urge anyone who has any information about this to get in touch with the Police via calling Crimestoppers on:- 0800 555 111 and pass on any information about this crime anonymously."
TV Production looking for a business in Southport and Merseyside
THE Dragonfly Film and Television Productions company are currently looking for a business in Southport and Mersey to take part in a major new series.
The Productions company is well known and it's acclaimed documentaries have taken many awards. "We are now trying to produce an exciting new series called The Business. For this series we are looking to find colourful bosses who makes their own rules and don't care what other people think. Bosses who are passionate about their business, and feel tremendously loyal towards the (sometimes long suffering) staff they employ. Companies where the staff have become an extension of their family; this is more important than ever in these financially troubling time as we are all working longer and harder. We want businesses that are full of laughter, honesty, and graft. This is a fantastic opportunity for any small/medium business in the local area to be part of a big new project and I hope you can help us find them." said Lucy.
If you would like to find out more please contact Lucy Wilcox on:- 0207 033 2285.