Letters to the editor:- "On your bike!"
"AS a society, we have rightly adopted a harm reduction culture in which we seek to persuade people by law and reason to safeguard their health. Changes in the law have brought about restrictions on smoking and the forthcoming crackdown on alcohol will similarly save many lives. Healthy eating promotion is also playing its part (although the legal route may yet be needed in this respect). And Police will stop and prosecute any motorist not wearing a seatbelt or motorcyclist without helmet. Yet, when it comes to pedal cyclists, little is done to enforce existing safety legislation. Whereas cycle helmets are not a legal requirement, adequate nocturnal front and rear lighting is; as well as obeying traffic signals whilst mounted. Yet, how often does one see cyclists sailing through red traffic lights;if one actually sees them at night without lights? Is the only reason that police never seem to enforce cycling law a Clarksonesque view that cyclists form the natural prey of the 4 wheeled avatar and are a species not worth saving? Or is there some other agenda?" John Eoin Douglas.
Access system needs to be modernised, says CLA in hard-hitting report
THE Country Land and Business Association (CLA) who have a 36,000 strong membership have published:- "The Right Way Forward ~ The CLA's common sense approach to access in the countryside."
The report was published on 23 February 2012 and calls for a shake-up of the access and public rights of way system. The CLA report says the system must be improved in a way that boosts efficiency and gets better value for money.

CLA North Regional Director Dorothy Fairburn said:- "The public rights of way system in England is governed by a failing bureaucratic and legislative system which is long-winded, expensive and completely incomprehensible to most people. Even to call rights of way a 'system' suggests an order and logic not apparent in reality. Many thousands of pounds of public money can be spent pursuing claims for paths which have not been used for centuries while present day users struggle along overgrown paths because there is not enough money for maintenance. This cannot be right. We should look at the public access we already have in the North West and determine where it needs to be improved for the benefit of the majority. We should consider where people actually want to go, and their safety. If that means opening new paths or cycle ways, and closing those now historic and redundant, then that is good use of public money. It can take many years to process a rights of way claim, resulting in enormous cost and ongoing uncertainty for all. Even once fought and won, cases can be reopened and examined all over again; hardly a sensible use of increasingly scarce resources. Although local authorities have seen their budgets cut, the grand plan for an all-England coastal path, complete with 'spreading room', remains a key objective of Natural England."
Email your views and thoughts on this to our newsroom via:- news24@southportreporter.com. For more information about the CLA, visit:- cla.org.uk.

Palm Recycling Praises Southport Recycling Champion!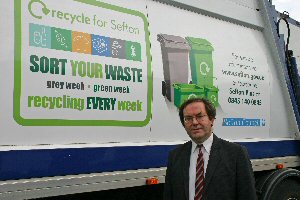 A Sefton resident in Southport, Tom Culshargh, has really taken the reduce, reuse, recycle message to heart and has so little rubbish left that he only needs to, put his grey wheelie bin out twice a year.

Gail Ormston, Promotions Officer with North West-based Palm Recycling said:- "Tom is making full use of the weekly kerbside recycling service provided by Palm Recycling on behalf of Sefton Council and never puts anything in the bin that can be reused or recycled."

Tom said:- "Every empty glass bottle and jar goes into my green box, as well as cans and aluminium foil packing. All my papers go into the blue bag and I use the kitchen caddy for all my food waste in the kitchen. I don't have old clothes and shoes to recycle every week but when I do, into the pink bag they go and I put it out with my green box and blue bag so Palm Recycling can collect it."

Cllr. Simon Shaw, Cabinet Member Environmental, said:- "Mr. Culshargh sets a good example for us all to follow and shows just what is possible with recycling. He recycles all his glass bottles and jars, cans and every bit of paper, as well as any textiles and food waste."

Gail remarked that:- "If every family in Sefton recycled just 1 more glass bottle a week that would save enough energy to power a washing machine for over 2 years."

Cllr. Shaw added:- "If your recycling containers are full every week, please ring our call centre on:- 0845 140 0845 to request an extra box and bags for your recycling, free of charge. Please don't be tempted to throw anything recyclable in the bin. If you are interested in recycling more, please ring the call centre for advice."
Burscough Wharf Chic Vintique Fair
ON Saturday, 24 November 2012, BR Events are holding a Chic Vintique Fair at the Burscough Wharf, Liverpool Road North (A59)in Burscough, L40 5RZ. The event will have a blend of vintage/retro, arts, quality arts, crafts, collectables, quality antiques, and gorgeous gifts and goodies running from 10.00am to 4.00pm. Adult admission will be:- £1.50. For more information call:- 07779342782.