HMS Liverpool, is due to sails into the Mersey for Her final time

SHE'S the Royal Navy's queen of the recent Libyan conflict and she's now taking a farewell bow in her spiritual home after three decades' sterling service. Type 42 destroyer HMS Liverpool will sail into the Mersey on Wednesday, 29 February 2012, for a 6 day visit. HMS Liverpool was laid down at Cammell Laird's in 1978 and launched from the famous Birkenhead yard in 1980. She entered service in 1982, a mere 2 weeks after the Falklands Conflict came to an end, and she has sailed the world for the Royal Navy in peace time and conflict ever since. Most recently, off Libya, she became the first Royal Navy ship to be fired upon for 30 years during her seven month deployment to the area. She is a thoroughly proud Merseyside lass; born and bred; and, fittingly, it is in the Liverpool that she will open her gangway for the final time to the UK public as she comes to the natural end of her working life in the navy later this year.

HMS Liverpool will berth alongside at the Cruise Liner Terminal on the morning of 29 February 2012, marking the beginning of a busy, celebratory programme. As well as holding a reception for invited guests during her stay, the ship's company is also looking forward to hosting some 20 groups, schools/colleges and organisations on board.

A particular honour is bestowed upon them all on Friday, 2 March 2012, when the crew will take to the streets of Liverpool to exercise their Freedom of the City for the last time.

HMS Liverpool was awarded this honour in 1982 and has exercised this ancient tradition on numerous occasions during her close affiliation with this great maritime city.

The parade will step off from Our Lady and St Nicholas' Church at 12 noon, after a celebratory, invitation-only service which will also be attended by the Lord Lieutenant of Merseyside, Dame Lorna Muirhead.

The route takes them East on Chapel Street and then East on Tithebarn Street, before turning South on Moorfields and West on Dale Street.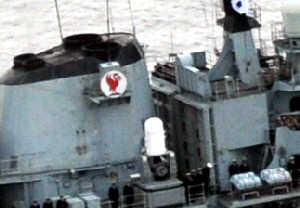 After turning north onto Exchange Street West, the parade will halt for inspections, and a salute will be taken by the Lord Lieutenant and Liverpool's Lord Mayor, Councillor Frank Prendergast, before the parade falls out for a civic reception at the Town Hall.

Councillor Prendergast said:- "This is a historic visit for the city and I'm privileged to be Lord Mayor when this famous vessel makes its final journey to its home city. HMS Liverpool is a proud symbol of our city and this is the perfect opportunity for us to thank the ship and all its crew, past and present, for the essential work they do. As this is the last time she will sail into the city, I hope people will come out in their thousands to celebrate the ship's return and line the streets to give the crew an unforgettable welcome home."

But it is on Saturday and Sunday, 3 March and 4 March, from 12 noon until 4pm on both days, that the ship and her crew will have a real opportunity to engage with the public of Merseyside, when she opens her gangway to the public.

Visitors will have the chance to explore this mighty ship, get up close and personal with some of her equipment and speak to brave men and women who have sailed her and fought from her decks her most recently.
This opportunity will never be repeated again so do not miss out. HMS Liverpool will make her last journey down the Mersey on the morning of 5 March 2012, leaving the Cruise Liner Terminal at 11am and delivering a gun salute at Cammell Laird's at approximately 12 noon; she will then sail past the Royal Liver Building to deliver the ship's final ever gun salute to the city, with which she has been so proudly intertwined with over the past 30 years. ...Continued in opposite column...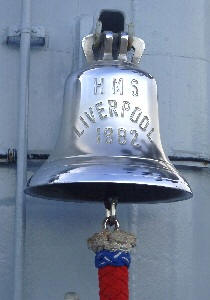 ...Continued... HMS Liverpool sailed at the end of March 2011 to support Operation Unified Protector where her tasks included enforcing the No-Fly Zone and conducting embargo operations to prevent arms from reaching pro-Gaddafi forces by sea.

During this high-tempo mission to protect the Libyan citizens, HMS Liverpool's ship's company spent 81 hours at Action Stations on 28 separate occasions, were fired at and returned fire ten times, and launched 211 rounds of illumination and high explosive shells from her 4.5 inch gun. These illumination or star shells were fired to light up pro-Gaddafi positions for NATO aircraft to identify and destroy.

The ship's company witnessed the siege of Misratah and the fall of Tripoli, Zlitan, Al Khums and Sirte to the rebels and, while enforcing the No-Fly Zone, Liverpool's Fighter Controllers spent 360 hours controlling 14 different types of aircraft from a number of NATO countries.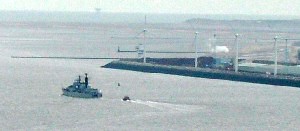 During her deployment, HMS Liverpool worked alongside many other Royal Navy assets including mine hunters HMS Brocklesby and HMS Bangor. On the occasions that the mine hunters had to close the coast to search and destroy any mines that had been laid, HMS Liverpool stood by as protection to allow the ships to successfully complete their missions.

Assault ship HMS Ocean and her embarked Apache helicopters were also on national tasking in the area, with HMS Liverpool able to provide assistance as an air defence platform and to give an intelligence picture from their position.

All the UK assets were supported by the Royal Fleet Auxiliary ship Fort Rosalie which provided vital stores when needed; HMS Liverpool herself conducted 40 Replenishment at Seas with the RFA ship, embarking vital supplies and fuel.

Commander Williams continued:- "I am immensely proud of my ship's company and the way in which they rose to their challenge and reacted to the very real threat posed by pro-Gaddafi forces. For 7 months HMS Liverpool was at the sharp end of Royal Navy operations, spending 360 hours controlling aircraft, firing hundreds of rounds and spending long periods at action stations. We became the 1st Royal Navy ship to be fired upon in 30 years and my ship's company responded by putting their training into action, returning fire in self defence and destroying enemy positions ashore. In their efforts to protect the Libyan people and enforce the will of the United Nations, the ship's company proved their grit and determination." Commanding Officer of HMS Liverpool, Commander Colin Williams, said:- "This visit is one of celebration and appreciation of the sterling service which this exceptional ship has offered her country during her three decades at sea. To be bringing her back home to Liverpool is, without question, not only the absolute pinnacle of this celebration, but also a very poignant and dignified moment in her long and illustrious life. We have always enjoyed absolutely exceptional links with Liverpool. I know that my crew is honoured and excited to show off their ship once more to Merseysiders, who have always shown unparalleled hospitality and enthusiasm for this great ship. I am extremely proud to have commanded HMS Liverpool and her crew; there is obviously some sadness in bidding farewell to any ship, but, more than anything, this is a time to honour HMS Liverpool and her achievements, the most recent of which was outstanding and key support to the NATO operations off the coast of Libya. I sincerely hope that as many Merseysiders as possible will make the journey to the Cruise Liner Terminal to visit the ship on Saturday and Sunday when we open to the public. It allows us in our own small way to return the hospitality and affection shown over more than 3 decades before bidding our final fond farewell."