Mersey Ferries listed in World Top 10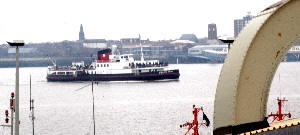 THE world renowned Mersey Ferries have been listed by National Geographic as one of the 10 Ten city boat trips in the world, alongside such iconic ferries as the Staten Island Ferry in New York City and Brisbane's celebrated CityCat. The National Geographic website lists the famous red and black ferries of Liverpool as the oldest ferry service in Europe, dating back to the 12th century.

Councillor Mark Dowd, chair of Merseytravel said:- "I'm delighted that Mersey Ferries have been recognised by National Geographic as one of the Top 10 city boat trips in the World. They are an iconic symbol of Merseyside, an important part of our rich maritime history and draw hundreds of thousands of visitors from both the United Kingdom and from all over the world to Merseyside every year."

This is the 2nd prestigious recognition in as many years. In 2011 the River Mersey ferry crossing was named in the list of the world's 1,000 definitive sights, published in the Lonely Planet's World's 1000 Ultimate Sights.

The journey on the world famous Mersey Ferry featured in the top 10 most spectacular river sights, together with others including the Shotover River by speedboat in Queenstown, New Zealand and the River Amazon's raft race.

If you want to know more about the Ferry and for ticket prices visit Mersey Travels website via:- merseytravel.gov.uk.

Would you like to own one of our Limited Edition Mersey Ferry Postcard? If yes, click on here now to place an order!
Roger McGough to open art installation at Museum of Liverpool
POETRY Society President Roger McGough brings to the new Museum of Liverpool a unique art installation combining his poetic skills and love of his home city. The Liverpool Doors exhibition will feature doors from across the city, donated to Roger and book artist Mark Cockram, who have created the installation along with students from Liverpool John Moores University's (LJMU) School of Art and Design. Opening on 24 February 2012, this will be the 1st new exhibition to be staged at the Museum of Liverpool since it was fully opened to the public by The Queen and The Duke of Edinburgh in December 2011.

Bill Longshaw, Curator of Community History said:- "About 12 months ago, we invited Roger to contribute something special to our displays and he came back to us with a great idea for an exhibition, which demonstrated exactly what the Museum of Liverpool was about. Roger and Mark engaged with the local community to explore the history of the city through stories and memories symbolised by these doors. They were collected following a public appeal. People and businesses from across the city responded so you will find all manner of places represented, with a sprinkling of Roger's wonderful poetry to top it off."

The exhibition features over 25 doors including those from the original Everyman Theatre and Bistro, Strawberry Fields Children's Home, Liverpool sculptor Arthur Dooley's studio, the Trophy Room door from Liverpool Football Club and a turnstile door from Everton's Goodison Park.

Roger said:- "It has been a hugely rewarding experience to work alongside Mark and a group of enthusiastic and talented art students, and the project has provided me with the opportunity to be playful and present poetry in a vibrant and visual way."

LJMU's Art and Design students have used the doors as canvasses for extracts from Roger's poems, using creative designs for the words themselves as well as imagery and objects to illustrate the poems, such as model cars, football socks and photographs. They have been supported by Roger and Mark throughout the artistic process, which began in November last year.

Professor Juan Cruz, Acting Director of LJMU's School of Art and Design said:- "This has been a fantastic opportunity for the students. We were delighted when Roger and Mark approached us to say they would like to work with the University. In addition to creating a lasting legacy which will be viewed and admired by many people for years to come, the students have gained invaluable insight into creating an installation for a national museum, developing real world skills which are essential in a time where competition for jobs is increasingly fierce."

Also featured within the exhibition, will be a bound copy of the entire Liverpool Saga: an 800 line poem written by people from across Merseyside to celebrate Liverpool's 800th birthday. Roger wrote the opening and closing verses of the Saga, which specialist book artist Mark Cockram has bound specifically to accompany the Liverpool Doors exhibition. For more information visit:- liverpoolmuseums.org.uk/mol.

Art goes 'on the network'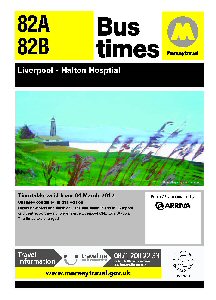 THE winning entries from the Merseytravel Art on the Network competition 2011 have now been revealed. Each of the 3 pieces were reproduced as a run of 50 limited edition timetables and have been distributed alongside standard issue timetables throughout Merseytravel Travel Centres across Merseyside. David Williams' work 'Discover Liverpool' is used on the C1-C5 bus timetable, the 82A/82B bus timetable features 'Hale Village 82A' by Lawrence Langton and City Line Train Times Book 1 features 'Connecting people' by Daniel Lindsay.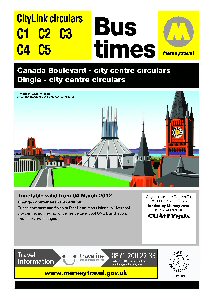 Councillor Mark Dowd, Chair of Merseytravel said:- "This is the first time we have produced timetables featuring our competition winners' work on the covers. There are only 50 of each design and they've been sent out to our Travel Centres, so if you find one hang on to it, it might be worth something in the future!"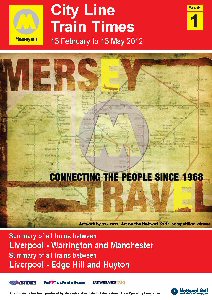 The 2012 Art on the Network competition will be launched in April with further details will be available at:- merseytravel.gov.uk and:- artonthenetwork.co.uk.
Public invited to Come and Sing at Liverpool Cathedral
MEMBERS of the public are being invited to take part in a performance of Stainer's Crucifixion at Liverpool Cathedral on 31 March 2012.
The event is designed to give amateur singers the opportunity to perform under the direction of experienced conductors and musicians at venues where local choirs would not normally have access.
Singers will be under the direction of Daniel Bishop, Cathedral Associate Organist, and singers will be accompanied on the organ by David Poulter, Director of Music.
There will be a rehearsal for all singers at 6pm on 31 March 2012 before the actual performance at 8pm.
To take part, please visit the cathedral website for an application form and music guide. Registration costs Ł5 per singer.