HMS Liverpool's final voyage to the River Mersey
Photographs and video by Patrick Trollope BA (Hons) LBPPA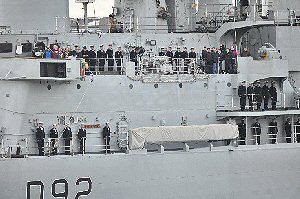 THE Royal Navy warship HMS Liverpool has arrived in Liverpool to say goodbye to its birth place. At the helm on her final visit was Commander Colin N O Williams BSc. Commanding Officer of HMS Liverpool, Commander Colin Williams, said:- "This visit is one of celebration and appreciation of the sterling service which this exceptional ship has offered her country during her 3 decades at sea. To be bringing her back home to Liverpool is, without question, not only the absolute pinnacle of this celebration, but also a very poignant and dignified moment in her long and illustrious life. We have always enjoyed absolutely exceptional links with Liverpool. I know that my crew is honoured and excited to show off their ship once more to Merseysiders, who have always shown unparalleled hospitality and enthusiasm for this great ship. I am extremely proud to have commanded HMS Liverpool and her crew; there is obviously some sadness in bidding farewell to any ship, but more than anything, this is a time to honour HMS Liverpool and her achievements, the most recent of which was outstanding and key support to the NATO operations off the coast of Libya. I sincerely hope that as many Merseysiders as possible will make the journey to the Cruise Liner Terminal to visit the ship on Saturday and Sunday when we open to the public. It allows us in our own small way to return the hospitality and affection shown over more than 3 decades before bidding our final fond farewell."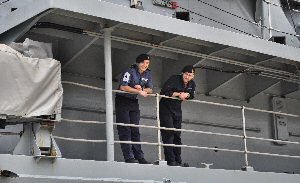 The vessel over the years has grown into part of Liverpool's fabric, in more ways than one. One example of this was back in 2006 she became an 08 Ambassador for Liverpool's Capital of Culture bid. Another example of this connection with the City and its people was reflected on their last visit in February 2011. On that visit, the nearly 300 strong crew was awarded the Freedom of the City of Liverpool. This connection was marked again as she sailed in to the river, with many of the ship's local crew stood to attention, some with tears in their eyes, on the open deck. Joining them onboard was the Mayor of Liverpool, Frank Prendergast and other VIP's. Over head a plane trailed a banner welcoming HMS Liverpool and many friends and family of the crews complement packed the riverside pavement as she docked at Liverpool's new Cruise Liner Terminal, at the historic Pier Head.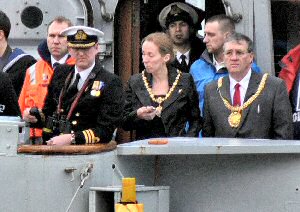 Councillor Prendergast said:- "This is a historic visit for the city and I'm privileged to be Lord Mayor when this famous vessel makes its final journey to its home city. HMS Liverpool is a proud symbol of our city and this is the perfect opportunity for us to thank the ship and all its crew, past and present, for the essential work they do. As this is the last time she will sail into the city, I hope people will come out in their thousands to celebrate the ship's return and line the streets to give the crew an unforgettable welcome home."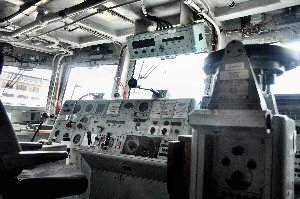 But it is more than just the name that Liverpudlians hold dear about the ship. HMS Liverpool D92 was built on the banks of the world famous River Mersey. This type 42 destroyer was also dramatically finished a year ahead of schedule at the historic Cammell Laird ship yard, in Birkenhead. She was launched into the Mersey on 25 September 1980, by Lady Srathcona, winning the hearts of many as she rolled down the slipway. She was later commissioned into the Royal Navy on 9 July 1982 and became the 7th vessel to carry the name of the city. All 7 to carry the name HMS Liverpool, have played major roles in historical events and the last Liverpool is bowing out with a fantastic record, as with all its predecessors to carry the name. In total only 11 of the type 42 Destroyers have ever been built, and they formed the backbone of the Fleet's anti-air warfare capability. They had been built in 3 batches, with only 3 in the first batch and 4 in the second batch, followed by a further 4 in the third batch. HMS Liverpool D92 was built in the second batch of ships, in her class. She was not only a valuable anti-aircraft asset, but she was also equipped to deal with surface and sub-surface threats in her operational life. The class she was part of have all proven themselves well in battle, from serving in the South Atlantic in 1982, through to the more recent conflicts, in the Gulf. HMS Liverpool, or as the crew called Her, the Crazy Red Chicken, courtesy of the red Liver Bird on the ship's badge, defines the valour and professionalism of our Navy over her working career. In fact she was to become the first Royal Navy ship to be attacked in conflict, within the last 30 years. This attack happened during her 7 month deployment, working off Libya, on August 2011. The incident involved several rockets being fired at HMS Liverpool as she patrolled off the Libyan coast. The Ministry of Defence said at the time, that:- "A Royal Navy warship had come under heavy rocket fire from a shore battery. She returned fire with her 4.5 inch main gun. The attack came after the ship had fired a barrage of illumination rounds in support of an air attack on the stronghold of Zliten." This was just one of Crazy Red Chicken's finest moments, which defined her place in history. In her time at sea, she has steamed 56,181nm,and its aircraft, a Lynx helicopter, has clocked up 257.30 hours flown and been on 147 patrols in conflict zones.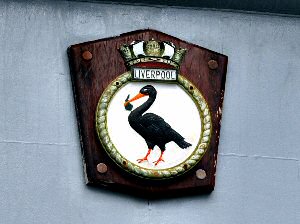 Over the next few days the vessel will play host to many activities, including being the starting point of a parade on Friday, 2 March 2012. On that date the ship's company will exercise their right to march through the streets of Liverpool following a private service at Our Lady and St Nicholas' Church. The 180 strong crew will be led by Commanding Officer, Commander Colin Williams, and an official Royal Marines band. They will march up Chapel Street, along Tithebarn Street, Moorfields, Dale Street and ending in Exchange Flags. The crew will be marching with bayonets fixed and drums beating; something they are allowed to do after they received the Freedom Right of Entry in 1982. The event will also see another special presentation by the Commanding Officer of HMS Liverpool, Commander Colin Williams, who will return the Freedom Scroll, which has taken pride of place on board the ship, to the city. A sight not to be missed!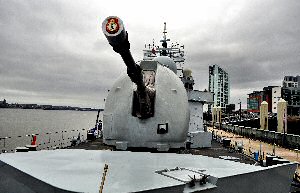 Then over Saturday, 3 March and Sunday, 4 March 2012, the public from 12pm to 4pm will be able to visit the Ship. Thousands are expected to take the unique opportunity which will never again be repeated.

On Monday, 5 March 2012, the leader of Liverpool City Council, Councillor Joe Anderson will say goodbye to the vessel on behalf of the city and singer local Danielle Thomas will perform. At 11am HMS Liverpool sails out and will perform a 5 gun salute as she reaches Cammell Laird. This will be followed by a final sail along the waterfront and another 5 gun salute as she sails past the Liver Building.

In a few weeks time, after setting sail from Liverpool, she will be decommissioned and could be scrapped or sold marking an end of a truly remarkable legacy. It is hoped by many, not only those who sailed on her, but hundreds of locals, that she might be bought and returned to the river as a historical attraction, but with the financial climate as it is, that might not be a likely scenario. The ship is likely to be the very last to carry the Liverpool name and its crew have brought huge pride to the city.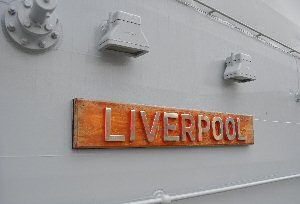 So please do take the opportunity to head over and visit the ship and join what will be hundreds of people, and help us show our respect to the ships that have sailed with the City's name and their crews. Plus, if you do go on Monday, please, please, please bring flags and scarves to wave as she heads out!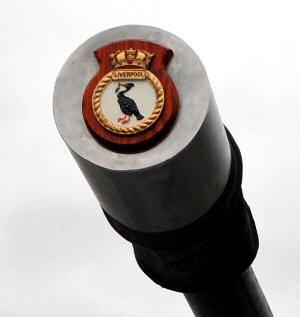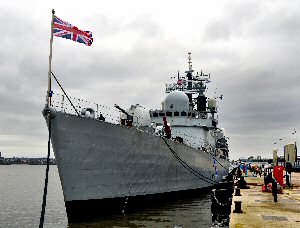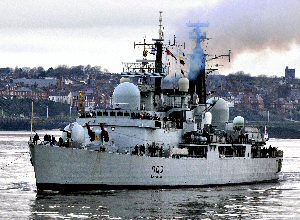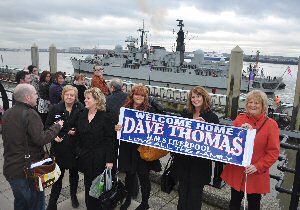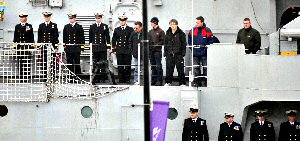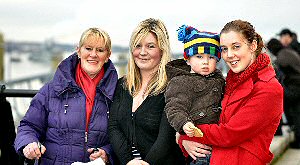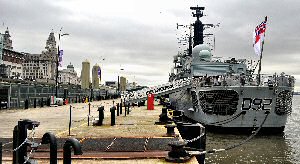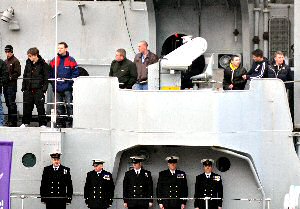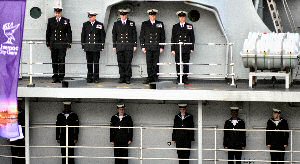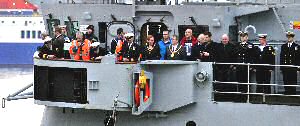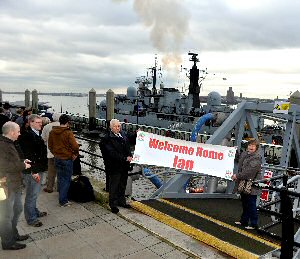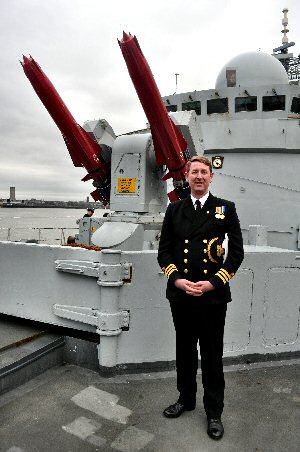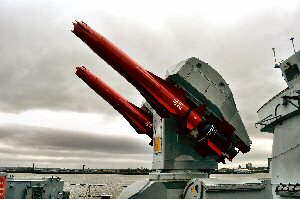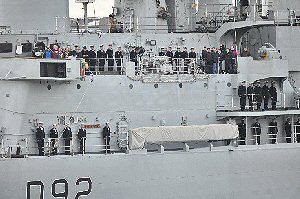 Video footage can be found on the following pages. Please use the link underneath to see more photos and the video pages.

PAGE 1 of 3
We hope you enjoy looking at all the photos, but please remember if you like any of them, don't copy them, contact us for a copy and help keep this site online by respecting the UK Copyright Law. Click on here to find out how you can get you copy of these photos.
Quick facts...
Did you know??? The very first Royal Navy Ship to carry the city's name was also built in the city! She was a Ffth Rate Frigate of 881 tons and after being named HMS Liverpool and launched in 1741? She had a complement of 250 crew and 40 guns!