The coalition takes a pounding as Labour Party achieves a landslide
Photographs and report by Patrick Trollope.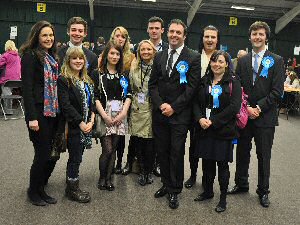 IT was almost 2 years ago, on 12 May 2010 that the coalition government was set up in the UK by both Tories and Liberal Democrats, stating that it was for the "national interest". Now, nationally, both parties have no alternative, but to carry on despite suffering a major blow at the Local Elections, all across the country, on 3 May 2012. So it will be interesting to see what will happen over the next 2 years. Across the board, on Merseyside, the electoral turnout was around 30%, so, not staggering, but higher than expected by many in the press over the weeks before. On Merseyside, Labour followed the national trend, achieving a landslide victory. For the first time ever, since Sefton was formed, they achieved an historic win, taking control of Sefton Council! In Sefton, Labour won 48% of the votes taking 15 seats; Liberal Democrats won 19%, in second place, taking 6 seats, but the Conservatives came in third with 17% of the vote. They took just 1 seat in Sefton Council. The Labour Party also enjoyed a successful election night in St Helens, winning 5 seats, and that council is now Labour controlled; Labour have 40 seats, Liberal Democrats 5 and Conservatives just 3! Over the water on the Wirral, it was also a change of leadership. Again, Labour took control, with 37 of the council's 66 seats, the Conservatives on 22 seats and Liberal Democrats down to just 7 councillors! But it did not stop at that, with Labour taking control with a very comfortable majority of Liverpool's seats as well. In Liverpool, Liberal Democrat leader, Paula Keaveney, lost her seat and as a result the Lib-Dem Liverpool, Mayoral Candidate for 2012, Richard Kemp, is to become the third leader of the party in as many years. Liverpool's election results left Lib-Dems, who, back in 2010, had 46 councillors on Liverpool City Council, now down to just 10 of the 90 seats in that Council. But the biggest news was not the local elections on Merseyside, but the election of the first ever elected Mayor of Liverpool. Oddly, Liverpool's Mayoral Election had a marginally higher turnout than the local elections. Again this was a Labour victory, with Joe Anderson winning the role. All eyes will be on Liverpool now to see what effect this elected Mayor will have on the City after 9 other cities have rejected the idea of elected Mayors. Joe Anderson has already won support from many unusual areas, after quickly announcing he will be using a cross party coalition to help him do his job. Keeping, in some ways, some of the politics out of what has in the past been a 'non-political' position. Unlike previous Mayors, this new Mayor has political and financial clout and even in his first speech, which you can watch and hear on our video, he was quick to outline his vision for Liverpool. Sadly, this historic event was slightly spoiled by a very odd protest, which all main and many of the alternative parties condemned. That protest happened at 4am, on Friday, 4 May 2012, in Wavertree's Liverpool Tennis Centre, where the results had just been announced. Cheers drowned out the protest and the now Mayor, Joe Anderson, quickly responded with praise for his opposition and condemned the protest. Addressing the supporters of the far right, he added:- "The future of this city is a bright one, it is not represented by fascists... The people of this city have told them at the ballot box to get stuffed." Again you can hear and watch this on the video. These photographs and video on this report were taken at both the Mayoral Election count that happened over night (3 May/4 May 2012) and the Local election count for Liverpool in the afternoon, 4 May 2012. To the relief of many, the protesters did not return for the Local Election count.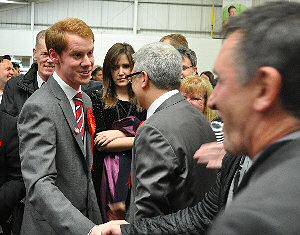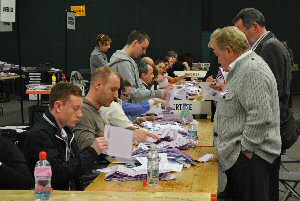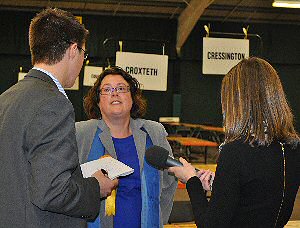 To see our report about Mayor, Joe Anderson formally signings his acceptance and also see and hear his interview with us, click on here now.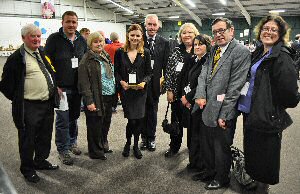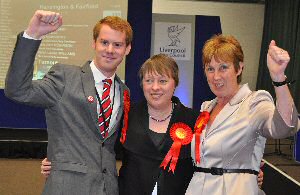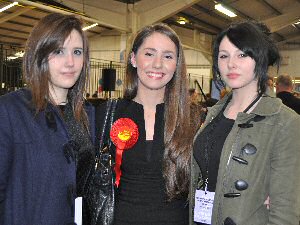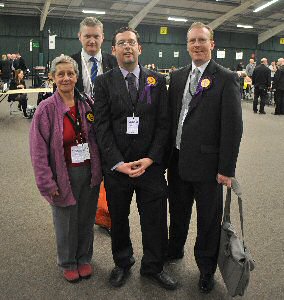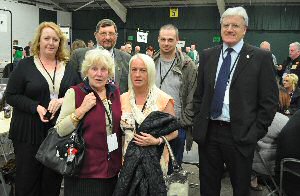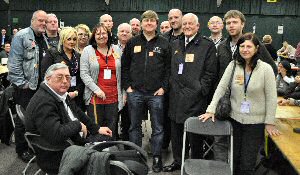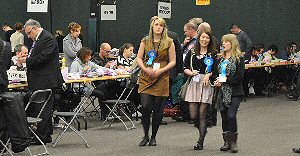 PAGE 1 of 4

If you like the photos, please order them and do not copy them. Keep this site online.... Click on here to find out how you can get you copy of these photos.