Spook's Apprentice, author Joseph Delaney's exclusive video interview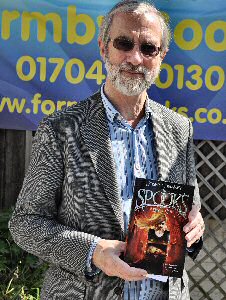 ONLY a few days in the UK after being on the film adaptation of the Spook's Apprentice, Joseph Delaney was back on home soil, in Merseyside and getting ready to dash off again on his world tour. Joseph very kindly took time out to give us an exclusive interview about his new book called:- 'The Spook's Blood', which will be published in June 2012 and we have had the pleasure of reading it. Sadly, we cannot put the revue on just yet, but what a book! We can confirm that this book is not just for kids! He also let us know a bit more about future plans and gave us the latest news about the highly anticipated Spook's Apprentice film, that we have been told by him and the film company is progressing nicely. We will keep you posted on that as the news happens. So for now, please sit back and enjoy the interview. The photos were taken at his book signing in Formby Books on Saturday, 12 May 2012.

Above is flash format, Silverlight available as alternative.
Joseph Delaney as you have heard is now concentrating on finishing the first draft of 'Slither' and we will also have some exclusive news very soon! Sadly, we did have a few advance copies of his new book for sale on our Mersey Reporter Shop, but they sold out within an hour of going live. However we will have a few more signed copies online soon... So be warned, keep an eye on it! If you don't, you might be too slow and miss out! Plus in next free days we will be adding information about a fantastic event we are helping to run in October and we will be offering special price advance booking tickets very soon. Full list of all attending will be also published. We are also hoping to have Iron Sky shown, but it is early days on that, as we are working on a few issues first, so it is very much unconfirmed. But with what is already lined up, we can say this will be a fantastic daylong event!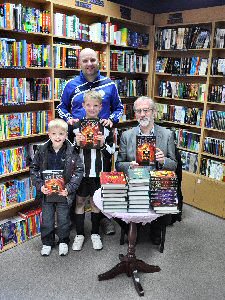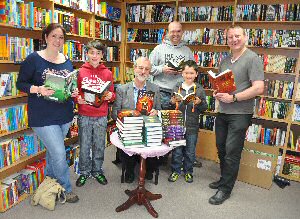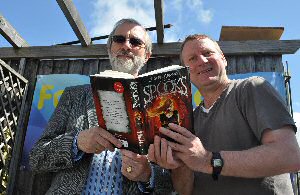 If you like the photos, please order them and do not copy them. Keep this site online.... Click on here to find out how you can get you copy of these photos.

To play in HD please use our Silverlight player stream.

Click here now to play it!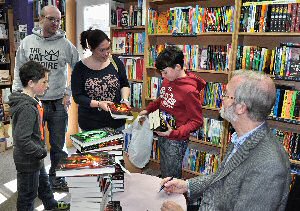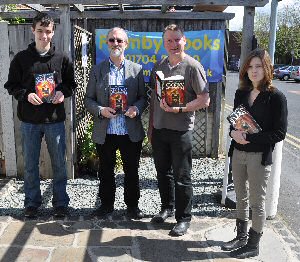 Tarzan and Jane wanted for International Book launch!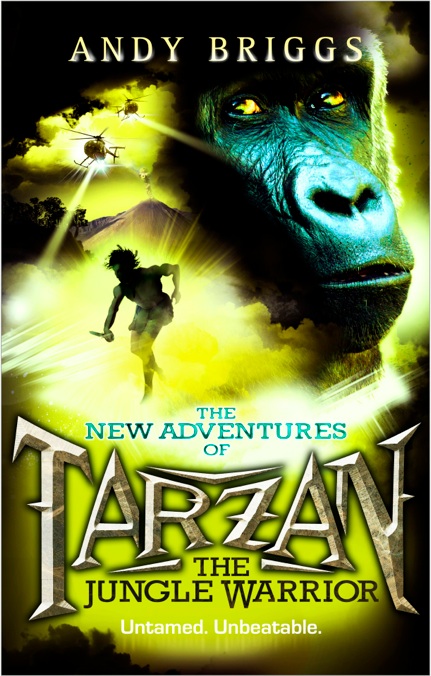 OK, it is not often we get the chance to do this, but on the morning of 5 July 2012, near Liverpool, we are helping to run the international book launch of the next official Tarzan book. The new book and story is by Andy Briggs and marks the 100th birthday of the character originally written by Edgar Rice Burroughs. Andy Briggs is the first authorized new author to have written an official Tarzan book and we interviewed him a few weeks back about the new books. Click here if you want to see the interview and find out more... This event will be well attended by both public and schools, and photographs will be sent world wide as part of the book's launch promotion. So if you are keen to get into modelling, then this might be a good opportunity for you! The event has so far been mentioned on the BBC; also of course on here and we are putting out posters very soon for the event.

So what is required for Tarzan?

Do not worry as no loin cloth is required. The new Tarzan is dressed in black combats or shorts... He still has blue eyes and is well built. He is aged 19 to 25 and has a slight tan. Sorry bare chest required and bare feet! NO face studs or any visible tattoos. Also his combats are more like shorts than combats, so be warned...

For Jane... She is aged around 18 to 21 years of age. Long blond hair. No face studs or any visible tattoos. Plus she is of athletic build and will wear combats, walking boots and a light weight tropic/jungle military shirt... Must look classy and well kept. Eye colour not important. (Please note that for this character is already shortlisted, but back up required should short list fail.)

So if you fit those descriptions and are interested, email a photograph, height, age, location and contact information ASAP to info@vamphire.com or by leaving your information and photograph at Derbyshires, 22 to 24, Chapel Lane, Formby, Merseyside, L37 4DU, UK. All applications must be in by 16 June 2012. We will let you know who if you are successful or not a few days after.

If successful you will be given the opportunity of doing another event later in the year. More information will be given to the successful candidates. For attending this one, you will get a dedicated copy of the book; copies of the best photographs will be sent to you after the event, as well as a letter stating you did the event for your portfolio. Also a signed copy of the poster and a few other things! On top of that we have a few other things in store for the winners...

Remember this is an international launch and also children are present, so who ever attends must be ok with people! A collection on the day will be made for a charity so also your photos will be sent to the charity, the Year of the Ape campaign run by the European Association of Zoos and Aquaria (EAZA) for them to use for PR, should they wish to. As well as the publisher of the new book and Andy Briggs himself.

All others who apply will have details kept and will be notified about another opportunity we are going to be offering. If you do not want your information kept please note that in the email. We will not sell on this information or pass it on to a 3rd party.