Marvellous Moths at Marshsid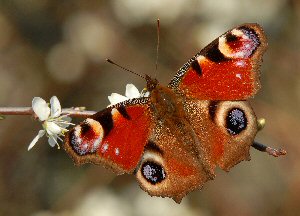 MARVELLOUS Moths at Marshside will take place on Saturday, 23 and Sunday, 24 June 2012 at RSPB Marshside Reserve as part of celebrations taking place nationwide for National Insect Week which runs from 25 June to 1 July 2012.

Delve into the colourful, camouflaged and surprising world of moths. Join staff and volunteers at RSPB Marshside reserve as we switch on the humane moth traps. We'll start with an introductory talk about moths before switching on the lights and seeing what appears. If you don't mind early mornings, join us as we open up the moth traps and identify the previous night's catch. Get a close up look at these amazing insects before we let them go.

The event has been organised to coincide with the Royal Entomological Society's National Insect Week which this year, inspired by The Olympics in London during 2012 and the Diamond Jubilee of the Society's Patron HM The Queen, is celebrating all that is great about British insects.

National Insect Week is a biennial initiative to promote awareness of the value of a diverse insect world to the environment and is supported by more than 50 national partner organisations concerned about natural history and biodiversity.

An interactive website gives visitors all the information they need to get involved, from finding out about events taking place in their area to a photography competition and advice on bringing more British insects into our gardens.

Luke Tilley, National Insect Week coordinator, said:- "There are lots of events taking place across the country to mark National Insect Week this year which is really exciting given how special 2012 is for Great Britain. There's a huge range of activities being staged by local and regional wildlife organisations which will enable children and adults explore the wonderful world of insects for themselves."

For more information about Marvellous Moths at Marshside contact Alex Pigott on:- 01253 796292 or visit:- nationalinsectweek.co.uk and click What's Going On.

Saturday, 23 June 2012, 9.30pm to 11.45pm. Sunday, 24 June 2012, 6.30am to 9am. Each event is £2 RSPB members/ £3 non RSPB members (under 18 free). Sunday is FREE if you attend the Saturday evening event. Meet at the Sandgrounders hide, RSPB Marshside Reserve, Marine Drive, Southport, follow signs from the car park on Marine Drive. Booking essential due to limited places; Please call the Ribble Discovery Centre on:- 01253 796292 to book your place. This event is weather dependant so may be cancelled at short notice. Suitable for all ages, pushchairs and wheelchairs. No dogs please. Please wear warm clothing as this event is outside and bring a torch and sunglasses as the lights are very bright.

Liverpool and Everton football clubs join forces to protect babies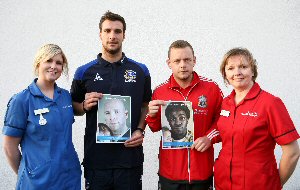 LIVERPOOL and Everton football players are backing a new NSPCC programme in Merseyside to educate new parents about the risks of inflicting head injuries on babies.

Players including Liverpool midfielder Jay Spearing and Everton's Apostolos Vellios are helping raise awareness of the The Preventing Non Accidental Head Injury (NAHI) programme, which is a pioneering service from the NSPCC that is being delivered at Liverpool Women's Hospital (LWH). It focuses on educating parents about the risks of shaking babies and gives practical coping strategies for the pressures of parenthood.

The players are the faces of new posters promoting the Non Accidental Head Injury (NAHI) programme, being displayed on the Maternity Ward at Liverpool Women's Hospital which hopes to raise awareness of shaking babies to parents of newborns.

Jay Spearing, Liverpool midfielder said:- "I'm proud to be supporting the NSPCC's work to prevent babies from suffering non accidental head injuries. As a father myself, I know how precious children are and I'm pleased to be supporting this work to help new mums and dads keep their child protected and safe."

Apostolos Vellios, Everton player, added:- "I was very impressed when I first heard about the NSPCC's new work in preventing children under one from suffering these types of head injuries and I wanted to help. The NSPCC's DVD is a great way of helping new parents understand the dangers of shaking a baby and it is a great way to advise them."

The Preventing Non Accidental Head Injury (NAHI) programme involves midwives and health professionals simply showing new parents a short film before they are discharged from hospital. The film helps mums and dads understand the dangers of shaking a baby, how to respond to their baby crying, and how to cope with feeling stressed and tired. The midwives talk to the parents about the film and answer questions. They help parents think about how they might deal with frustrations without taking it out on the baby. They also ask parents to sign a statement confirming they've seen the DVD and give them an information leaflet to take home. Parents are then asked to sign a promise to care safely for their baby.

Carol Kennedy, children's service's manager at the NSPCC said:- "Many parents are unaware of the dangers of shaking a baby, so we are delighted to have the support of Liverpool and Everton football clubs to help us raise awareness to new parents. By informing them before they take their newborn home we aim to help parents get off on the right foot - and crucially set the pattern for effective parenting later on to help keep their baby safe."

For more information about the NSPCC's work to prevent the abuse of babies and toddlers, please visit:- nspcc.org.uk/allbabiescount and pledge your support for the NSPCC's All Babies Count campaign.

If you want to know more about the NSPCC's Preventing Non-Accidental Head Injuries programme, please contact the NSPCC in Liverpool on :-0844 892 0264.