What is this Cookie Business on the web?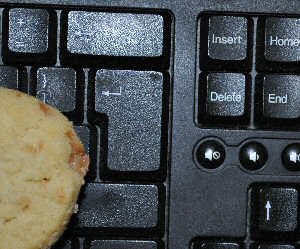 SORRY for our annoying pop up which we have had to add. This is because of a new law, which came into effect 26 May 2012. The new EU Cookie Law affects all online websites in the UK and throughout Europe. At this point in time, in a very ironic twist, most UK Government websites are not yet compliant, so let's be honest, this law is a right hash-up! The big worry is that is if users fail to accept the cookies, many sites will not function. So why impose a law that is wrongly directed and misguided? Sadly, the UK has no option but to impose it. The EC directive calls for member states to legally require publishers to obtain consent from web users before tracking their online behaviour using cookies and other forms of tracking. The main focus is on Cookies. They are files that are downloaded and stored on users' computers. Thankfully, a change the day before the directive was passed now lets websites use implied consent, but still this is becoming a major headache for many businesses and has created a wave of protests. UK's Information Commissioner has said that:- "Implied consent has always been a reasonable proposition in the context of data protection law in the UK and privacy regulation and it remains so, in the context of storage of information or access to information using cookies and similar devices." Oddly, in the UK, many businesses are still unaware that the use of tracking tools like cookies can fall under the UK's Data Protection Act 1998. So how will this be enforced, as the UK's Data Protection Act has been overlooked for so long? Also, many of the issues raised by the EU are well and truly covered in the UK's Data Protection Act anyway and this just adds extra complexity and worry to both operators of websites and their users. Yet, be warned, unlike the Data Protection Act, this EU Law covers personal sites as well! So if you have, say Google or YouTube applications on it, or any form of logging or tracking, well you have to have a warning on your site now. Already all UK Businesses have to register under the UK's Data Protection Act when they use cookies and other type devices/files that involve the processing of personal data. All Businesses now will need to comply with the additional requirements of the Data Protection Act 1998 (the Act) and this new Law! The new EU law which came into effect applies all electronic communications from computers to mobile devices, so the complexity of this is mind boggling and how many users will understand the information given? The new law requires websites to show users:- Initially to warn and inform a visitor that the site is using cookies in some form (a message on the site, a pop up and so on).

Then provide a page, and a link to the page, detailing what cookies are and how to disable them if the visitor wishes.

The problem is ambiguity, both in the law and in the UK attitude towards the law. The Information Commissioners Office
(ICO) accepts the legislation will be difficult to enforce, but will act against any company flouting the spirit of the law. ICO, Christopher Graham, in a press statement has said:- "We will not have a wave of knee-jerk formal enforcement action taken against people who are not yet compliant, but trying to get there. If you have decided that this is all too difficult... that you will get around the law by wilfully misleading people... then we will be checking your site and we will take the necessary steps to ensure that you do work towards compliance."

"The approach to the cookie law is half baked and irresponsible. It will only increase fear and distrust at first and then lead to annoyance. How many remember that the UK's No Smoking Law requires every work vehicle and work place entrance and exit to have a no smoking sign clearly on display? Many businesses have now stopped putting it up, as it is annoying and pointless." Many businesses in the UK have pointed out, that in the UK, there will not be crack Government team dedicated to hunting illegal websites and it is down to the public to flag sites they think are breaking the law, via the ICO's website. Laws can only succeed if they're clear and enforceable; this current EU directive is intentionally vague... But be warned as it is so vague... Although all UK websites having a small window of grace, before this law is enforced, you should take note that the new Law gives the ICO the power to fine companies up to £500,000 for breaches of privacy regulations! ICO, Christopher Graham, has been quick to point out that businesses shouldn't simply ignore the new cookie law, just because the ICO is adopting a fairly soft approach to enforcement. When Governments require money, this might well be an easy option for them to grab cash! Yet, in a YouTube video, ICO said it doesn't expect to levy fines in the near future:- "It's most unlikely that breaches of cookie requirements will meet the criteria that we have to satisfy before we can impose fines. It would have to be a serious breach and it has to be likely to cause substantial damage or distress to individuals."

In short, what are the so called benefits to website users:-Oddly, after cutting down to the bone, next to nothing. The industry is also saying that not only will this spoil the enjoyment of using the internet, but could lead to the loss of free browsing forever! So, do you feel any better now that we at Southport Reporter have added a statement about our tracking or not?
| | | |
| --- | --- | --- |
| | Click on to read on! | Click on to read on! |
Manx Direct

08447 402 038

2 Years Parts & Labour Worranty

KEEP up-2-date
with our free daily news emails. Are you subscribed? Si

g

n

u

p

today

to

our daily email news service via... Formb

y

-

Re

p

orter

.com

.

If you subscribed you can keep in up-to-date with what's going on in and around Merseyside. It is free and we do not send out massive amounts of emails. Also your email is kept under the UK's Data Protection Act, so you can be sure that you will not have problems.
| | |
| --- | --- |
| | Camelot Readers 2 for 1 Offer... Click on here to find out more!!! |
This Weeks Edition - Audio Copy
Click here to hear this weeks edition in audio format. Please let us know what you think about it. via emailing us. Also if you have a child who can draw a face, send one in and we will look at using it for our news reader for an edition. Adults can try as well! You will get a copy of the animation sent to you and credit on the animation as well!.