Round Table supports Armed Forces leavers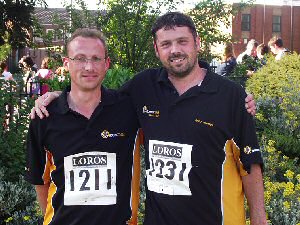 THE Round Table are offering young men leaving the Army, RAF and Navy 6 month's free membership* to help service leavers make the difficult transition into civilian life. Around 25,000 people are expected to leave the forces this year, most of them male and in Round Table's age bracket of 18-45. And to support female service leavers, Ladies Circle (Round Table's sister club) has matched Round Table's offer.

Round Table offers a ready-made social circle for servicemen coming home; a great business network; activity and adventure; international travel, and great personal development opportunities for those making the transition to a different culture and way of life.

Andrew Waring left his role as an aircraft technician in the Army and found it hard to settle into civilian life back in his home town of Hinckley, Leicestershire. He used his engineering qualifications to get manufacturing jobs but found the culture at work so different from the Army. He explains:- "I had always been in the Army and found the dog-eat-dog behaviour in civilian work really different. I was used to having colleagues who were mates and supported you as part of the team, who lived all around you. I felt quite isolated. I was used to being out and about with people and trying new things. I lost a bit of my confidence."

Andrew set up his own photography business. Although it got him about and about a bit more, he still found he was missing the fun, adventure and camaraderie of Army life. "Many of my old friends were still in Hinckley, but of course they had moved on with their lives, and whilst we still get on, we had less in common. I hungered for more than a few drinks in the local. I wanted more from my social life. It was my uncle who told me about Round Table. He was a member of Nuneaton Round Table and took me along to a race night. I loved being in a team again, with a real emphasis on fun. It felt familiar and I wanted to be a part of it. I wanted to join, but my uncle suggested I join my local table in Hinckley. 'But I won't know anyone' I said. He said 'That's the whole point'. So I did. I soon found Round Table filled a gap for me. It had all the nice bits about the Army that I really missed: the structure; the team work; the social life; the adventure. It put me back in the game. I only wished I had known about it as soon as I left the Army, instead of wasting years looking for that missing something. In the Army I had enjoyed rock climbing, canoeing, with Round Table you can do all those things and more. My uncle described it to me as 'doing things you wouldn't normally do with people you wouldn't normally do it with.' That hits the nail on the head. In my club, we have an accountant, solicitor, electrician, such a wide range of jobs, but we all have such a laugh together. As well as the social aspect of Round Table, it has been great for my business. All the guys on my table and other local tables use me for events, weddings, and so on. It's not the reason I joined, but has been a great by-product of membership. My best friends are my friends in Round Table. I still see all my old mates though, and they are starting to join too. The thing I love most about Round Table is feeling like I'm in a team again. Having people watching my back."

Craig Strachan was a personnel administrator in the Royal Air Force for 12 years said:- "Many people are worried about leaving the forces, particularly if they have been involved for most of their adult life. It is a massive change and daunting to think about getting a new job, a home and whole new life outside. When I left the RAF in 2005, I moved back to my hometown of Aberdeen with my wife, who is from Plymouth. I soon found that all my old friends had moved away and had to start from scratch. When you are in the Armed Forces, it's really easy to make friends, as you are all in the same boat and have lots in common. I assumed that my workplace would be the same, but found that people kept themselves to themselves, and there wasn't that social activity after work. That was the thing I missed most and I realised I needed to do something to help us build a new life. I looked through a local quarterly bulletin for my area and found a piece on Round Table. My dad had been in Round Table, and I remembered that he had mixed with all kinds of people, from barristers to binmen. It was a classless society, just like the Air Force. I phoned up my local Round Table club and two days later I was on the golf course with a bunch of guys my age. It was a ready-made social circle I could easily just slip into. I felt welcome straight away. The others were from all walks of life but we seemed to have lots in common. Because so many of the activities we do involve our families, it also helped my wife meet new people and build her own social circle. The thing I like most about Round Table is the opportunity to travel and have international visitors with us. I know I can go anywhere in Europe and if I'm looking for a good night out, somewhere to stay, or just a bit of help, I can call on any Round Tabler and know I will be made to feel welcome and amongst friends. Round Table has given me an immediate group of friends wherever I go, and the kind of camaraderie I loved in the Forces. Joining Round Table has given me a great life after the RAF. I have all the best bits of my old life and lots of interesting new stuff as well."

Round Table is an open and inclusive worldwide club, offering young men the opportunity to expand their social and business network, develop life skills, have fun and help others.
For more information, please visit the Round Tables website by logging onto:- roundtable.co.uk/forces.

* Local subs still payable for events and activities

Traffic report late due to "Goslings woddeling down the dock road"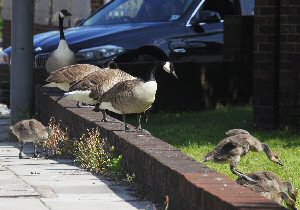 OK, Ian Fairbrother, as many of our reader know, is our resident Pap and he is use to photographing many birds, but not this type. On the way to a glamour's pap snap a few days back he got stuck in traffic and snapped these shots. Did you get held up by the Geese and their goslings woddeling down the Dock Road, Liverpool? if you did let us know by emailing us to news24@southportreporter.com. Thanks Ian for showing us why you were late getting the shot to us...