Advance notice Darth Vader will be in North Sefton. Are you ready?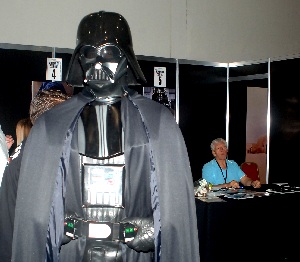 MORE Darth Vader news for you all... If you are not over 18 and can not attended our exclusive event in Southport's Wine Cellar on Lord Street, we have good news. With thanks to Formby Book's the legend behind the costume, Dave Prowse MBE will be in Formby Pool on Saturday, 18 August 2012, from 10pm to 1pm and 2pm to 3pm. He will be signing his memoirs 'Straight from the Force's Mouth' that you can pick up copies of from Formby Books, located within Derbyshires, 22 to 24, Chapel Lane, Formby, L37 4DU, or order via our online shop. if you do, please email us at:- news24@southportreporter.com, to say you will collect at the Formby Pool or from Formby Books and we will add your name to the lists. Do not forget to attended to get it signed, and we will refund the postage charge! If you can not get to the event we will post the book to you! Also if you are going to the Flower Show... Keep any eye out for him, as Lord Vader will be taking a look around the show! Plus if you are over 18, Do not forget that time is running out to get your tickets to an amazing, and very exclusive night, with the actor at the Cellar on Lord Street on the 19 August 2012. To book your tickets and to find out more about please visit our shop by clicking on here now!
Kelvin Jones Motorsport buys Xanthos Sports Cars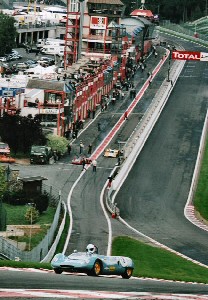 THE Liverpool based company reinstates Arch Motors as the sole manufacturer of all 23Bs. Kelvin Jones Motorsport is delighted to announce the recent acquisition of Xanthos Sports Cars, the manufacturer of Lotus 23 components and cars. KJM will now produce all the parts necessary to keep these great cars on the race track. The company will also build exact reproduction FIA HTP (Historic Technical Passports) Continuation certified 23Bs, with Arch Motor & Manufacturing Co. Limited, appointed to do all the manufacturing on behalf of KJM - and as it did originally for Lotus back in the 1960s.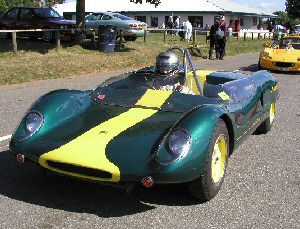 Kelvin told us that:- "I am very excited to have bought Xanthos Sports Cars. After my old friend Henry Tombs started the company, it is somehow fitting that I have now ended up with it all these years later. I am looking forward to building on what he achieved and continuing that legacy. We want to keep original 23Bs on the track with quality spares that will be 'on the shelf' - that is my main goal. I am also very proud to have restored the link with Arch Motors, the original manufacturer, who built the chassis and suspension for the first Lotus 23. Arch Motors are one of the best chassis makers ever. They do all our Chevron contracts and they have done everything for everyone over the years; including Lola, March and Brabham and so on. They will be our sole manufacturer and everything will be done to the exact original spec. All the original 23B's were brassed and every chassis we make will be done in the same authentic way. There are not many people that can do that today - in fact, there is virtually no one left. All the Xanthos Sport Cars jigs are already at Arch Motors and we can now supply all parts for Lotus 23s. KJM and Arch Motors are looking forward, together, to revitalising Xanthos Sports Cars."

KJM can also confirm that Xanthos Sports Cars will continue to produce the Xanthos 23X, a road / track day version of the 23B.

Queen Elizabeth returned to Liverpool
Photographs by C. Trollope.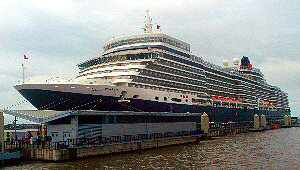 LIVERPOOL is once more a terminus for the Cruise Ships and the Liners. On Friday, 3 August, 2012, the Queen Elizabeth berthed for the day, visiting Liverpool. Crowds welcomed her and her passengers. As you will be able to see, there were many activities taking place on the quay side for the passengers who landed, as well as for the people who had come to see this beautiful ship. She was, of course, visiting the original home of Cunard and White Star. The City had once more pulled out all the stops for this 3rd visit of the ship. The voice of The Town Crier rang out at various times telling people what was available and happening. Music filled the air as Sea-shanty groups regaled everyone with their songs of the sea, often Liverpool ones. Refreshments of all kinds were available for those who were peckish and thirsty. A fun fair for young and old kept the children entertained while the adults could browse round the stalls looking for souvenirs and various knickknacks. The visiting passengers seemed to be enjoying their visit to Liverpool.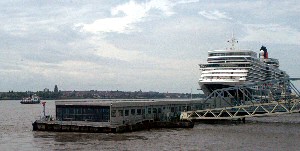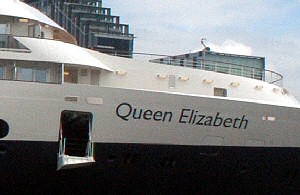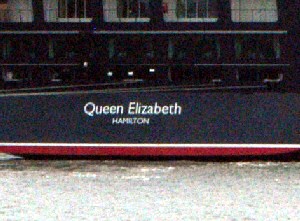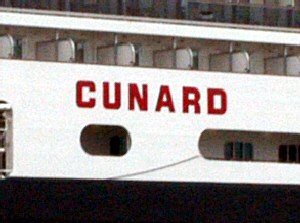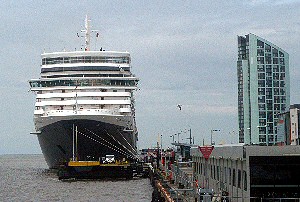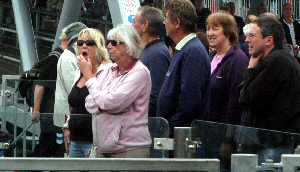 Page 1 of 3
If you like the photos, please order them and do not copy them. Keep this site online.... Click on here to find out how you can get you copy of these photos.