EU must defend democracy
A North West Euro MP wants the European Union to lay down the law to defend democracy and the rule of law. Chris Davies says that disputes between "corrupt" politicians in Romania threaten values that are fundamental to the EU. Political infighting in the eastern European country has led to the suspension of its president by his rivals, the blocking of measures to fight corruption, and the undermining of the judiciary. The European Commission has expressed its extreme concern and demanded that Romania make urgent changes. Davies has written to all MEPs describing the situation as akin to a coup, and says that Romania could find its right to vote on EU decisions suspended. He said:- "The principles of freedom, democracy, the rule of law and independent judges are at the heart of the European Union. They must be defended at all costs. The biggest success of the EU since the fall of the Soviet Union has been to help Eastern Europe to become democratic. Now it must make sure that Romania does not slide back into old ways."
BETH TWEDDLE RECEIVED HOME SUPPORT FROM UP HIGH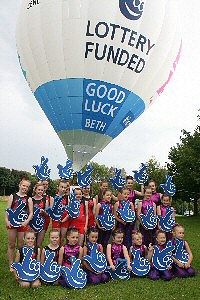 THE Lord Mayor of Liverpool, Sharon Sullivan alongside gymnasts from Beth's club; City of Liverpool Gymnastics Club where in Everton Park, Liverpool, on Sunday, 5 August 2012. The event was to wish the Liverpool athlete Beth Tweddle's luck competition at the London 2012 Olympic Games. To celebrate both her achievements past and to wish her luck on the Eve of mere event, as well as promoting the Lotto's investment within sport, they took a hot air balloon flight over the 3 time World Champions home city. The National Lottery wish for luck must have helped as she is now celebrating a bronze medal in the Uneven Bars, with what may be her final major sporting event routine of her career. Well done Beth! The Balloon will tour around the country during the London 2012 Olympic and Paralympic Games to wish good luck to some of London 2012's strongest National Lottery-funded medal hopefuls such as:- athlete Mo Farah and Paralympic swimmer Ellie Simmonds.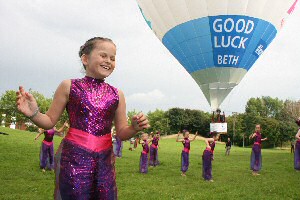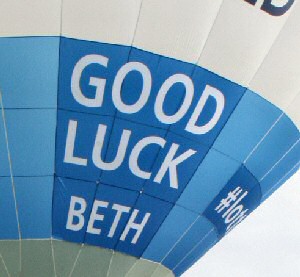 Surge in car vandalism as drivers scratch and run
CAR vandalism and damage by an unknown 3rd party is on the increase according to a new survey carried out by leading smart repairer Revive! Revive! specialises in repairing minor scuffs and scrapes to vehicle bodywork and alloy wheels. It has the largest network of smart repairers in the UK and is one of the few IMI accredited training centres in the country carry out work for private motorists and the trade. As the preferred supplier of SMART repairs major car dealerships and fleet operators its customers include:- Alfa Romeo Fiat, Lex Autolease and Mercedes. The company questioned over 100 technicians for the Revive! 2012 UK Smart Repair Survey. Of those surveyed the number one repair was bumper scuffs with alloy wheel repairs coming second. The next most common reason for call out was vehicle vandalism or third party damage reported by 19% of technicians. A large proportion of the damage had been done by an unknown person. Michael Morgan, owner of Revive! Southport told us that:- "Maybe it is because people are feeling the pinch financially and they fear that by leaving their details after an accidental scuff or scrape they will face high costs or lose their own no claims bonus. Whatever the reason it is a real shame, as what people don't realise is that it costs far less than they think to do the right thing and a have a clear conscience. Most minor paintwork or alloy wheel repairs can be fixed for less than the cost of the average insurance policy excess."

However the damage is caused, car parks are often to blame. Motorists cite low walls, high kerbs, tight turns and narrow parking bays as reasons for scuffing their bumpers or damaging their alloy wheels, whilst cars fitted with parking sensors seem to get scraped more than those without. Revive! also reports a rise in the number of customers paying for damage themselves rather than going through the insurance company, as well as more people having paintwork or alloy damage fixed before returning hire or leased vehicles. Added Michael:- "We are seeing people holding onto cars longer than they might have done previously and taking more care of them by tidying them up and to protect residual values."

And when it comes to whether men or women cause the most damage the jury is still out. Almost a third of the technicians report an equal 50/50 split, with 27% saying they see more scuffs and scrapes caused by men and 20% say it's women drivers. Michael added "It was hard to get a definitive answer as most of our technicians report that men don't tend to want to 'fess up to causing damage. Women are more conscientious and book in their cars almost straight after an incident and seem to have no problems admitting they have had an incident!"

Throughout the country over half of all cars repaired were silver in colour, closely followed by black with blue and grey coming in at third and fourth place. In Reading and Southampton technicians carried out the most repairs on blue cars whilst in Manchester and Newbury white cars were reported to be the second most common. Red vehicles, once the most popular colour on the road failed to top the list in any area coming third in just 13% of the regions.
It's not uncommon for technicians to have regular customers. One motorist in Crawley has had his car repaired 6 times after scraping the same corner on his garage door.
2 ARRESTED AFTER CARS SPRAYED WITH PAINT IN BIRKDALE
2 men have been arrested after cars had grafitti sprayed painted on them in Birkdale. The cars were parked in Kew Road and Eastbourne Road when they were targeted overnight. Offenders used green spray paint to damage side panels, bonnets and headlights on the cars, which included Honda Civics, Vauxhall Zafiras and Astras and a Peugeot 306. Distraught owners reported the damage to the Police the following morning when they woke up. Birkdale neighbourhood officers trawled through hours of CCTV footage from the area on 28 July and 29 July 2012 and found that 1 of the incidents had been captured on camera. 2 suspects were identified from the footage and a 19 year old man and a 21 year old man, both from Southport were arrested on 3 August 2012, on suspicion of criminal damage. They have since been questioned and released on Police Bail pending further enquiries. Birkdale and Ainsdale Neighbourhood Inspector Jim Atherton said:- "These arrests have come as a result of a thorough investigation by my officers who carried out extensive CCTV and house to house enquiries. Waking up to find your car mindlessly vandalised in this way must have been incredibly annoying for these residents so I am please to be able to tell them arrests have been made. If anyone has any further information on these crimes or want to report a similar incident to police, they can call:- 101 or leave a message for my team on:- 0151 777 4142."