Wiggins mania comes to Knowsley to welcome The Tour of Britain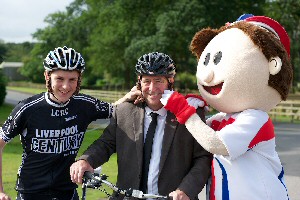 WITH 'Wiggins Mania' sweeping Britain, excitement is mounting in Knowsley, as the borough prepares to welcome the UK's biggest cycle race next month. Cycling professionals and fanatics alike donned their Wiggins-style sideburns to get into the spirit of the sport at Knowsley Safari Park, which will host the spectacular Stage 2 Finish of The Tour of Britain next month (September 2012).
Over a hundred of the world's top cyclists will ride through the borough with a spectacular Stage 2 Finish at Knowsley Safari Park on Monday, 10 September 2012.
Did you know that this is the first time The Tour has been to Knowsley?

The 180.7 km race commences at Nottingham Castle, and will travel through Nottinghamshire, Derbyshire and Cheshire before the climax at Knowsley Safari Park where riders from teams such as Team Sky, Liquigas; Cannondale and Endura Racing will battle it out for victory.

The Tour is expected to arrive in the borough just after 2pm, arriving at Pingwood Lane in Kirkby, then travelling through Headbolt Lane, County Road, South Boundary Road and Coopers Lane. It will then travel along Knowsley Lane, through Knowsley Village and then into Huyton along Primrose Drive, Liverpool Road, Bluebell Lane, Huyton Lane, and then making its final journey to the finish along the A58 to Knowsley Safari Park in Prescot.

As part of its journey through the borough's streets, local residents, schools, businesses and community groups are being invited to join in and welcome the national cycle race. This is a fantastic opportunity for cycling enthusiasts to come along and watch this free, televised world-class event. To take part, please ensure you arrive at the Safari Park by 1 pm. On the day, Knowsley Safari Park are offering free entry to visitors and the last safari drive will take place at 12.30 pm.

Councillor Eddie Connor, Cabinet Member for Leisure, Community and Culture, at Knowsley Council commented:- "Following on from the success of the both the Olympic and Paralympic torch relays, we're delighted to be welcoming another major sporting event to the borough. This is a fantastic opportunity for Knowsley to be showcased to a global audience and we're thrilled to be part of this exciting event. We look forward to providing a warm welcome to The Tour of Britain competitors and supporters."

Jonathan McEvoy from St Helens will be racing for Britain's leading domestic team Endura Racing, and will be keen to impress in front of family and friends at the Knowsley finish. He said:- "I'm excited to be riding on home roads and the Safari Park finish will make this a spectacular event."

Mick Bennett, Race Director of The Tour of Britain commented:- "We are very much looking forward to the stage finish at Knowsley. Being able to work with Knowsley Council and Knowsley Safari Park to put on such a unique finish is a privilege for us and will make for a fantastic setting for The Tour."

Edward Perry, Operations Director at Knowsley Estate, added:- "We are delighted to welcome The Tour to Knowsley Safari Park. It will be an amazing sight as the riders complete their sprint finish past our herd of elephants and giraffes and one that will create amazing memories for all who attend."

In addition to Jonathan McEvoy, Mark McNally (AN Post) from Liverpool, Peter Williams (Node4 Giordana Racing) originally from Southport and David McGowan (Team UK Youth) from Liverpool are all amongst the riders hoping to compete in this year's Tour.
CHANCE TO WIN YEAR'S UNIVERSITY FEES PAID FOR REGION'S STUDENTS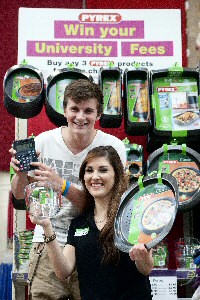 FROM healthy scrambled egg in the microwave to oven-baked homemade pizza, kitchen favourite Pyrex is giving local students the ultimate incentive to master the basics: a chance to win university fees paid for a year. By going along to the nearest Dunelm Mill store and purchasing three Pyrex products, students and/or their parents will be given an entry form to complete and hand back, to be entered in to the draw to win fees up to the value of £9,000.

Alex Blyth, UK Marketing Manager at Pyrex said:- "Whether starting university or about to embark on another year, students more often than not find themselves having to watch the pennies. By purchasing at least three Pyrex kitchen products from Dunelm, not only will they be equipping themselves with the ideal tools to make their own cheap and tasty meals, they could win a 'free' year at university in the process."

Dunelm Mill Head of Marketing Phil Jamieson said:- "We're delighted to have teamed up with Pyrex to provide this fantastic opportunity to young, local people. We know the pressures students face with budgeting while keeping on top of the latest trends, that's why we stock so many stylish must-have student items, all at completely affordable prices. We hope to give one student a very positive start to a new term, so get yourself down to your local Dunelm Mill to get involved!"

The competition closes on 10 October 2012 and the winner will be notified by 5 November 2012.

Setting the Pace for Mathew Street Music Festival
MERSEYBEAT Monday will see some of Liverpool's music legends taking to the stage as part of the 2012 Mathew Street Music Festival.

To celebrate the 50th anniversary of The Beatles, Gerry and the Pacemakers, Beryl Marsden and The Merseybeats are just some of the stars on the line-up to help make the 20th anniversary of the festival unforgettable.

Liverpool soul star, Esco Williams, who recently scooped the MOBO UnSung prize which recognises the UK's best new artists, is also set to wow the crowds on the first day of the event.

Taking place during the August bank holiday weekend (26 August and 27 August 2012) nearly 70 acts will take to the five outdoor stages, performing around 80 hours of free live music. And although half the acts performing are from Merseyside, there will be an international flavour with bands travelling from the USA, Brazil, Canada, France and Mexico. Many of them will be making their festival debut and are expected to incorporate a Beatles element in their sets as a nod to this special year which marks 50 years since Ringo joined John, Paul and George.

Liverpool City Council's Cabinet Member for culture and tourism, Councillor Wendy Simon, said:- "The excitement is already building around this year's festival; particularly as it's such a pivotal year in the history of the Fab Four. To have icons like Gerry and the Pacemakers and The Searchers on the same bill as amazing up and coming talents such as Esco Williams is a great coup for this special 20th anniversary event and is a great platform to showcase the incredible calibre of artists we have in this city; past and present. To attract bands from all over the world is a real testament to Mathew Street Music Festival, which is a much-loved event for the hundreds of thousands of music lovers who travel to Liverpool each year to enjoy this free, outdoor experience."

The full line-up is as follows for the stages which will run from midday to 6pm each day:-

Sunday, 26 August - Derby Square Stage – 90s
Southmartins (The Beautiful South /The Housemartins)
Pearl Jam (Pearl Jam)
Blurasis (Blur / Oasis)
Robbie William Banned (Robbie Williams)
Hypermused (Muse)
Big Up The 90's (90s Tribute Band)

Superlambanana Stage (Tithebarn Street) – 80s
Ska-Wars (Ska)
Bon Jovi Experience (Bon Jovi)
Glory Days (Bruce Springsteen)
U2 Elevation (U2)
Purple Rain (Prince)
Rubix Cube (80s Tribute Band)

Tunnel Stage – Chill Out
Price Tag (Jessie J)
Ri Ri (Rihanna)
The Bee Gees meet ABBA (The Bee Gees / Abba)
Lareena (Adele)
Amy Housewine (Amy Winehouse)
So Patrol (Snow Patrol)
Coldplace (Coldplay)

Water Street stage – 70s
Freakout Disco Band (70s Tribute Band)
The Merseybeats (Tribute to Eric's)
Ian McNabb (Tribute to Eric's)
Kinisha & The Weekend Warriors (Tina Turner)
The Tearaways (The Ramones)
Counterfeit Quo (Status Quo)

Williamson Square Stage – Made In Liverpool (unsigned)
Married To The Sea
Filter Distortion
All We Are
The Verdict
The Mono LPs
The Furious
Esco Williams
Hummingbirds
The Sums
Dirty Rivers

Monday, 27 August - Derby Square Stage – Merseybeat
The Shakers
Beryl Marsden
Sam Hardie
Faron
Karl Terry
The Undertakers featuring Jackie Lomax
Gerry and The Pacemakers
The Merseybeats
Mike Pender's Searchers

Superlambanana Stage – Early Beatles Albums
The Sutcliffes
Ringer
The Rockits
After Beat
Tripper
Them Beatles
Revolver

Tunnel Stage – The Cavern, Yesterday and Today
Antarctic Monkeys (Arctic Monkeys)
The Kinx (The Kinks)
The Stones (The Rolling Stones)
Mercury (Queen)
The Overtures

Water Street Stage – Guitar heroes 60s and 70s
Uncomfortably Numb (Pink Floyd)
Classic Clapton (Eric Clapton)
Are You Experienced (Jimi Hendrix)
Letz Zep (Led Zeppelin)
From Sabbath To Hell (Black Sabbath)
Viva Santana (Santana)

Williamson Square Stage – Later Beatles Albums
Tripper and Revolver
Get Back Band
Clube Big Beatles
Help El Tributo
Hocus Pocus

People are being asked to show their support for Mathew Street Music Festival by purchasing a special 50th anniversary of The Beatles souvenir wristband for just £2. This can be bought from the Tourist Information Centre at the Albert Dock and St George's Hall and at Liverpool ONE's Information Centre For more information about the event, visit:- mathewstreetfestival.com.