DoubleTree by Hilton Unveils Plan For First Hotel In Liverpool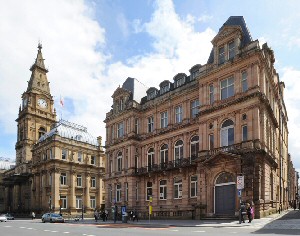 LIVERPOOL, on 9 August 2012; Hilton Worldwide signed a franchise agreement with Municipal Annex Limited to open the first DoubleTree by Hilton; this will join the brand's fast growing portfolio of upscale hotels; which have recently added new properties in locations such as Leeds, Manchester and London. The agreement will see Sanguine Hospitality manage the DoubleTree by Hilton Liverpool on behalf of the property's owner Municipal Annex Limited.

Patrick Fitzgibbon, senior vice president, development, Europe & Africa, Hilton Worldwide, said:- "Liverpool has fast become 1 of Hilton Worldwide's most exciting cities in the UK, already featuring our upscale Hilton and economy Hampton by Hilton brands. As our portfolio of hotels grows I am delighted to see another superb DoubleTree by Hilton project joining the nearly 60 that are already either trading or under development across Europe."

Rob Palleschi, global head, DoubleTree by Hilton, said:- "DoubleTree by Hilton is looking forward to welcoming this superb hotel to its impressive portfolio in the UK, which currently features 17 hotels. Liverpool is world renowned for its culture, art and music; we are excited about this new project and look forward to welcoming travellers to Liverpool with our delicious chocolate chip cookie next year."

The 87 bedroom upscale and full-service hotel is expected to open in summer 2013 in the city's former Municipal Annexe on the corner of Sir Thomas and Dale Street. The Grade II-listed building will retain its grandeur from when it was first constructed in 1865 and offer architecturally significant bedrooms, restaurant, residents' lounge, opulent spa and swimming pool, as well as conference and events facilities.

Dr. Marwan Koukash, the mastermind behind the regeneration of the former Municipal Annex, said:- "Delivering an architecturally significant building to the standard of DoubleTree by Hilton for Liverpool has been many years in the making. I am delighted we have agreed management terms with Sanguine Hospitality who have a reputation for delivering excellence in hotels as well as a world class hotel brand; DoubleTree by Hilton."

Simon Matthews-Williams, chairman of Sanguine Hospitality, added:- "Dr Koukash is a visionary and we are delighted to be working with him to bring to life his vision for an upscale hotel in a world class city like Liverpool. We also have a super partner in DoubleTree by Hilton, already operating hotels with the brand in Bristol and Chester."

DoubleTree by Hilton now welcomes travellers to a rewarding hotel experience with a fast growing network of 32 hotels operating across Europe. At these Hotels, all the guests benefit from the characteristic qualities found at the brand's 300+ DoubleTree by Hilton locations around the world, including the warm welcome with the legendary chocolate chip cookie presented to every guest at check in, an array of upscale amenities and guest services, the rewards of the Hilton Honors guest loyalty programme, and a unique and caring team member commitment to the local community.

Coronation Street comes to the Southport Flower Show

WITH heavy rain making many of this summer's events a washout, and forcing the cancellation of the Great Yorkshire Show and Kylie and Jason's reunion, many will be wondering if other shows will suffer the same fate. However, unlike other events, Southport Flower Show is safe in the knowledge that the show will go on whatever the weather. Luckily Southport Flower Show; is one of the largest events in Merseyside after the likes of the Grand National and Mathew Street. Victoria Park, a purpose built showground with special drainage on sandy soil. The park also has wide permanent walkways and a level surface providing access to all parts of the showground.

David Jackson, the show's Chief Executive said:- "Knowing how the weather can affect people's enjoyment we have invested in a range of measures, including a complete drainage system and ground preparations, to ensure that the show can cope with the heaviest downpour. Obviously, we can't guarantee the sunshine; however, with 70% of the show undercover and a fascinating mix of gardening, food, books and shopping we can guarantee that;visitors will enjoy themselves whatever the weather."

Alongside the fantastic horticultural attractions and stunning floral arrangements, this year's show will boast the 1st year of the North West Food Festival, complete with a host of well-known celebrity chefs. There's also the launch of the North West Book Festival featuring top authors from across the region. With live music and entertainment throughout the show, food and drink and an extensive 'pop-up' summer shopping village, organisers are expecting a massive turn out over the 4 days, with visitors attending from all over the country. But more is on offer still, with many VIP's taking part. Also heading to the show will be Coronation Street. It has a seaside outing this summer, as the nation's favourite soap is celebrated at the Southport Flower Show. No matter what the weather, the Weatherfield themed show garden will be among the range of attractions enjoyed by more than 80,000 visitors at the festival. The garden, created by award-winning designer Chris Ashcroft, features a Rovers Return pergola and the famous chimney pots seen in the Street's opening credits since 1960. There is also a comfy sofa supplied by Coronation Street sponsor Harveys for visitors to take the weight off their feet as they take in the view. Regular viewers have seen the famous cobbles and back allies adorned with floral displays in recent weeks as residents have gone head-to-head in the Weatherfield in Bloom competition. But this is the first time that the ITV1 soap has been celebrated with a show garden at Southport. So lets hope it is blue sky all the way, but as it TV show is from Manchester, rain will also be fitting. 2 favourite characters from the Street, Roy Cropper (played by David Neilson) and Mary Taylor (played by Patti Clare) will be touring the show garden and meeting visitors on Friday, 17 August 2012. As the proprietor of Coronation Street's cafe Roy's Rolls, David has been a regular on The Street since 1995; fan favourite Patti joined the cast in 2008. Southport Flower Show Chief Executive David Jackson said:- "Celebrating the North's favourite street at the North's favourite garden show will be a big hit with visitors and hopefully encourage everyone to have a go at gardening."

Advance tickets cost just:- £16 per person. For more up to date information on the show, buy tickets, find out what celebrity are going and keep up-to-date with announcements, plus details on how to enter the many competitions, visit the Show's:- website.