A CUT ABOVE
LOCAL hair stylist Olivia Cunningham, who owns Cutaway Next Generation Hair in Southport, has been appointed to share her outstanding talent and passion for hairdressing with other stylists as she is invited to join the Salon Promotions education team. Olivia will work with a team of esteemed stylists to educate and inspire other hairdressers across the region, teaching them more about the science behind hairdressing, and how to achieve better results and sales using the Salon Promotions portfolio of products. Salon Promotions, based in Lancashire, develop and distribute hair tools and products to stylists across the UK and Europe. Olivia will be working with them to go into salons and educate hairdressers on how to best use the products. Olivia will be mainly be teaching on Silky hair colours, and Neal & Wolf luxury hair products. Neal & Wolf was developed by Neil Capstick who headed up the original ghd sales team. The range comprises a collection of incredible, gorgeously scented shampoos, conditioners and styling products that are available to buy in salons or online.

Olivia, who has owned her own salon for 10 years, said:- "Having worked in stylist education previously, I can't wait to get started. Teaching is one of my real passions and I love motivating new teams and helping them to understand the science behind hairdressing."

The mum of 2, who is in the process of rebranding her salon to Olivia C Hairdressing, went on to say "I love the Neal & Wolf range as the products are so indulgent but can be used everyday, due to the low price point. They have all the fundamental ingredients to make them suitable for all hair types and styles." For more information about Salon Promotions education programme visit:- salonpromotions.co.uk.
COMMUNITY DAY OF ACTION BOOTLE
MERSEYSIDE Police joined forces with local residents and partner agencies to clear up an overgrown railway line where a shotgun was recovered 2 weeks before.
The clean up took place on Tuesday, 21 August 2012. Working together the residents, Merseyside Police, Sefton Council, British Transport Police, One Vision Housing and Network Rail, it is hoped that the clean up will be ensuring that criminals have no hiding place for weapons within that area.

Chief Superintendent Nikki Holland, Area Commander for Sefton, said just before the big clean up that:- "In recent weeks there have been a number of firearms incidents in Bootle and it's not surprising that local communities have had enough. There is a small number of people who are causing fear in our communities through the use of violence and firearms and Merseyside Police is not prepared to standby and let them rule the roost. Its great to see that we have the backing not only of our partner agencies, including Sefton Council, but of our residents who are prepared to come out and roll up their shirt sleeves and get stuck in to clean up an area and give out a strong message to those involved in gun and gang crime The majority of residents in this area are decent and law abiding people, who are sickened by the complete and utter disregard shown by a small number of young people who no have concern for the safety of others. This gives us the opportunity to work together for the good of the community and stand shoulder to shoulder to clean up our area and make it a place to be proud of. As well as the clean up the mobile station has also been sited in the area and there will be a highly visible police presence with officers from the area, Matrix, mounted and the dog section. They will be on hand to talk to local people who have concerns and support the neighbourhood in taking a rigorous approach to tackling serious crime."

To complement the clean up on the railway embankment and in Longfield Park, Sefton Council also preformed street cleaning within the area.
Also on the day representatives from Mersey Fire and Rescue Service, local football teams and the youth service helped to engage young people, to show them wide range of activities that are available to them in the area.

Local minister is new hospital chaplain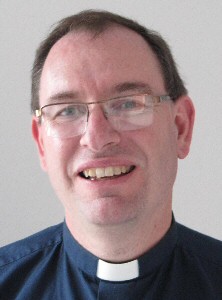 THE Rev Martin Abrams has been appointed chaplain for Southport and Ormskirk Hospital NHS Trust. He has been working with the Trust as a bank chaplain, covering hospital on-call, for just over a year and will be responsible for both hospitals at Southport and Ormskirk. Martin was born and brought up in Southport, attending school at Norwood Road Primary and Meols Cop High, later attending Cliff College, a Methodist lay training college in Derbyshire. He was a youth worker in south Devon and a lay minister in Cardiff until beginning training for ordained ministry at Wesley College, Bristol. At the same time he studied for a masters degree in pastoral studies at Cardiff University. For five years he was a minister in south Liverpool and part-time chaplain at Liverpool John Moores University. For the last 15 years Martin has been Superintendent Minister of the Southport Circuit of the Methodist Church, Minister of Ainsdale Methodist Church and chair of the management committee of Ainsdale Community Care. Martin enjoys reading, fell and mountain walking, and plays tennis at Hillside Tennis Club, Southport. He is a regular supporter; and chaplain; of Southport Football Club. His wife Heather is a teacher and they have 2 children. "I am particularly looking forward to working in the multicultural and multi-faith environment of a hospital. I very much see the support of chaplaincy as something for the whole community of patients, visitors and staff alike. It is a genuine privilege to be a friendly presence offering spiritual and pastoral support to people at crucial times of their lives." said Martin.
STAFF SWAP SUITS FOR JEANS AT FUNDRAISING DAY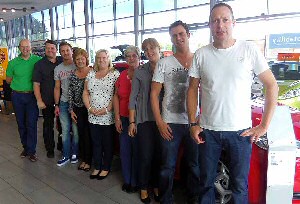 EMPLOYEES at a St Helens based car dealership swapped their suits for jeans on 20 August 2012 and raised more than £150 for children suffering from genetic disorders. Sales and service staff at the Polar Ford dealership on Sherdley Road donned their denim in exchange for a £1 donation to support, Cameron Bray, nephew of Caroline Wright, Service Advisor at Polar Ford. Cameron is seven years old and suffers from a rare genetic disorder called Multicentris Osteolsis. This disorder eats away at the bones in his hands and feet leaving Cameron unable to walk and needing a wheelchair. Cameron is the only person in the UK known to have this disorder and is currently under care at Alder Hey Hospital where he has been treated since he was 2 years old. The money raised from the Polar Ford event will help pay for Cameron to visit a specialist hospital in America once every year. Coleen Gates from Polar Ford said of the funds raised:- "We are really pleased with the amount of money raised for the appeal. There was a great atmosphere in the showroom throughout the day and everyone thoroughly enjoyed being able to wear their jeans. I would like to say a big thank to everyone who helped organise the event and donated on the day!" Jeans for Genes was established in 1996, and raises funds for research into serious and often life-threatening genetic disorders affecting thousands of children. To date, Jeans for Genes has raised over £36 million. For more information on Jeans for Genes and how to donate money, please visit:- jeansforgenes.com.